Many of you have left me very awesome comments on my templates, kits, and LOs. Thank you for all your kind words! It really means a lot to me. LOL, 3 people now have pointed out that I had a typo on the back cover of Emma's ABC book. Thank you! I fixed it before I submitted it to print. Now I just have to wait for it to come in the mail. I hope it gets here in time for Easter! If not, oh well. Emma has plenty of other gifts for Easter - my mom sent us a package full of stuff, plus I'd already gotten her a few things as well.
I'm really excited to see Emma's book in print! I ordered a 6x6 board book from Treasured Ink - it's gotta be toddler proof...and it ended up costing less than I expected, so that was a nice pleasant surprise:)
I'm working on the expansion for Retro Rainbow, my minikit for March's color challenge on BAM. It's looking great so far! I took pictures of random textures around the house after tonight's speed scrap and made overlays out of them.
Speaking of tonight's speed scrap...there's a crazy story to go along with it. For those of you who don't know, the way a speed scrap works is you have 2 hours to complete a LO. The hostess (well, usually a hostess - I've only run into one male digiscrapper, and by the look of his blog, I'm pretty sure he's gay;)) gives out instructions over the course of the first hour. You then have an hour to finish your page after the last clue is given, plus a 15 minute grace period for saving and uploading.
Well tonight, about 20 minutes after the last clue was given, our lights flickered. I frantically saved, and tried to post about it...but then the internet died! Thankfully, we still have power, but it's hard to upload a speed scrap page with no internet! I texted Kimi and Elly, since they were both participating (actually, Kimi was our hostess this round as well). I'm not sure if Kimi saw the messages, but I know Elly did, and she let everyone know what was going on for me. Thanks Elly! I finished my page in time, but still no internet. Boo. But, they were all super nice about it and decided to wait until I can upload to do the voting!! Thanks everyone!! I really appreciate that:) My internet came back up (after 3 hours of MIA) and now I can post my page!! I already posted it to BAM, so now it's time to post it here!
These were tonight's parameters:
1. Choose three photos. Crop them so they are exactly the same size and shape (or as close as you can). You may use different pieces of the same photo if you wish (close-up on face, zoomed out view, etc, I'll count them as separate photos). You may rotate the shape. Be creative!
2. Choose exactly three papers, no more no less. One must have a visible print of some sort. One must be plain-textured. One must be either worn, folded, torn, or messed up in some way. You may use them as many times as you like, in any way you like.
3. Find an element that in some way mimics the shapes of your photos, and layer it behind each one. It can be as large or small as you like, and only needs to be visible enough that you can tell it's a similar shape. You may use your papers for this piece if you need to, but try to find premade elements. You MAY use 2-3 different colors of the same element.
4. Add exactly three ribbons, strings, or ricrac strands (long straight or curly ones, no bows unless they're part of a bigger piece).
5. Pick exactly three more elements and use them any way you like, as many times as you like.
6. Add a THREE WORD title, using at least two different fonts. You may use alphas, as long as they are different.
7. Journal and/or date if you wish, and three cheers, you're done!
And this is what I did with them: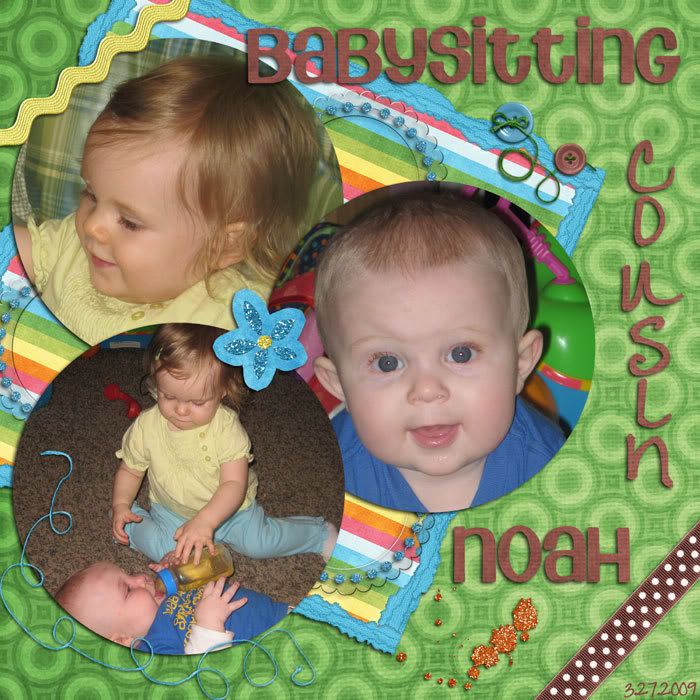 Credits:
Papers - me, Retro Rainbow expansion (still working on it )
Ric rac, acrylic glitter frame, flower - Kimi's Kreations, Ready for Sun
String, ribbon, glitter splatter, buttons - geniaBeana, Playtime
Fonts - Too Much Paper, Tracy
Atomic Cupcake action - wild tear
Anyway, that's all for tonight. Hopefully tomorrow I'll have some sort of freebie for you. Either a template or my expansion kit. Or maybe even both!! Anyway, goodnight!