If you're looking for the blog train, see previous post:D
We had another speed scrap on BAM tonight. It was really fun! For once, I wasn't scrambling at the last minute to get my page done. But I knew what photoshoot I wanted to pull from (some HILARIOUS pictures I took of Emma today:D) and I wanted to try out the kits from our blog train. I didn't use anything else, other than some fonts and Atomic Cupcake's rub on action. So that made it easier to pull everything together. I really like how my page turned out! This is the first time I've done a huge photo like that blended into the background, and I love it. I should do it more often. There were a lot of gorgeous pages tonight, so I have no idea who's going to win. I think I'm in the running this round, but we'll see;)
Anyway, these were our instructions, given throughout the first hour:
1. Pick two pictures
2. Pick 4 papers, to use as you like
3. Use one picture in the background. Extraction, blending mode, as you like. Or play with the opacity.
4. Frame the other picture
5. You may use up to 8 different elements, not including word art or alphas.
6. Include something BLUE! (cuz this is me)
7. Journaling or title must include song lyrics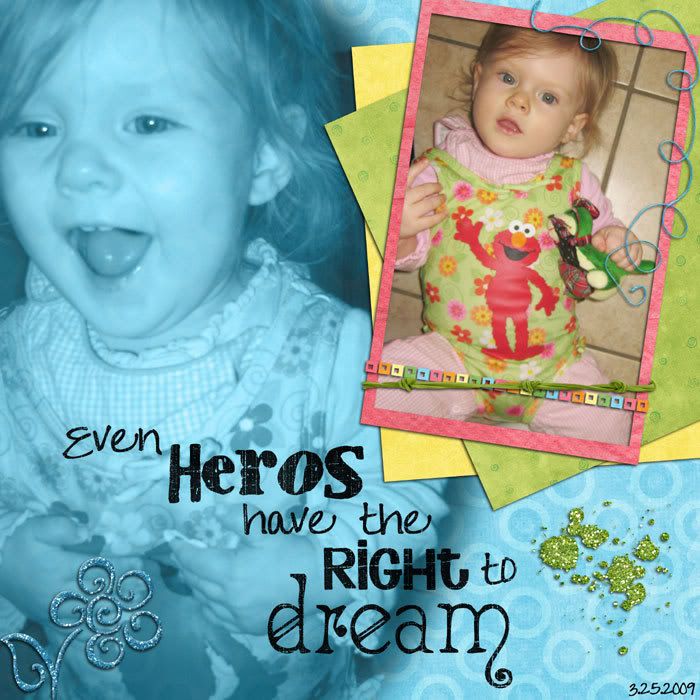 Credits:
Blue paper, green paper, colored border - me, Retro Rainbow (BCC1)
Yellow paper, flower - Kimi's Kreations, Ready for Sun (BCC1)
Pink paper, rubber band, string, glitter splat - geniaBeana, Playtime (expansion - BCC1)
Song lyrics - Five for Fighting, Superman
Fonts - Tracy, Cry Kitty, Too Much Paper, Acadian
Atomic Cupcake action - rub on
Of course, after I posted my page I realized I journaled the wrong date! Oops! I fixed it in the PSD, but I don't want to reupload just for that. It should be the 26th, not the 25th. Oh, and it was completely Emma's idea to wear her Elmo swimsuit over her clothes...it made me think super hero, especially in the pics where she's holding a Loch Ness Monster souvenir I got in Scotland a few years back. Hence the lyrics I chose. She cracks me up!!
I also made my W and X pages today! Woot! 2 more pages and I'm DONE. Well, and I need a cover. But yay, the end is in sight, and I will easily meet my own deadline of the 31st. Here are the letter pages: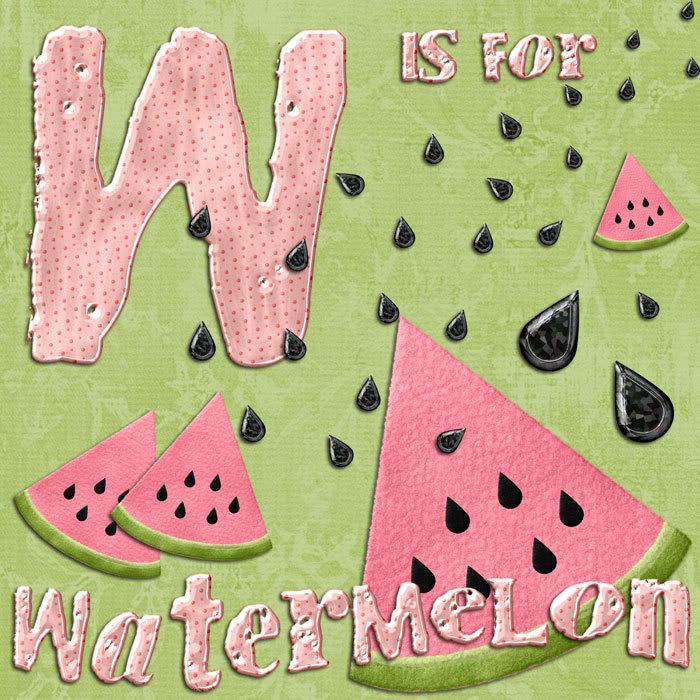 Credits:
Kit - Flower Scraps, Shabby Watermelon
Font - Cry Kitty
Atomic Cupcake action - colored chrome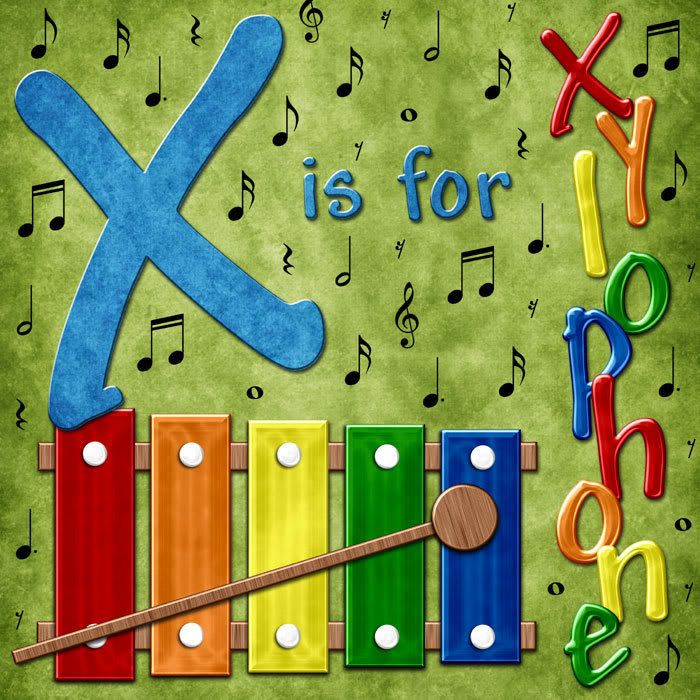 Credits:
Papers - Kimi's Kreations, Ready for Sun addon
Xylophone - me! Will be part of Emma's Toybox addon
Font - Andy
Atomic Cupcake actions - colored chrome, acrylic (and oak for xylophone)
Music brushes - Obsidian Dawn
Just an FYI, Kimi and geniaBeana's addons aren't up QUITE yet. But they will be soon, so keep checking their blogs! Mine will be coming, too - I just need to finish it first LOL! Anyway, that's all for tonight! Night all!