Template 19 is up and ready for download! We had a speed scrap tonight on BAM (my mommy forum), and I turned my LO into a template for you. This is the first REAL speed scrap I've done. It was really fun! A bit stressful towards the end, but wow, what an adrenaline rush! Instructions were given out every 10 minutes for the first hour and we then had a second hour to complete the page, plus a 15 minute grace period for saving and uploading. I was scrapping well into the allotted grace period and got my page up 5 minutes late. I hope that doesn't disqualify me from the voting. No one said anything either way after I asked about it, so hopefully I'm good to go.
Here are the instructions we were given:
1. Choose 1 background paper. Then choose 3 more papers that will be used in the background.
2. Your page must contain 4 photos. They can all be differnt, or some can be duplicated.
3. Choose 1 element, and use it 3 times on your page.
4. Choose 2 fasteners. Use them as much as you like.
5. Choose 2 more elements. You can use these ones as much as you like!
6. Add as much journaling, word art, and title as you like
And this is the page I did for it (from our attempt to go to the park this week):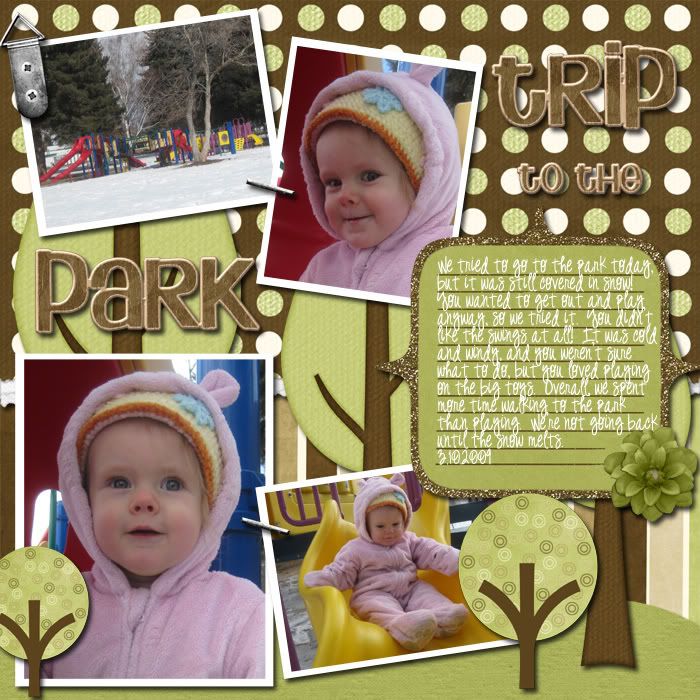 Credits:
Striped paper and small trees - Scrap Matters Design Star mini kit
Dotted paper, big trees, and alpha paper - Project B Designs Time Stood Still
Green paper and journaling frame - Val (aka geniaBeana), Chocolate Temptation
Staple - MissVivi, Happy Birthday
Other fastener - NewLife Dreams, Happy Birthday
Fonts - Too Much Paper, Digs My Heart
Atomic Cupcake actions - wild tear, painted wood
There were a couple of things that needed fixing, but I didn't have time to fix them. I did so later in Photoshop, though;) But of course, the revised version doesn't count towards the speed scrap.
Afterwards, I turned my LO into a template to share:) Hope you like it! Template 19 is a single page LO in PSD format. I used one of Scrappin' Cops' CU bracket frames for the journaling tab in this template. Here's the preview: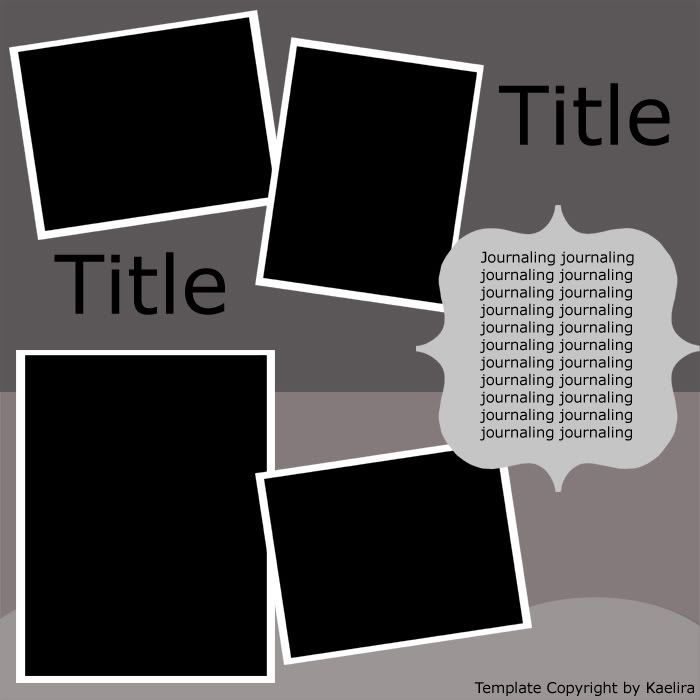 You can download it
here
.
As always, I'd love to hear back from you and see what you do with my templates!
I have an idea for template 20, and I've been working on a kit that I hope to finish soon, so keep checking back for more! Assuming, of course, that you like my work;) Anyway, goodnight all!