Emma had her 15 month well baby check up today. She weighed in at 17 lbs 9 oz, is 28.5 inches tall, and her head circumference is 18 inches. Percentage-wise, weight = 0%, height = 5%, and head cicrucmference = 44%. Yeah. She dropped off the chart again. Diarrhea and no appetite for over a week will do that. Especially since she was in the 2nd percentile when she got sick. It's a little disconcerting that she fell off the charts again, but I figured it would happen. I just have to remind myself that charts are just that - charts. They're numbers. Numbers alone can't tell me my child is healthy. She IS gaining and growing, just at her own pace. She's thriving.
But, when we brought her in 2 weeks ago when sick, she weighed 17 lbs even. So she's gained 9 oz in 2 weeks. Can't complain about that!
When we took her to the ER in January for a high fever, the ER doc noticed a slight heart murmur. He said it may have been fever related, but to have her pediatrician check it out at her next well baby check up. I mentioned it today, and he spent a long time listening. Turns out she DOES have a slight murmur, but it's not going to cause any problems. He said it may have been there all along and just went undetected. It took her being sick with a fever for it to be noticeable, since fevers tend to make murmurs worse.
I also brought up Emma's lack of interest in talking. I asked when should I be concerned, and he echoed what one of the girls (who is studying speech therapy) on my mommy forum said: if she's not starting to say words by the time she's 2, then we might need to look into speech therapy. Though, Mom reminded me that I didn't talk much at all at 2, never had speech therapy, and I certainly have no problem talking now! The trick is getting me to shut up;) My sister, on the other hand, was a total chatterbox at 2. But she had an awesome big sister (me) to interact with;)
I had questions about her teeth, too. Emma has a big gap between her 2 front teeth. Greeeat. My mom and my brother (and his daughters) have a gap there. My mom and brother got theirs filled in, though, so you can't tell. I was afraid Emma had inherited it. But her pediatrician said it looks perfectly normal and that it will most likely close up as her other teeth come in (she has 4 fully in and a 5th on the way) and disappear when she gets her adult teeth. I'd hoped that was the case. He also said that dentists prefer babies to have a gap there because it allows the adult teeth to have more room to come in. I asked about taking her to a dentist and if he recommends one. Turns out there's one pediatric dentist in town. I didn't think we had ANY, so that's good to know. We only have one pediatrics clinic, and we go there. There are GPs, of course, but I prefer doctors who specialize in babies and children for my baby. Which reminds me; someone told me a few weeks back (shortly before we got colds) that late teething is actually better than early teething, because late teethers tend to have healthier teeth. I'm not sure how accurate this is, but it makes sense to me. I just hope Emma has MY enamel and not John's - I've had 1 cavity, he's had 15...one of which broke off and he needed a root canal, core build up, and crown put in last summer. Yeah. Please have my teeth baby!
Aaanyway, I have the next set of pages for Emma's book, M and N. These pages, by the very nature of the subjects I chose to use, had to be very different. Well, I guess I COULD have done a mommy page in black, but...I didn't want to. So even though they're very different, I think they'll work well next to each other. Here they are: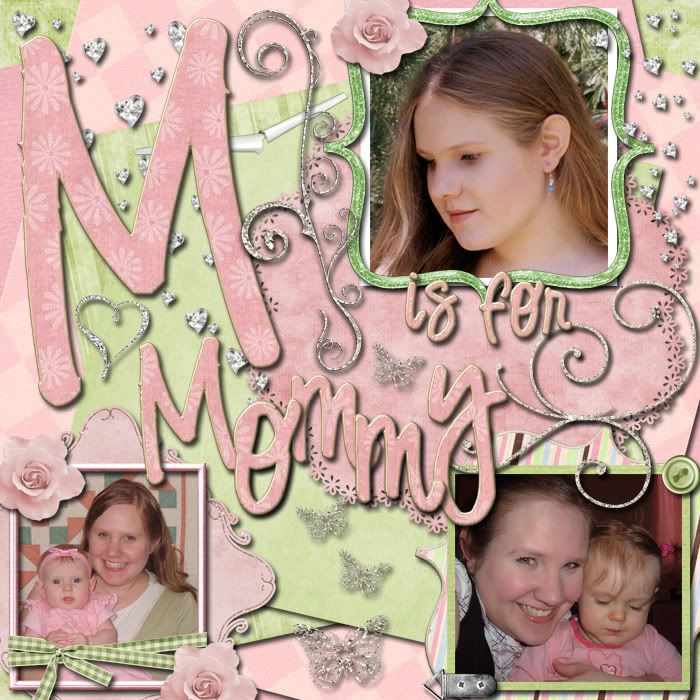 Credits:
Background paper, solid pink paper, solid green paper, curled corner paper, flower paper, ribbon, button, fastener, swirl by button - Happy Birthday collab, Miss Vivi, Tinette, Digiscrap_ch, Nini-lolo, Kafrounette, Choukette, and Newlife Dreams
Pink argyle paper - Plum Dumpling Designs, Brahm's Lullabye
Green striped paper - Raspberry Road Designs, Annie
Pink scalloped mat - Kathryn Estry
Bracket frame - Mel, Down by the Lily Pond
Bracket mat - A Work in Progress, Candy Dream
Swirl by M and butterflies - Fairly Fabulous, Love Thee
Heart cluster - Little Dragon, Forever Mine
Glitter heart frame (desaturated) - Claire7799, Mushroom
Pink glitter mat and rose (changed saturation) - Miss13, Storia Bella add on
Atomic Cupcake actions - colored chrome, painted wood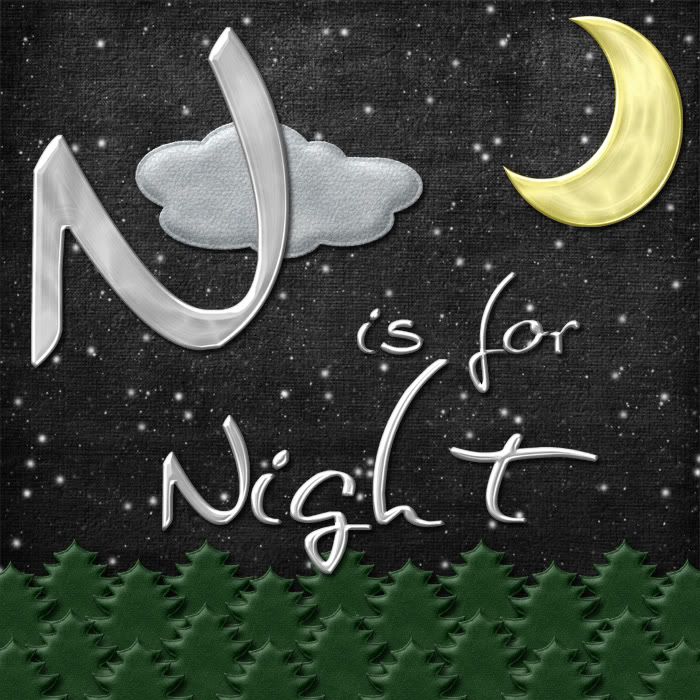 Credits:
Paper - Purescrap, Barcelona
Moon (colored chromed) - Brahm's Lullabye
Trees - Le Pingouin Designs, Winter Wonderland
Cloud (puffy felted) - MeganB Designs, Rainy Days
Stars - Obsidian Dawn, Stars brush set
Atomic Cupcake actions - colored chrome, puffy felt
I didn't really like any of the alphas in my stash for either of these pages, so I made my own. I used a paper and painted wood on the M page, and colored chrome on the N page. I don't have regular chrome, but colored chrome works great on light gray, too;)
I have a new template for you! I noticed awhile back that as I scroll through the thumbnails of my templates thus far, 9 and 10 would look awesome together as a 2 page LO. However, 9 has square corners and 10 has round corners, so they wouldn't really work. So, I made a new 2 page template combining the 2, with a few adjustments to cater to the double page setup. I was going to do both a square cornered and round cornered version, but ended up being lazy and just doing the rounded corners. I can do a sqaure cornered version upon request:) Template 16 is a 2 page LO in PSD format. As always, I'd love to hear feedback and see your pages. I still need to check that secondary gmail account LOL. Posting links here is your best bet;) Anyway, here's the preview:
You can download it
here
.