I know, I know. I haven't blogged in 4 months. Sorry! Graduation, moving, and settling in to our new home with 3 small children and a husband starting grad school has kept our family busy. I'm making up for it today; I've got loads of pics. Like, 101. I'm serious. And there are tons more I could post; we'll save them for another day. Today, I've got a home tour to share :)
But first things first, John graduated in April!! YAY! It's been a very long road for our family. We're so happy and proud of him. He got to walk with his sister Victoria. It was really special to see them walk together. You can tell they're excited :)
We had a bunch of family come to town for their graduation: my mom, Adam (Victoria's husband)'s parents, and Trenna with her 3 kids. It was great to see everyone. Since it was also Easter weekend, we got to celebrate the holiday with lots of family.
All in the midst of packing up all our stuff. Off to grad school for us! Moving was insane. Oh gosh. So crazy! Packing, cleaning, 8 hour drive with 3 kids (which we broke down into 2 days for convenience), unpacking, organizing...yeah. But, we did it and we survived.
A couple of pics of our old tiny 2 bedroom/1 bath apartment, all cleaned out:
We had tons of wonderful people come to help us load the moving van. Unfortunately, we quickly discovered that our moving van wasn't quite big enough for all our stuff. So...we had to rent a trailer as well. But Budget doesn't rent out trailers, so we had to go to U-haul. LOL, I love that we had a Budget truck and a U-haul trailer. We don't believe in monopoly ;)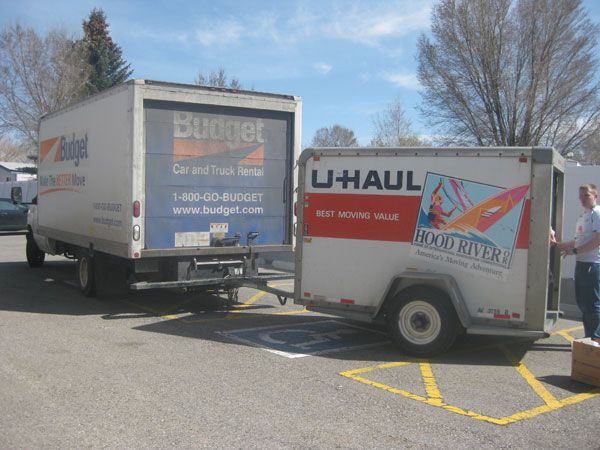 We were able to get everything in with the moving van and trailer combo. Then, after an insane amount of cleaning (thanks to our great helpers!), we were on our way! John drove the moving van and my mom drove our van while I navigated/kept the kids entertained. Emma loved when I sat in the backseat with her: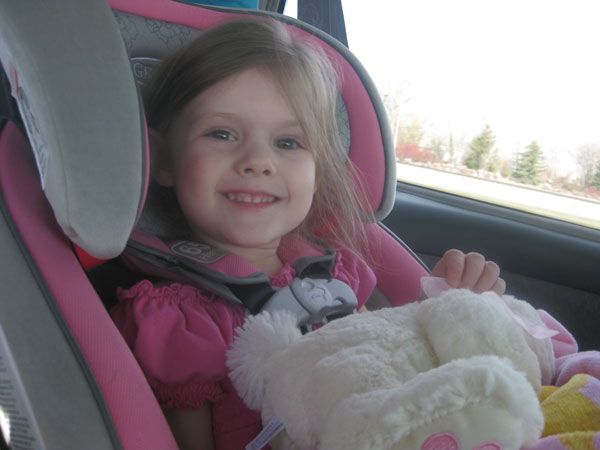 We stopped at a hotel for the night. This is how Emma and Hyrum slept that night: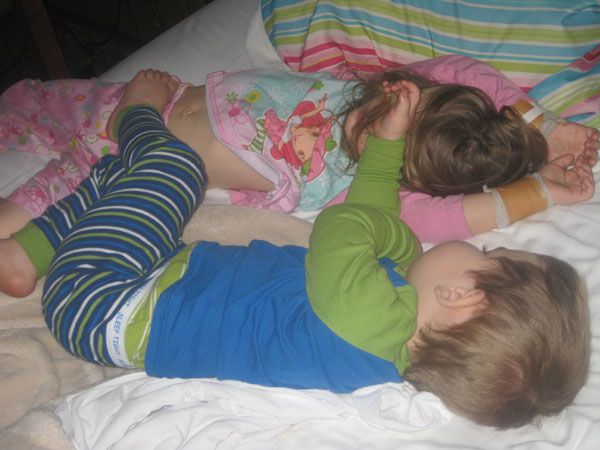 My friend Elly's house was on the way to our new home, so we stopped by to visit for awhile. It was so fun to see her and her 5 boys! They're such cute kids. One of her boys is 2 weeks younger than Emma and another is 2 days older than Hyrum. The kids had so much fun playing together.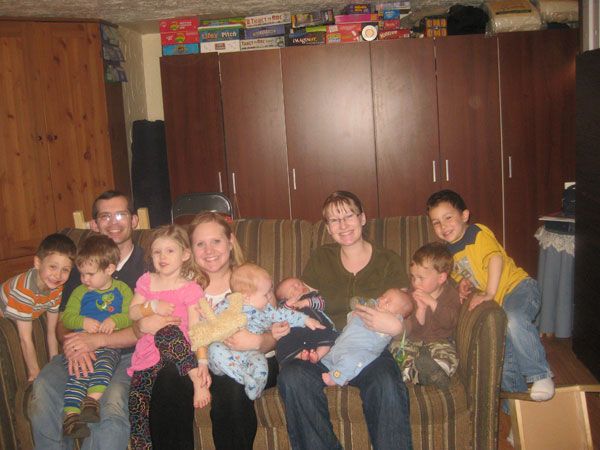 At long last, we finally got to our new home! We rolled in at around 9 or 10 PM and several amazing neighbors helped us move in. Yes, at that hour. It definitely helped that our friends Jeff and Lori are in our new ward. Lori posted on the Relief Society Facebook page that we were moving in that night. We were so blessed!
It's taken us a very long time to get everything put together to my satisfaction. What with unpacking, cleaning, taking care of kids - including a crawling, nursing, teething baby, grad school, and life, it's a long process. We're still not 100% done, either. I hope to polish off the rest over the next 2-3 weeks; John has only one final to go for the semester, and he's taking it tomorrow. So he'll be available to help (and play) for 3 weeks before fall semester starts. But I can finally start posting pics of our new place! We absolutely love it!! It's a townhouse. We share a garage wall with one neighbor - and that's it. No other walls touch. Sweet. Sooo much better than sharing walls, floors, and ceilings on all sides.
The front of the whole building:
We're on the left-hand side.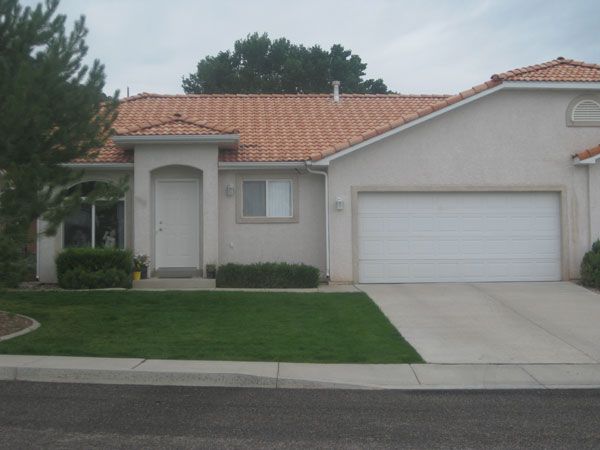 I have pretty flower pots on the front porch. And basil, though I didn't know I was supposed to pinch the top until after it bloomed. Oh well, I now know for next time. I've moved the pots around a few times as I've gotten more.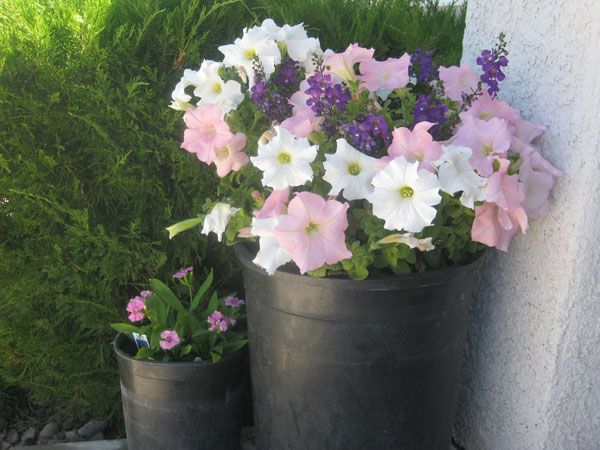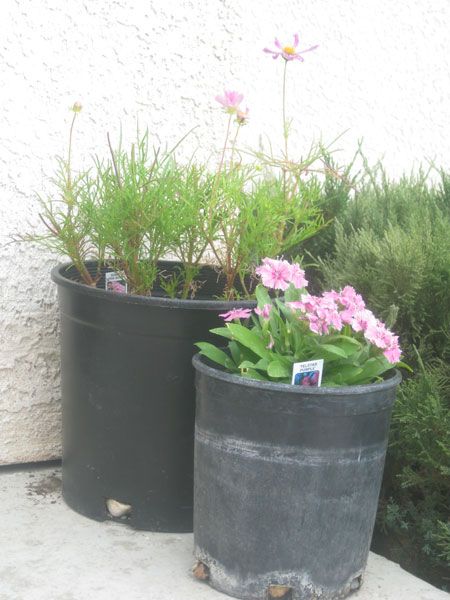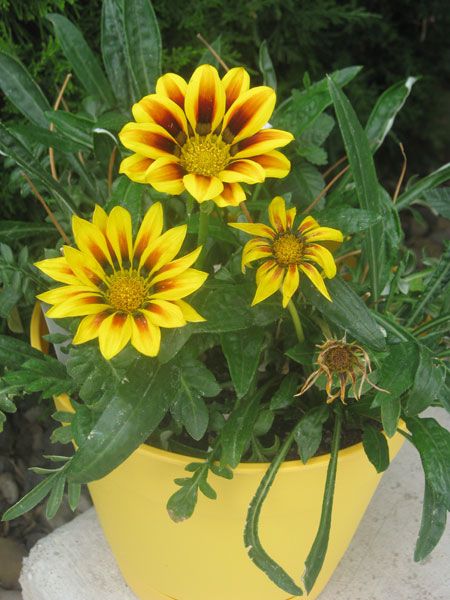 The front side yard. This fence is the favorite place to play.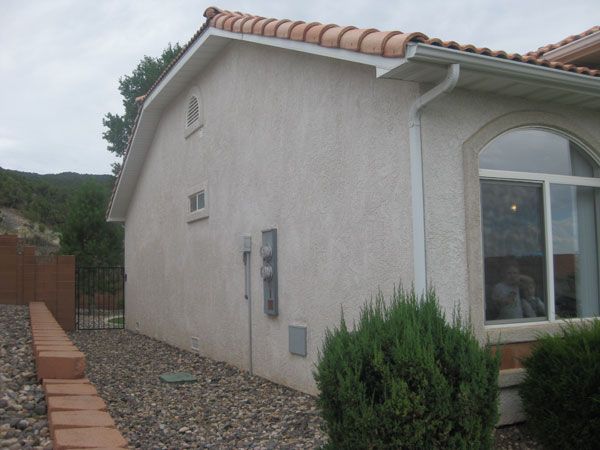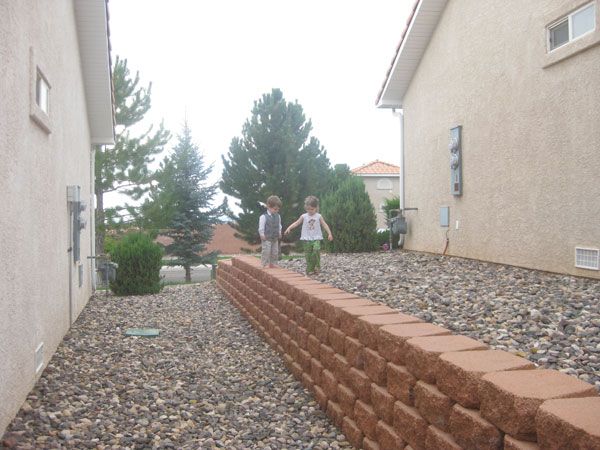 We've had some gorgeous sunsets. These were taken from our front porch, on different days.
And now for the interior. From the front door, we walk into the living room.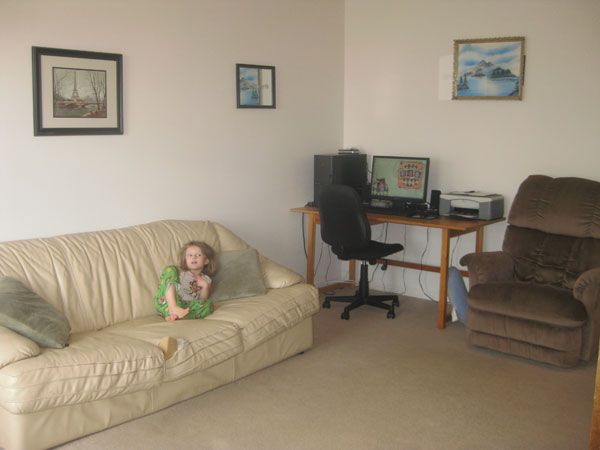 You can't really see it in the pics, but the living, kitchen, dining, and master bedroom all have vaulted ceilings. The living room and master bedroom also have ceiling fans. As for the pictures on the wall, I got La Tour Eiffel painting in Paris, I etched the mirror, and my grandpa painted the watery mountain. I have more decorating to do; I hope to get to it this week.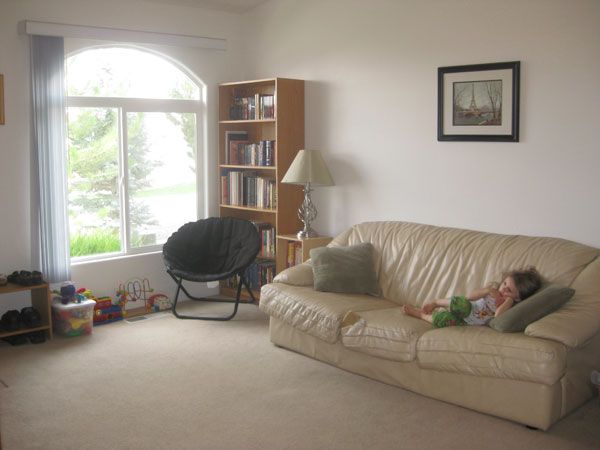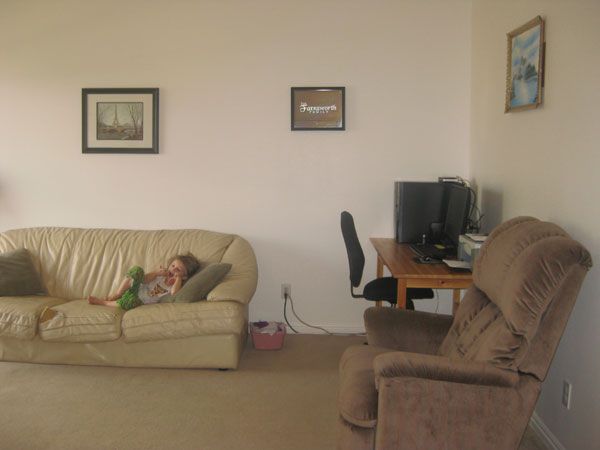 When we were unloading our moving van, one of the guys helping asked if we wanted a bigger TV. For free. Of course we said yes! We went from an old school 19" to a 32" flat screen (but not flat panel). The only problem was that it was an inch too tall and an inch too wide for our old entertainment center. John found a nice new-to-us entertainment center at DI for $35 that works perfectly.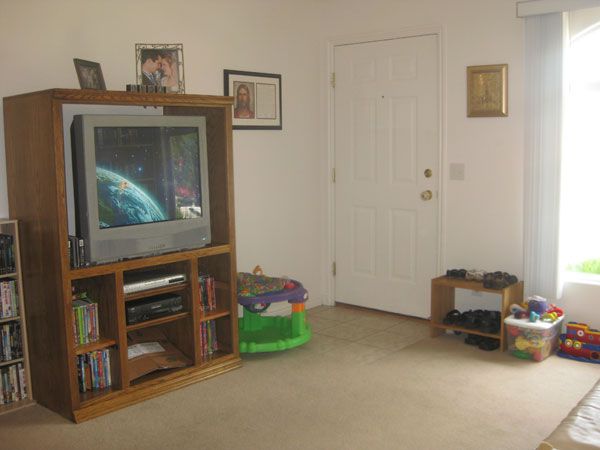 My desk, where I probably spent entirely too much time:
The living room opens up to the dining room.
View of the dining room from my desk: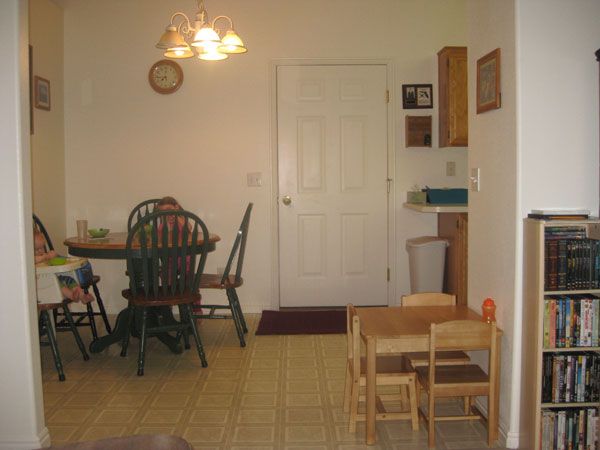 The kids love their little table.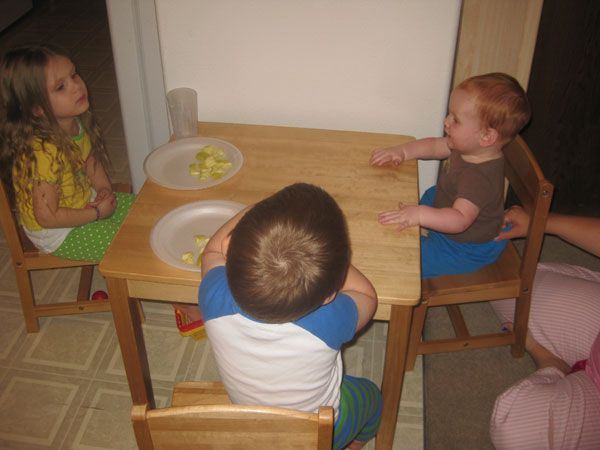 And the dining room from the kitchen. The door by the pictures is the pantry and the door by the counters goes to the garage (which will not be shown on this tour, as it is still in a disastrous state; I plan to work on it soon).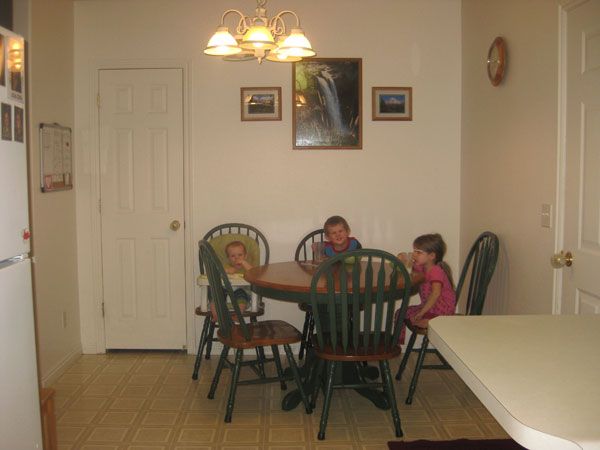 The adjacent kitchen, with my favorite dishwasher ;)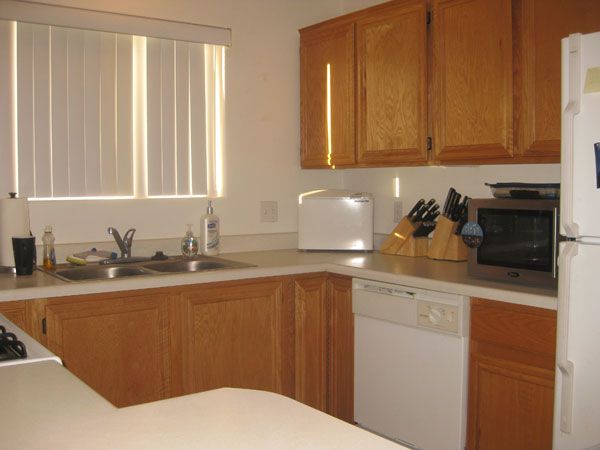 Gas stove. Yay! My parents have gas, so I'm very familiar with it.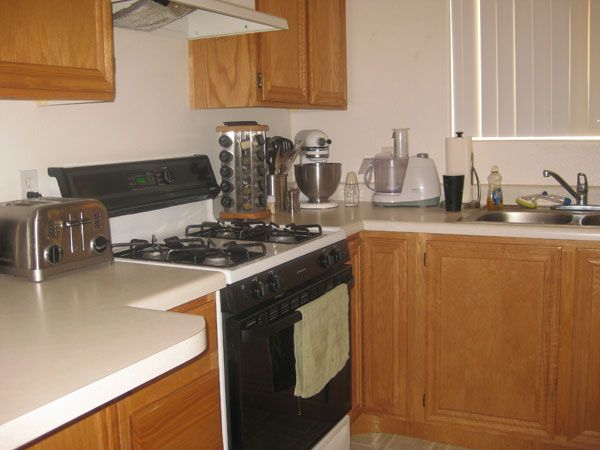 I love all the counter space. This is my baking area. All my baking supplies are in the upper cupboard. Measuring cups and spoons are in the middle drawer (you can't see the bottom drawer here, which contains kitchen towels and aprons). The top drawer is for hot pads and all my pots and pans are in the big cabinet on the bottom.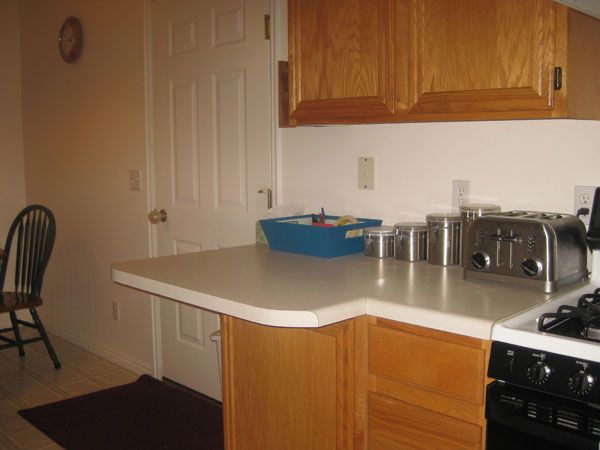 Small appliance haven. The rest (aside from the bread machine, which is in the opposite corner) are in the lazy Susan below. The other corner also has a lazy Susan, which is where I keep all my tupperware and foil, plastic wrap, and bags.
And a freshly cleaned fridge: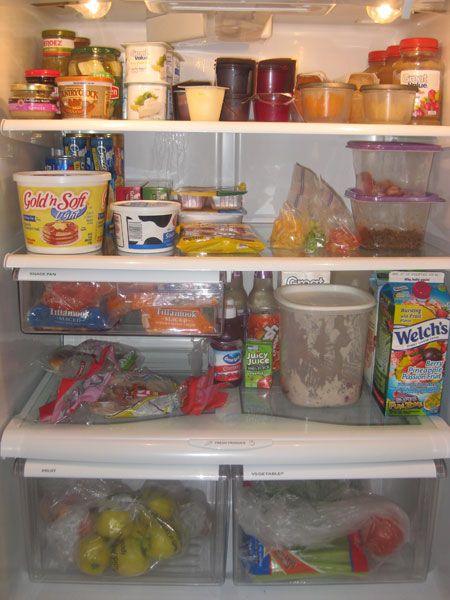 Now for the hall. The first part of the hallway leads from the living room to the master suite.
Then it turns right, where the coat, laundry, and linen closets (in that order) line up before access to the kids' rooms and bathroom.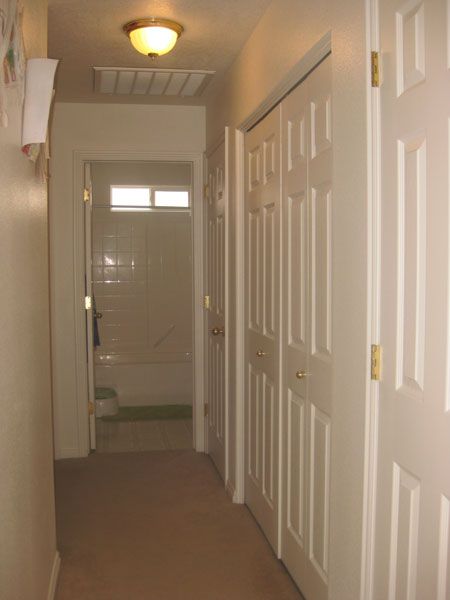 I made a kid art wall in this area with 3 nails and some twine: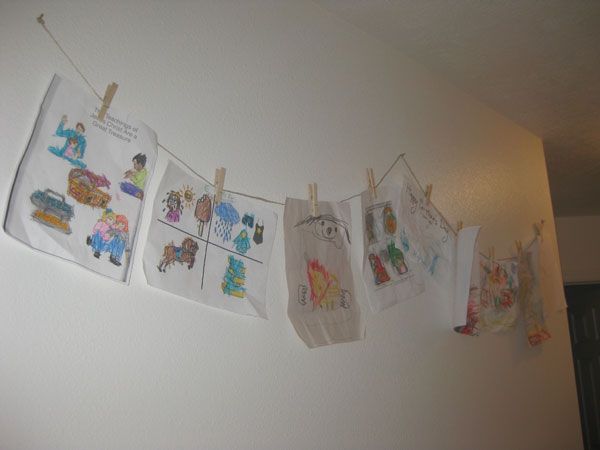 The coat and game closet. The vacuum lives here, too. We also keep a box of library books in here, so they don't get lost or mixed up with our books.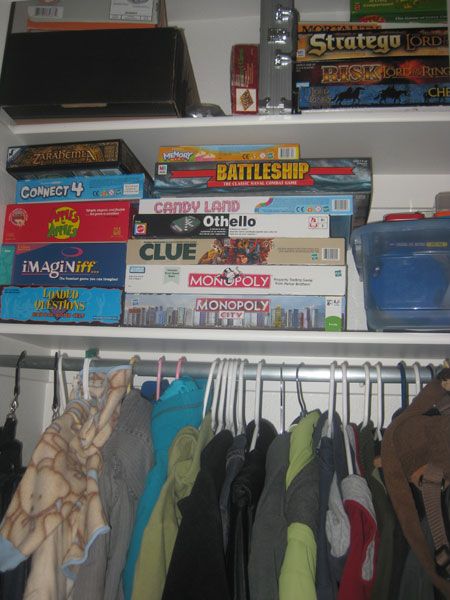 Laundry closet. Cleaners on the top shelf. The diaper box has smaller cleaning supplies in it. This is a good-sized closet; much bigger than the laundry closet at our old place. And I love that it has a light in it!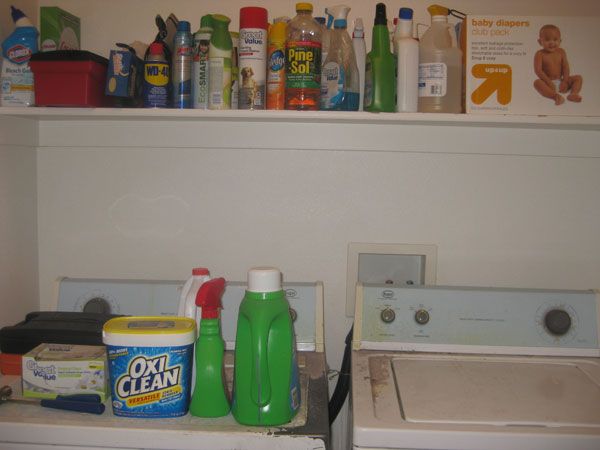 Linen closet. Towels, blankets, sheets, TP, etc.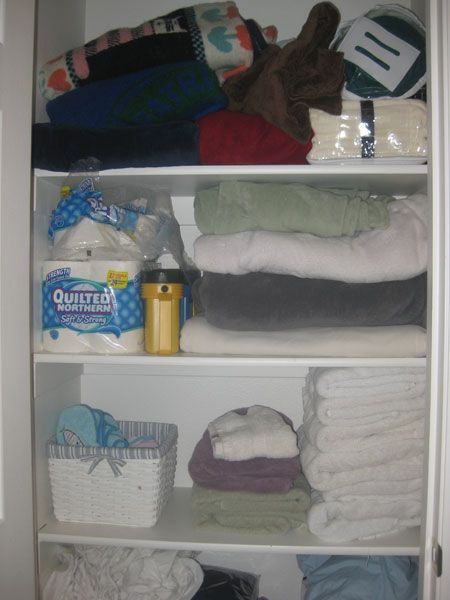 And their bathroom.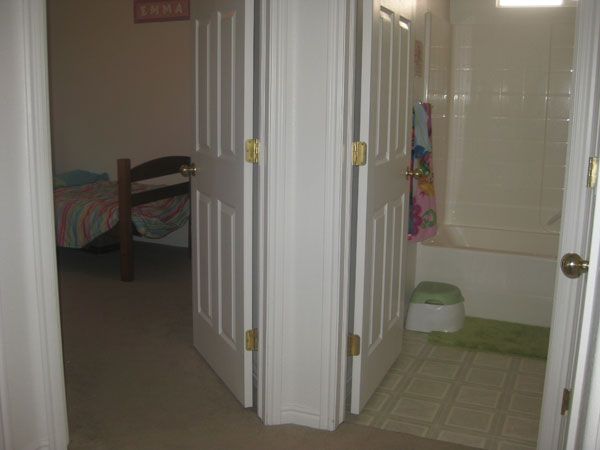 We love having a master suite! Our bedroom window is a sliding glass door that leads to the backyard.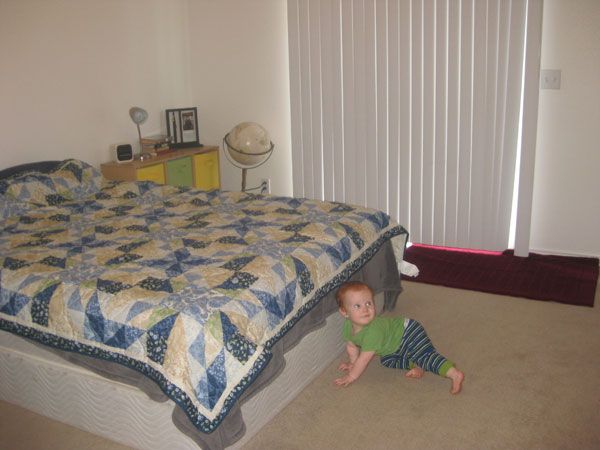 Someone cute kept following me when I took pictures.
John's desk. The grad school homework station. Our bathroom is through that door.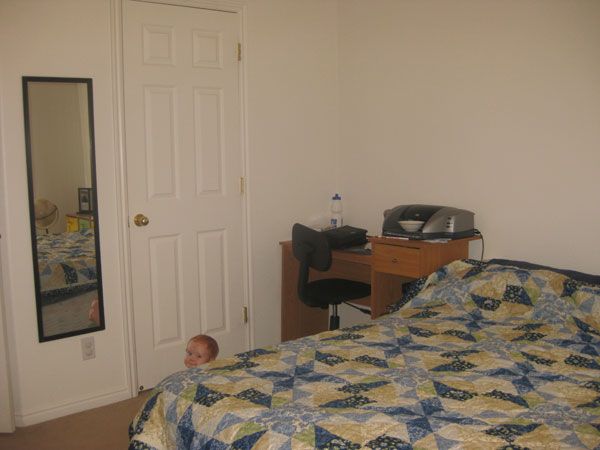 Our dresser:
Close-up of my jewelry. I used 2 $6 key hooks from Walmart to hang my long necklaces on the wall. I'm going to put the hats on the wall nearby. I still need to figure out how to organize my headbands.
My flower holder. For my Facebook friends, this is the craft project I mentioned yesterday. If anyone is interested, I can post a tutorial on how I did it.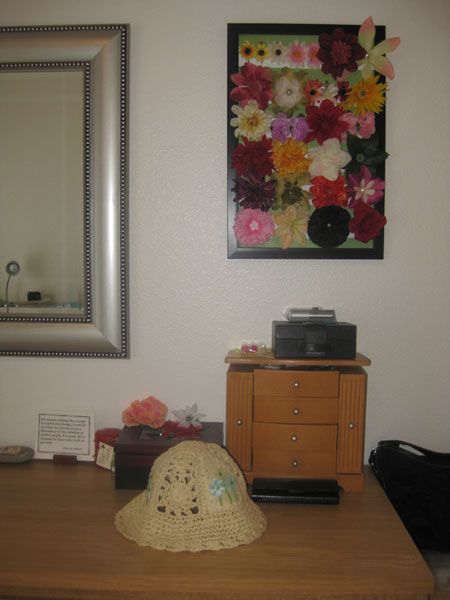 Close-up: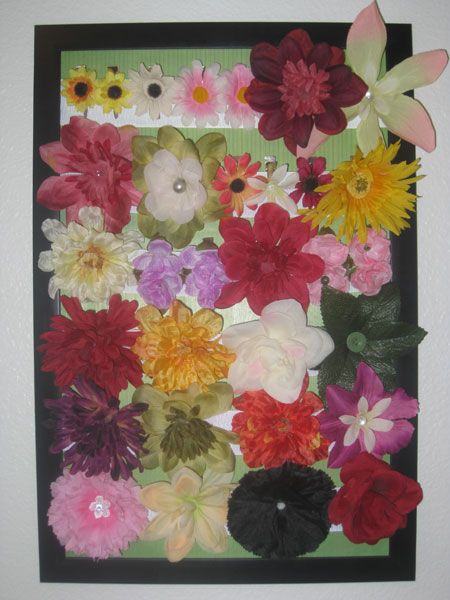 To the rest of the house: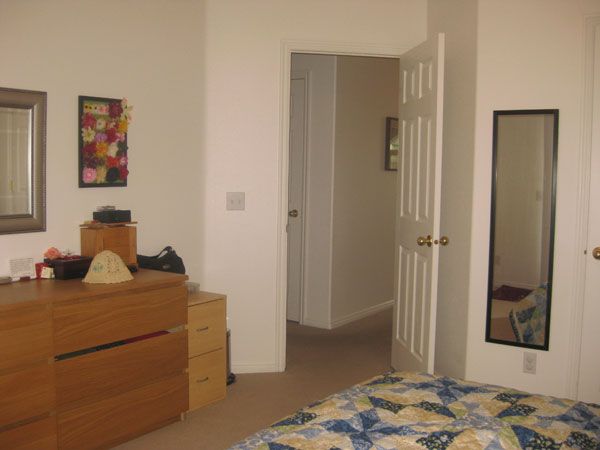 Master bathroom. The toilet is around the corner and our walk-in closet is through that door.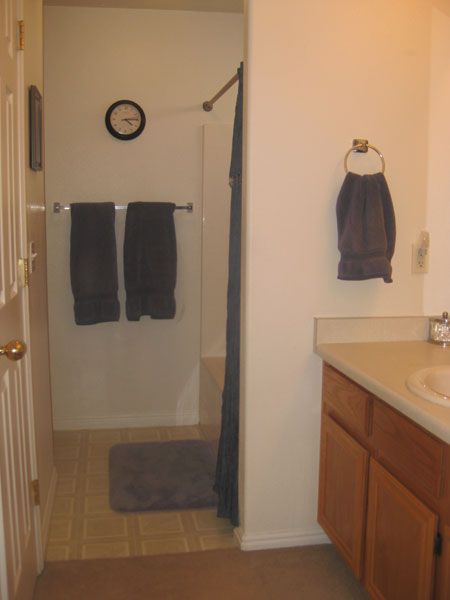 Vanity area: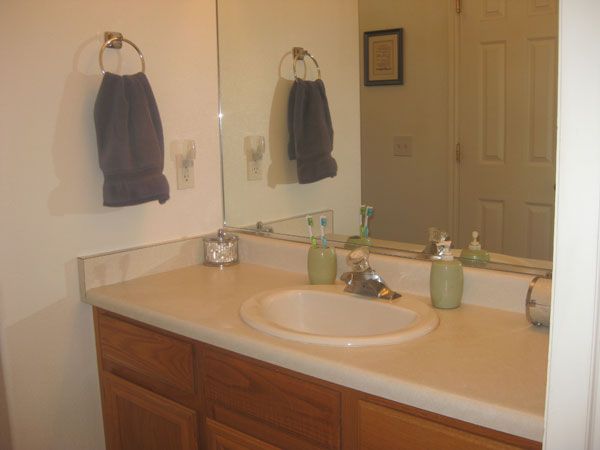 Toilet: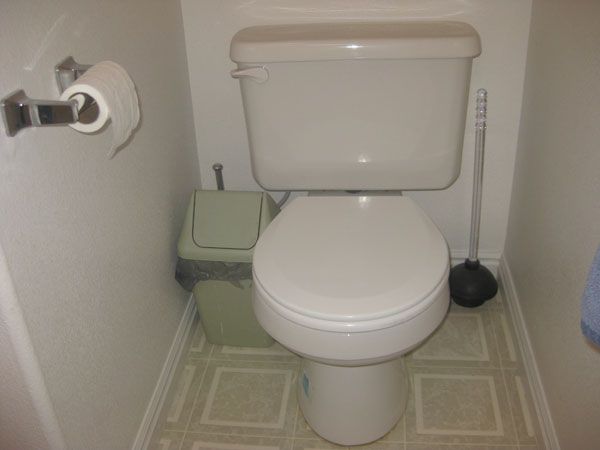 Tub: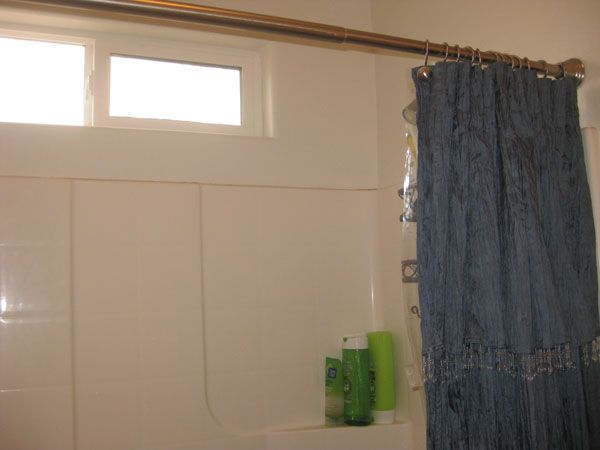 Other side of vanity, back towards the bedroom.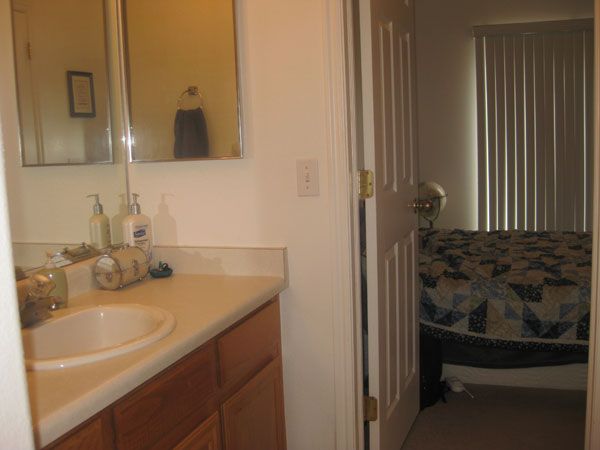 Walk-in closet. We're going to pretend the 2 shelves above and the floor are clean...but they really aren't. So no pics of those yet.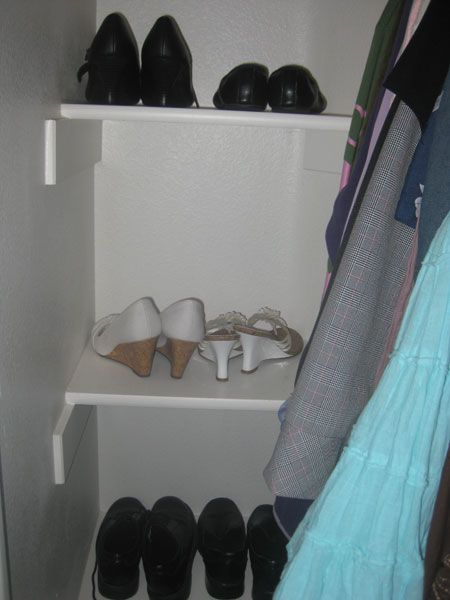 The boys' room is next to the master suite. My mom bought the kids a bunk bed set that converts to 2 twins. We set one bed up in the boys' room for Hyrum and the other in Emma's room. Hyrum uses my nursing stool to get in bed...or at least that's the idea; he's a climber and gets on in several ways.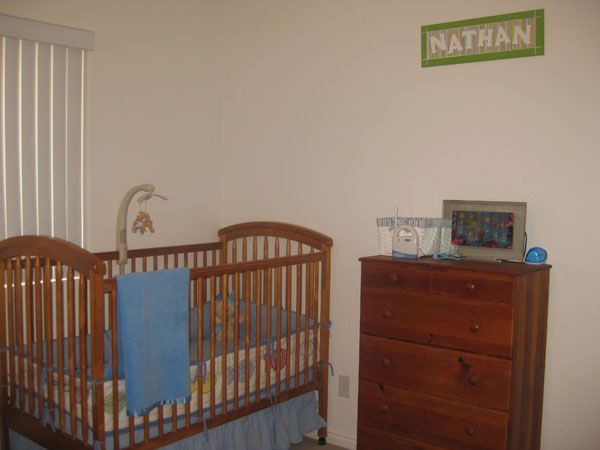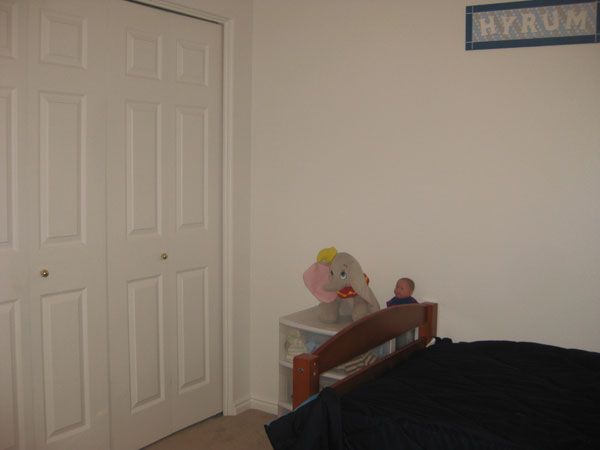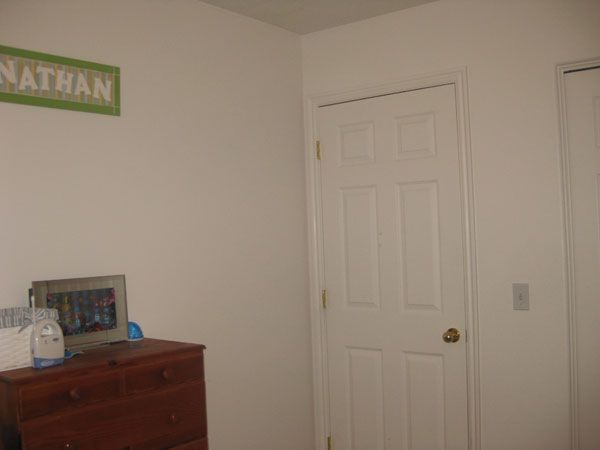 The dresser we stained last summer. The top drawer is for socks. Nathan's shirts are in the next drawer and his pants in the one below that. Hyrum's shirts are in the 2nd to bottom drawer and his pants are in the bottom one. Their PJs and extra less-cute clothes are in the plastic dresser at the foot of Hyrum's bed.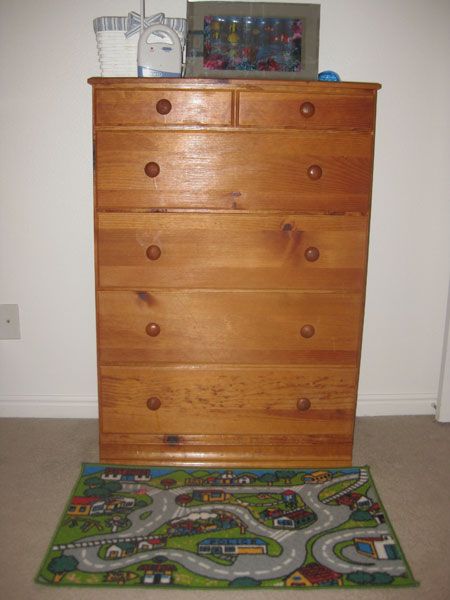 The boys' closet. We're using the changing table to store diapers, wipes, and toys. There's another shelf above, but it's not exactly pretty at the moment. Just boring boxes that I'm partially through working on.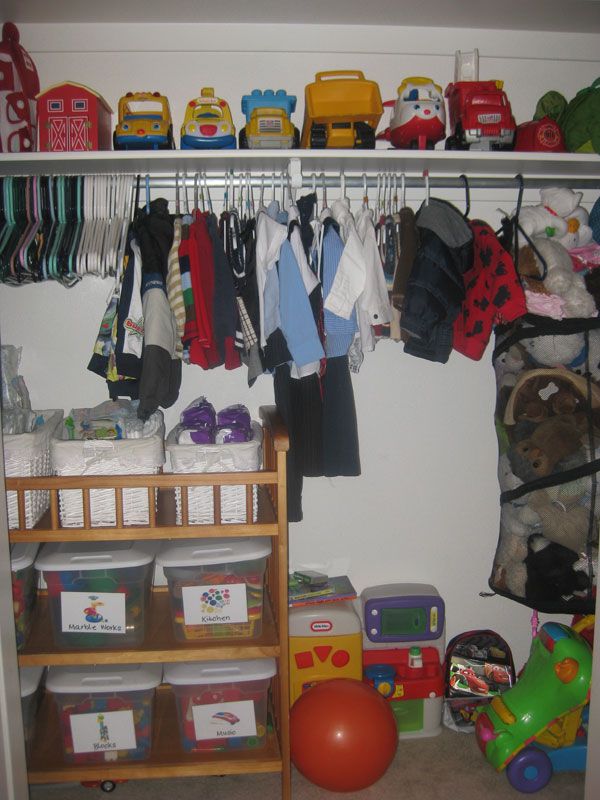 Next up, Emma's room!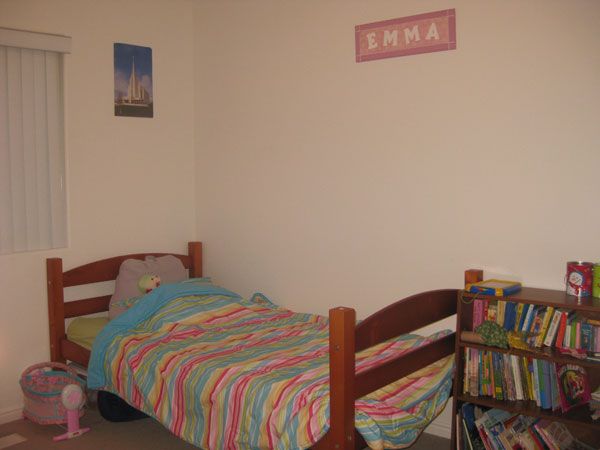 Emma was helping get her room ready for pics.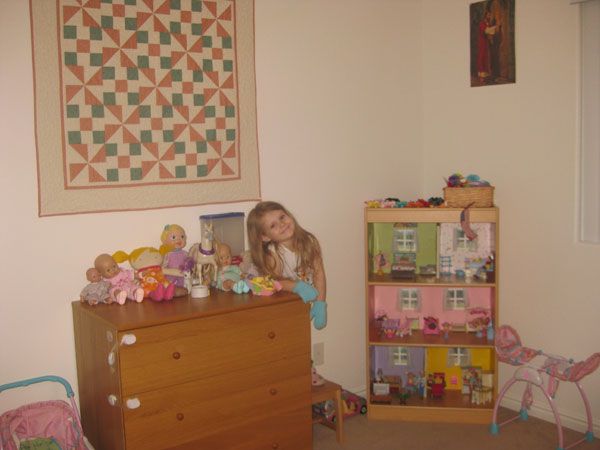 Emma's dollhouse. I made it for her 3rd birthday. It's angled in the corner.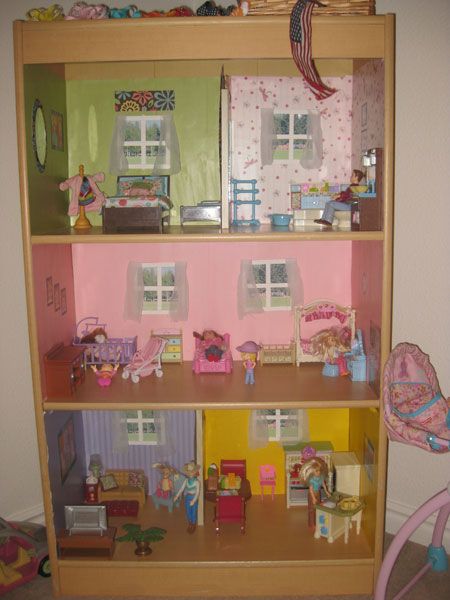 Her doorway, which is at a 45 degree angle in the hall (as is our bedroom door).
More toy storage and a reading nook in Emma's closet. You can only see the corner of the chair; her closet angles to the back, which is perfect for a little reading nook.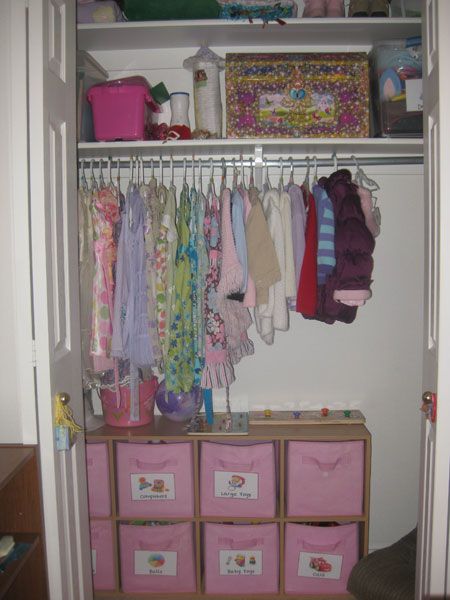 The kids' bathroom is next to Emma's room. It's your basic, average bathroom set up. We did a frog theme for it. There's a little matching garbage can, but you can't see it in the pics.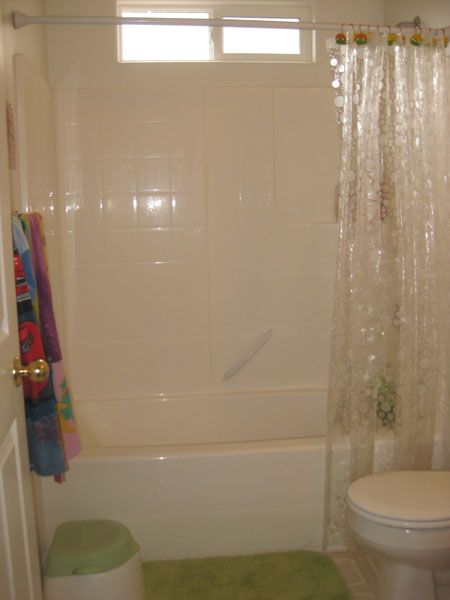 I got a clear bubble shower curtain for them. This way, we can close the curtain when they splash like crazy and still see them.
And last but not least, our backyard! We absolutely love having a backyard. It's so wonderful to have our own outside space.
Back of the house. Windows from left to right: Emma's room, boys' room, master bedroom.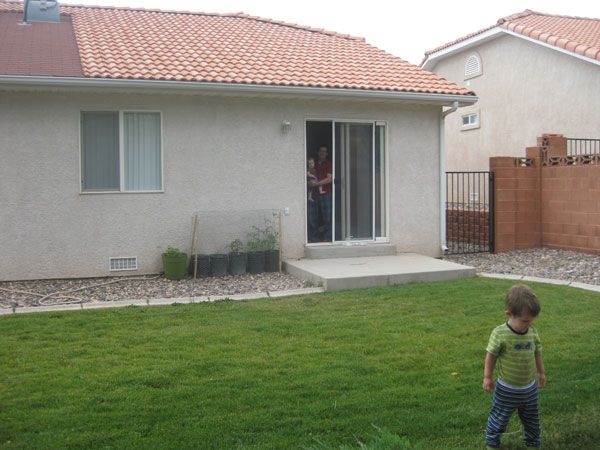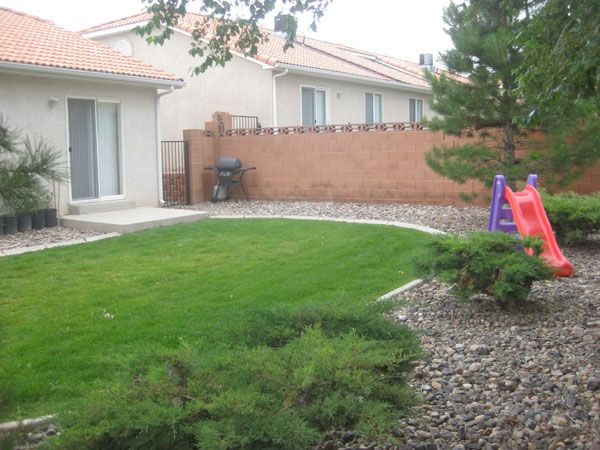 Where our townhouse connects to our neighbors' from the back. Only the garage walls connect!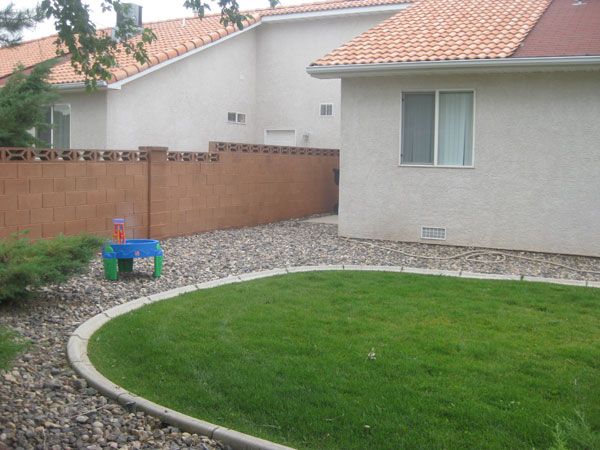 Back side yard: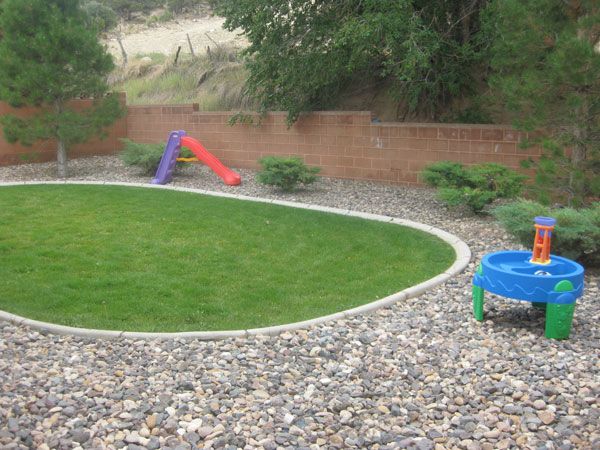 The mountain and sheep trail is literally right behind our house. It's pretty steep, but I've got part-way up twice. We got to see the sheep in the field up there.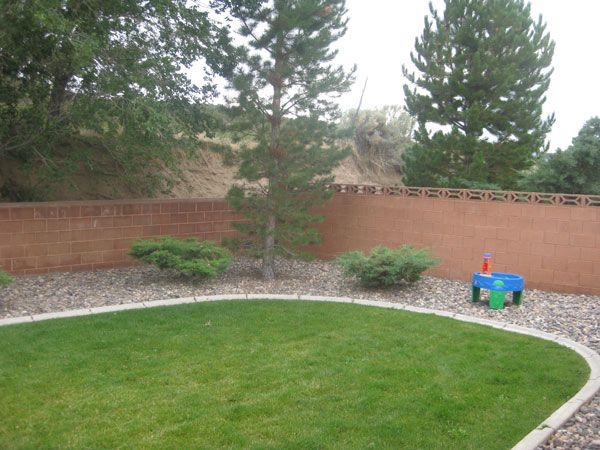 This awesome shade tree is just on the other side of the fence, but we get the benefit of its shade.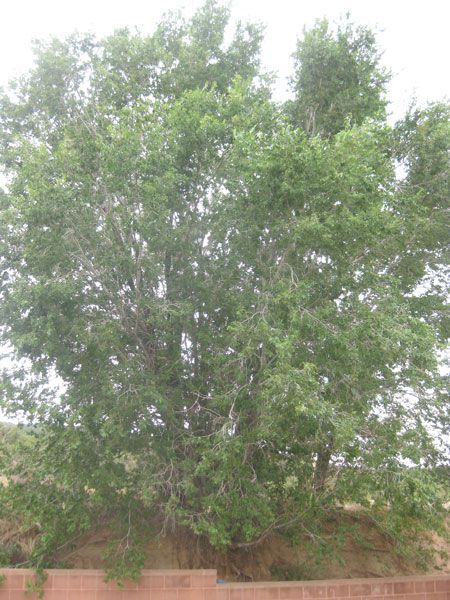 Our wonderful neighbors next door (just on the other side of this fence) got a new grill and gave us their old one! Their girls are 5 and 3; they're our favorite playmates!
Yummy BBQ food:
Speaking of food, check out our little potted garden. I put chicken wire around my plants to keep the evil thieving chipmunks out. Zucchini, strawberries, and tomatoes.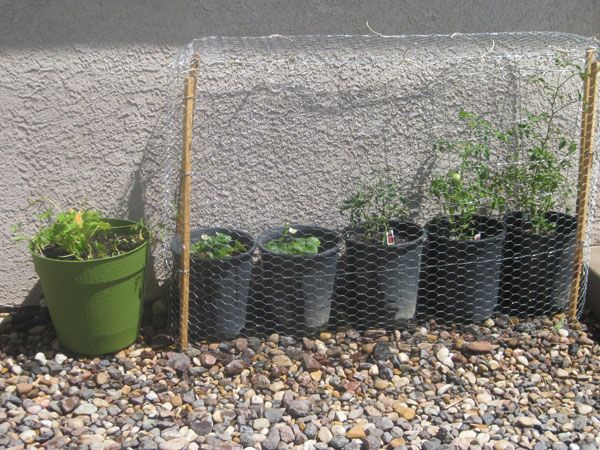 Big green tomato!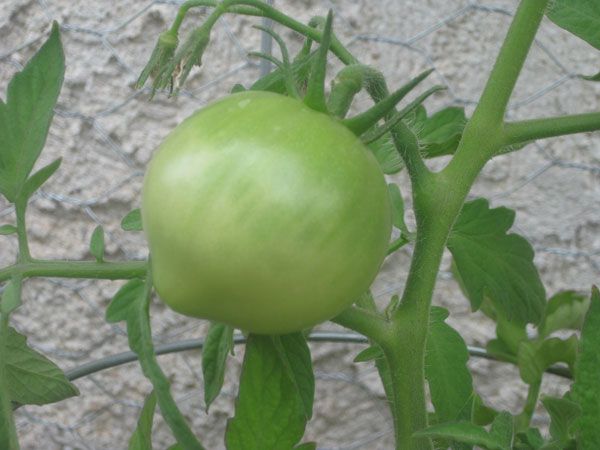 We see lots of little lizards around here. Oh, and Emma and I saw a gopher snake on our front porch a few days ago, too.
That little blue thing on the fence is a bird feeder. Home Depot was passing out these cute little build-your-own bird feeders at the 4th of July parade. The kids wanted to paint it blue, so I pulled out my acrylics.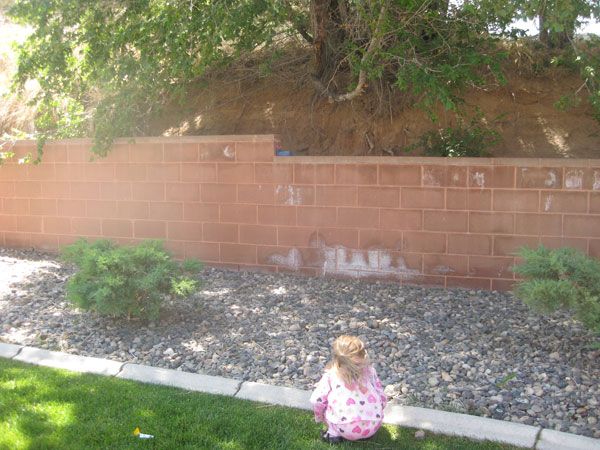 The kids love the water table Grandma gave them!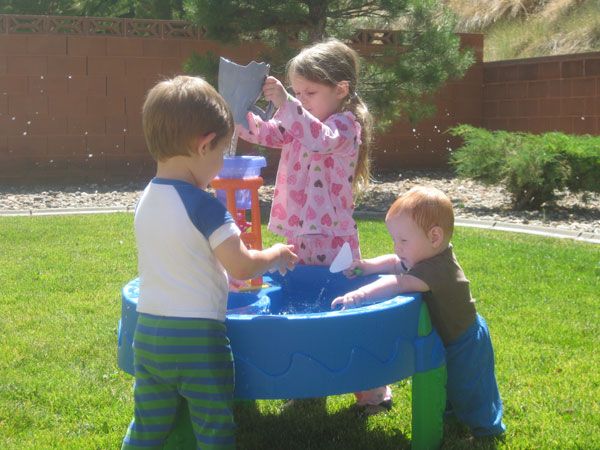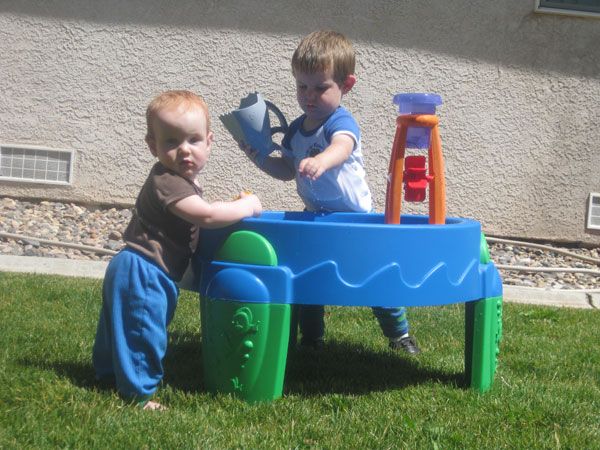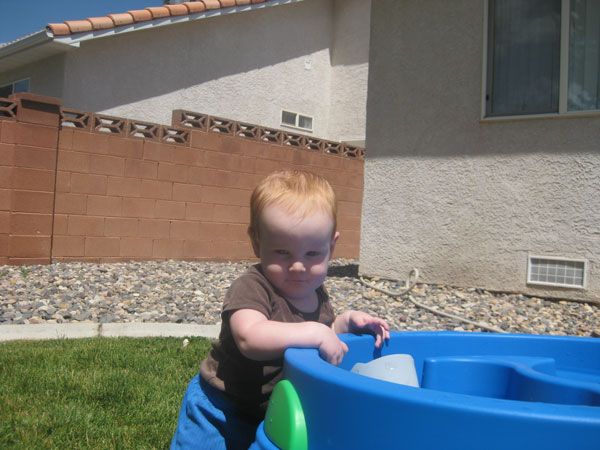 BBQ picnic.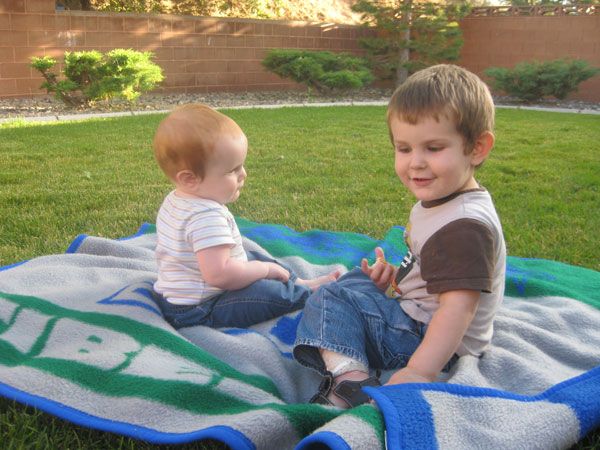 Playing in the sprinkler. Some previous tenants accidentally left their sprinkler behind. Sad for them, but fun for us. We love it!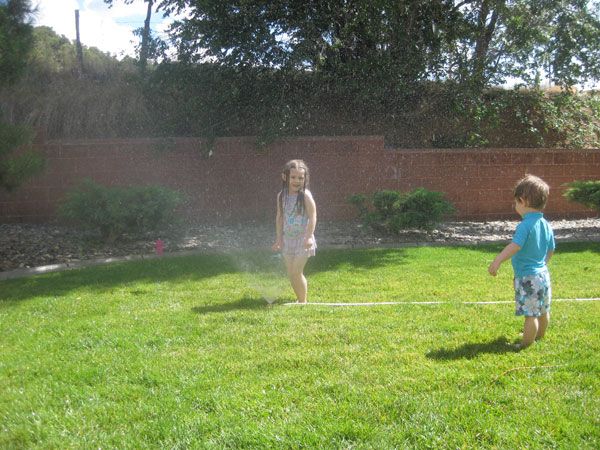 I found this awesome slide for $25 on a local Facebook buy/sell/trade group page. These retail over $100! Of course, the kids love it.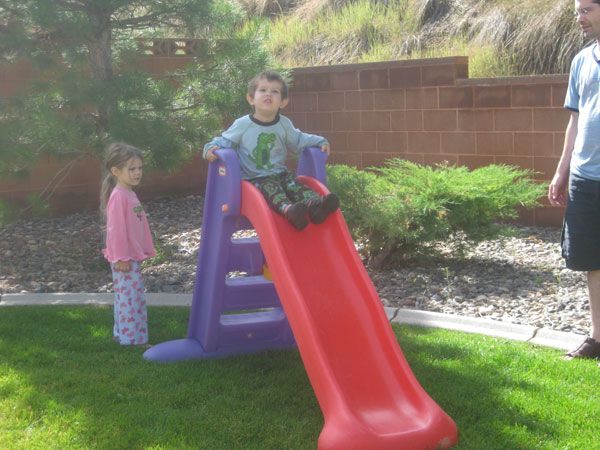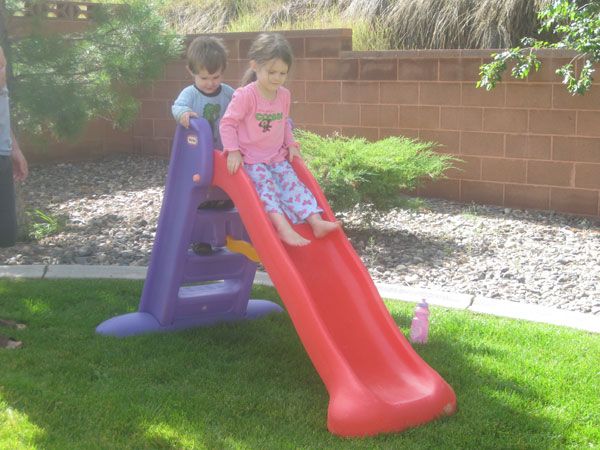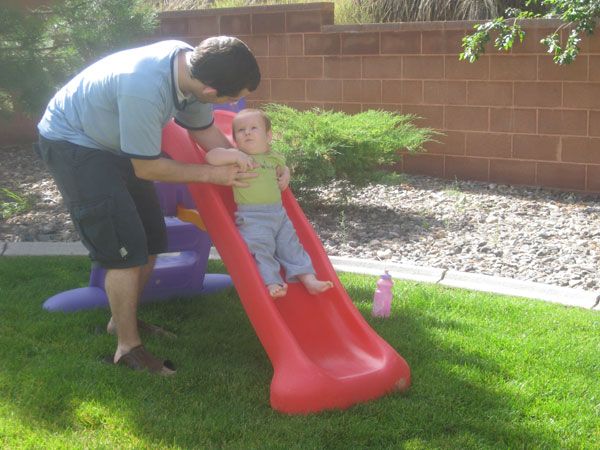 Phew! That's all the pics for today! We absolutely love our new home. We've been so blessed to live in such a great place. We've made a lot of great new friends. I feel closer to the friends we've made here than I did in the 4.5 years of John's undergrad program. I really feel like we fit in here. We love that our kids have lots of friends to play with. Our ward is awesome. It's beautiful here. Being here just feels so right. We love our life! Sure, we've got challenges, just like everyone else. And it'd be nice if we had some family nearby. But overall, life is fabulous. We are so amazingly blessed.