I forgot to post the page I did for Monday's speed scrap! Silly me. These were the instructions, given out every 10 minutes for the first hour:
1. Three Pictures, One of which is of a body part (hand, foot, eye, whatever)
2. Pick Two-Three papers use them in anyway you'd like
3. Frame at least TWO of your pictures
4. Have an even number of circular elements (can all be different)... They don't have to be PERFECT circles, just circular.
5. Choose four other elements and use them anyway you like. (this includes any fasteners or word art you want to use)
6. Title Must have at least TWO words that start with the same letter. (the whole title doesn't have to start the same. But at least two words must, examples "Start The Same" or "Seasme Street" or "Singing The Same Old Song" What ever =p
7. Journal TWO sentences, and date
And this is what I did with them: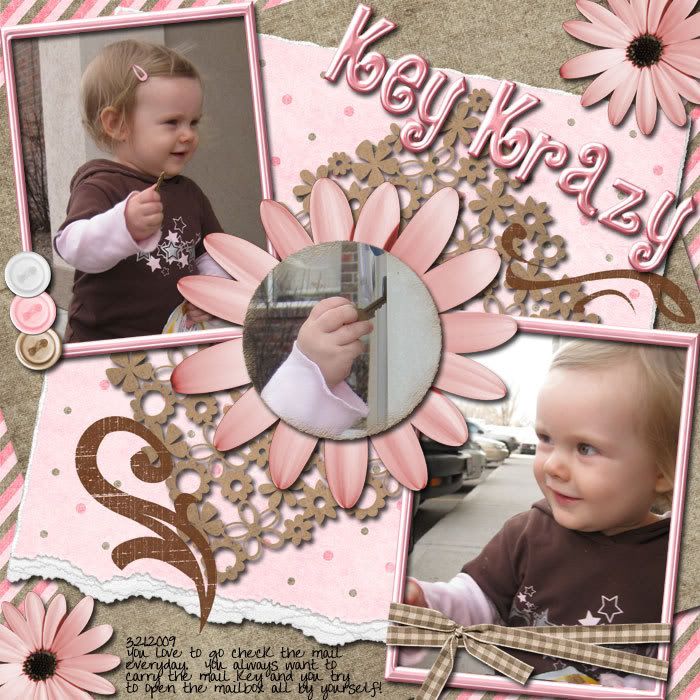 Credits:
Papers - Mandy Mystiques, Pink Christmas
Flower - Sweet Blossom Designs, Breakfast at Tiffany's
Matte, buttons, ribbon - Happy Birthday Collab by Digiscrapping.ch
Swirls (slightly recolored) - Kimi's Kreations, Peaches and Cream
Fonts - Oh Photo Shoot, Tracy
Atomic Cupcake actions - wild tear, tear, colored chrome, sanded edge
And now for template 20! Notice the new colors? I'm giving my templates more of a brand from now on:) I'm also going to add more "element" type things to make them more interesting. Just little things, really. CU credits for this template go to Atomic Cupcake for their stitching action and to Obsidian Dawn for the beautiful corner swirls. Template 20 is a single page LO in PSD format. Here's the preview:
You can download it
here
.