We had a speed scrap on BAM tonight, and this is the page I did for it: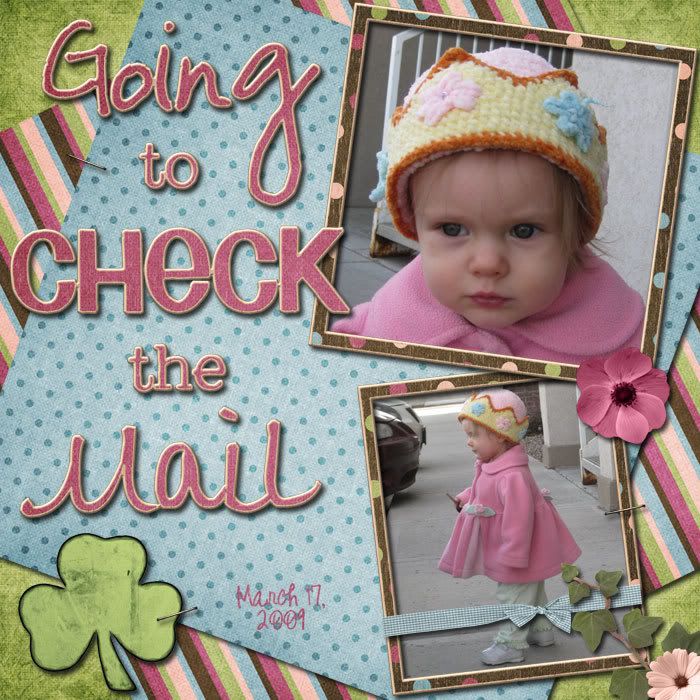 Credits:
Papers and elements - Jessica Edwards, How Sweet It Is
Clover - Danielle Young, Lucky Me add-on
Staple - Shabby Princess, Promise
Fonts - Vaguely Repulsive, My Own Topher, Too Much Paper, Tracy, and Digs My Hart
Atomic Cupcake actions - painted wood, rub on
It's cute, and well designed (especially considering how much time I had to do it and that this was only my 2nd real speed scrap), but it doesn't stand out the way a couple of the others do, so I don't think I'm in the running to host next time. But that's ok. One of these days I'll win, I'm sure. LOL, I even made up a set of rules for when I DO win eventually;) I was one of several runner-ups last time.
These were the parameters, given throughout the first hour:
1. - 6 words - If you want to use a date, that will count as 1 word - eg. March 17, 2009 = 1 word
2. - 5 papers - Use them as much as you want and do whatever you want to them
3. - 4 elements - All different - use them only once each
4. - 3 fasteners - Same or different, but a total of 3
5. - The one you have all been waiting for - - - 2 photos
6. - And, in honor of St. Patrick's Day today, 1 clover leaf - 3 leaf or 4 leaf - you can make it as bold or as subtle as you wish!
The not knowing how many pictures until the end of the first hour was driving me NUTS! So many things depend on how many pictures - which pictures to use, what to scrap in the first place (and therefore, which kit to use), the grand scheme of the LO in general...yeah. Not knowing pictures till the 2nd to last clue is hard for me. I like having that near the beginning. It gives me more time to plan out what I want to do. Finding out an hour before the speed scrap ends is difficult for me. Doable, but definitely part of the challenge. But that's what speed scraps are all about. I don't feel I was as creative this round as I was last time. Sure, I made a page and it's cute, but it doesn't stand out the way my other one does. Which is probably why all the comments were on how cute Emma is in her coat and hat than on the page design itself. Kind of annoys me, to be honest, but whatever.
The 6 words thing hung me up a bit, too. I like words - I have a BA in English, after all. So limiting myself to 6 words TOTAL hindered me a bit. I could only scrap something that would work with 6 words in some form or another. The 5 papers thing was easy for me. I LOVE layering papers. I used 3 as the background, 1 on the text, and 1 on the frames. I thought the 4 elements would be hard, since I like to use lots of elements in general, but it proved to be pretty easy for me. I also tend to use more photos on my pages (but not always). I actually had 4 pictures picked out for this, but obviously had to cut 2 of them off my list.
So, while I think this page is cute, it's not my best. My page last time was better. And the P is for Princess page is better, too. That's one of my current favorites.
Hmm...I'm going to go work on my kit now. It's ALMOST done. The internet was down all day yesterday, and was off and on today. I got almost all the elements done! Just a few more to go and I'll be able to send it to my "CT" (ie - whoever asks/wants to do a page with it before I release it). Of course, I saved some of the more difficult ones for last. But hopefully I'll be able to post it soon, along with some cute pages others made with it!
Anyway, that's it for now!