Lots of scrapping and Project 365 stuff to post today! But first, a brief update. The transition from 1 child to 2 is going pretty well, for the most part. We've all had our days/moments, but overall, it's going well. Emma has had a few jealousy issues (saying "I want Mommy" or insisting that she wants to nurse too), but she absolutely adores the baby. She always wants to hold him and see him and she recently discovered that he'll suck on her finger if she sticks it in his mouth - which has since become one of her favorite things to do with him. But she'll also poke him in the eye or the ear. Not to be mean, but to point them out and such. Of course, she gets mad when we tell her not to... Bedtime and naptime have been problematic, but they've been issues for awhile anyway. We're working on it.
But overall, things are good. Taking care of a newborn the 2nd time around is so much easier! Feeding him, changing him, bathing him, etc are all easy to me now. I gave both kids a bath yesterday and he was in the tub for about 30 seconds; that's all it took for me to clean him up. Honestly, I'm having more issues with my 2 year old than my newborn. But really, it hasn't been too bad. I'm learning to balance their needs. Meeting my own, however...well, we're getting there. Maybe.
I DO need to find a way to get some one-on-one time with Emma, though. I don't know how that's going to happen when Hyrum wants to eat 24/7. We'll figure it out, somehow.
Now onto the scrapping! I got my first Project 365 LO done! I used geniaBeana's new Hazy Shade of Winter kit, available only at Elemental Scraps. It's sold in pieces (elements, papers, alpha, glitters, and glossy styles). Here's the preview of the full ensemble (image linked to elements in the shop):
And here's what I did with it:
geniaBeana just released another new kit today that I am absolutely in LOVE with! It's called Love Sweet Love and it is SWEET. Here's a preview (image linked):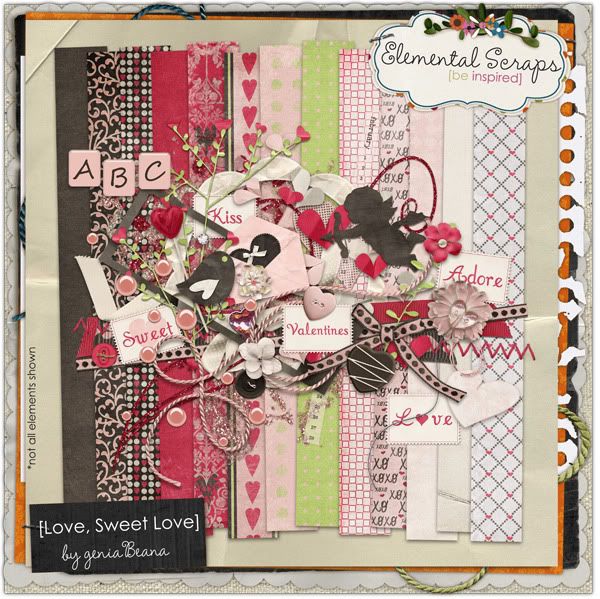 Isn't it gorgeous? Don't forget the glitters, glossy styles, and flair set, too! I've made 3 things with it already! First, I scrapped a regular LO (and the photo cluster is now my signature on BAM):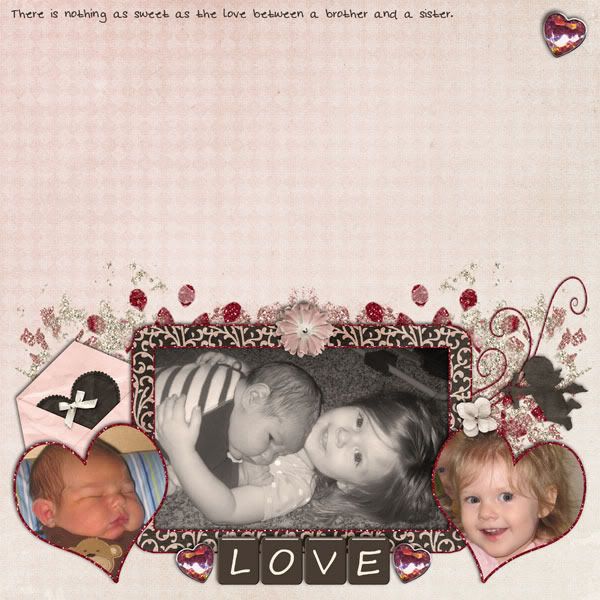 Then I made a thank you card for all the wonderful couples who've brought us dinners since we had the baby:
And finally, I made a new desktop:
As for Project 365, I've been taking tons of pics. Taking pics everyday with a sweet little newborn and an adorable 2 year old is easy. My problem, however, is choosing the pic for the day! I have to even it out between the kids, too; can't have a week with tons of pics of one kid and none of the other. And of course, the days I get great shots of one, I get great shots of the other...or a great shot of both together. Narrowing it down is tough! But hey, that's a good thing because now I'll have more pics of my adorable kids:)
Anyway, here are this week's pics so far (just need one today and week 2 will be complete):
January 8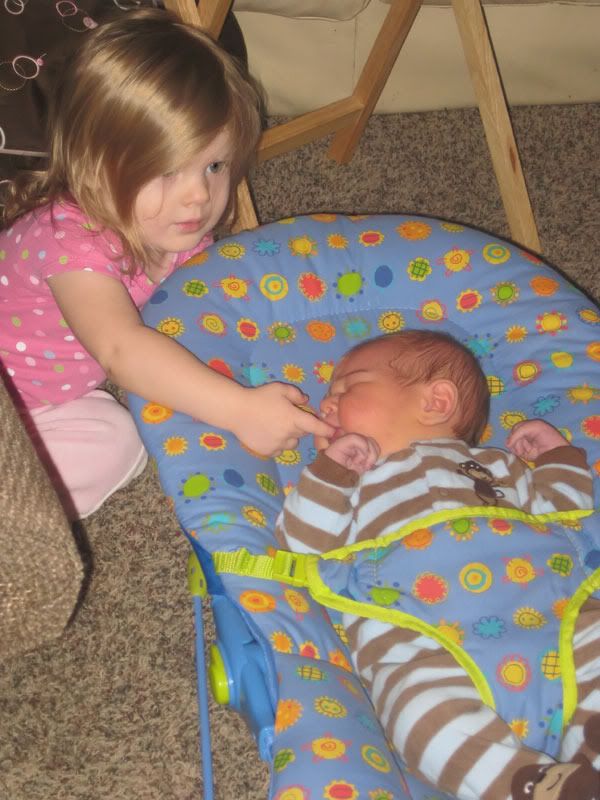 This is when Emma first discovered that Hyrum will suck on her finger. We had our first (and only, so far) hitting-the-baby incident shortly after this. John was concerned that her finger was too far in his mouth and made her take it out. So of course, like any 2 year old, she took her frustration out by hitting the nearest object...which just happened to be her brother. Yeah, she definitely got a time out for that one...
January 9
One of Emma's favorite things to say lately is "I hold him." Then she lays down and wants us to put Hyrum on her:) The laying down thing was all her idea, but I'm all for it; less chance of him falling and getting hurt this way!
January 10
Emma (and John) watching a church video and drinking orange juice. Val (geniaBeana) sent us the adorable dress she's wearing:D
January 11
Both kids lounging on Emma's bed in the morning. Notice where Emma's putting her finger? She does this multiple times a day. But it calms Hyrum down when he's crying:) She even got him to fall asleep in 30 seconds this way.
January 12
Know what this is? No? It's a "peepee teepee." Or rather, a homemade one. I'm certainly not going to buy what I can make for free with fabric scraps. I made 3 of them in hopes to avoid getting peed on during diaper changes. Unfortunately, Hyrum wiggles too much for them to stay in place. Oh well, it was worth a shot. We've been using a washcloth instead. Any tips to avoid getting sprayed on by the "automatic sprinkler" are more than welcome!
January 13
Just an adorable shot of Hyrum in Daddy's arms:D My sister bought him this sleeper - too bad he won't be able to wear it long! He's already pushing at the feet:(
Now all I need is today's pic and the week will be complete! And then time to scrap it! I'm hoping to get a family pic in sometime soon; hopefully today. I desperately need to go grocery shopping, so I'll actually get dressed and put make up on and such, so it'll be a good opportunity to get a pic taken of all of us. When I don't go somewhere, 99% of the time I'm in PJs all day with no make up and messy hair. Not exactly how I want to be photographed;)
Which brings us to today's template. Template 57 is my LO for week 1. It's a 12x12" template in PSD format. Here's the preview:
You can download it
here
.
Enjoy! Feel free to leave comments:) I love hearing from you:) Now to sneak in a quick shower before my kids wake up...hmm...hope I can succeed!