Today Emma and I decided to try going to the park. Bad idea. It was cold, windy, and the grass was covered in snow and ice. We played a little bit, and I got some pictures, but we won't be going back until the stupid snow MELTS. I hate snow. I want to move back home where it DOESN'T SNOW (except, of course, when we went home for Christmas...). Honestly, I think we spent more time walking there and back than we did playing. We walked because 1. we only have one car and John had it for the day and 2. the park is only 2 blocks away anyway.
After Emma went to bed, I made a quick Walmart run. I got a few things we needed, but I found something awesome that we wanted anyway for a majorly awesome price! We've been wanting a bigger tent for awhile now. We have a puny "3 person" tent - which you know really only holds 1-2 people comfortably. There's no way we could fit John, me, AND a pack n play in that tent. At least not well enough to actually SLEEP. Ideally, we wanted a 2 room, but those tend to be expensive. Well, while at Walmart, I was pricing them out and found a 6 person 2 room tent for $54!!! I called John right away and we decided to buy it without hesitation. Yay!
Both the park adventure and the excitement of a bigger tent make me REALLY want spring/summer to show up! Come on stupid snow, MELT already!! I can't wait to take Emma to the park on nice days, or to take her camping this summer, or to go swim at the lake, or take her to the zoo (though I'd rather do that back home because the zoo there is AWESOME), etc. We're going swimming at the school on Saturday, so that should be fun. Don't worry, it's indoors! No way would we be crazy enough to swim outside in 20 degree + windchill weather!
I mentioned that I'm making a kit called Emma's Toybox. I've made tons of papers, some frames, 5 full alphas, and cut out some toys as elements. Unfortunately, it's been brought to my attention that releasing cut out photos of toys as elements would be violating copyright laws. Poo. Stupid copyright. I think that since we OWN the toys we should be able to do what we want with them. So...I won't be able to release the actual TOYS part of the kit. Bummer, since the whole premise of the kit is Emma's TOYbox. I'm still going to release the papers and such, but now I need to figure out more elements for it! And I'm still cutting out the toys for Emma's ABC book. I'm not sure when I'll have the kit ready. I need a break from it after hearing that sad news:( And I have to scramble to figure out what to do with it. Though...I'm half tempted to release it anyway;) I doubt the toy companies would ever know...but...I know I really shouldn't, so I'm not going to. At least that's the current plan;)
I did, however, make a cute signature for my mommy forum with parts of my own kit. I posted it last night, but I changed the tearing to white from the black I originally had it. I think it looks MUCH better in white:
I also have a template and a new LO made with it:) I made this page for the weekly challenge on BAM (my mommy forum). The challenge this week is to use Shabby Princess' Promise kit and somehow incorporate the number 8 in the LO. I knew right away that I wanted to have 8 pictures for mine. I planned to use 8 papers, too, but that would just be too much for the page I did. I used 4 and it was perfect. I also used 8 elements and template 18. Anyway, here's the page:
Left side: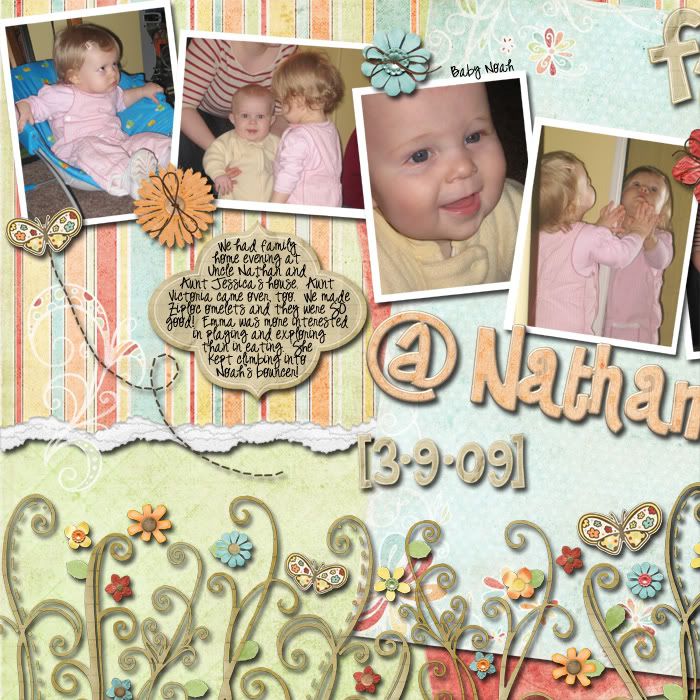 Right side:
Credits:
Template - me;)
Kit - Shabby Princess, Promise
Fonts - Oh Photo Shoot, Digs My Heart
Atomic Cupcake actions - wild tear, painted wood
And here's the template I made to make this page. Template 18 is a 2 page LO in PSD format. I've been doing a lot of 2 pagers lately. Hm. Need to do some single page templates soon. As always, I'd love to hear back from you and to see your pages with my templates:) Here's the preview: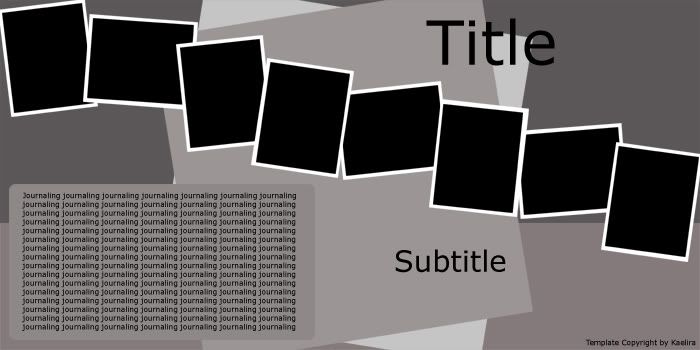 You can download it
here
.
And it's definitely time to go to bed. Night all!