Happy Halloween, everyone!! I hope everyone has a great, fun, and SAFE Halloween. I LOVE Halloween. It's so fun! I love the pumpkins, the costumes, the candy...yeah. It's awesome. This year, we get to go to a super fun Halloween carnival at church. It should be great! We're on the activities committee, so we get to help put it together and such. I'm excited. So far, our family festivities have been a trip to a really cool pumpkin patch, carving pumpkins, and making haunted gingerbread houses. And, of course, eating candy that none of us really needs...
In any case, I have been SUCH a blog slacker lately! I really should post more often. Life's been a bit crazy here and there, though. But I DO have some pages and a template to share after my rambling, so bear with me.
In less than a month, I will have a 2 year old. And in approximately 2 months, I'll have 2 kids. Wow. It's kind of weird to think about, but I think I'm ready for both. I still need some more baby items, but I can't really afford to go out and buy anything right now. Money is super tight - especially since John's last paycheck was only for 1 day instead of 2 because Emma got sick and he stayed home to help. Thankfully, I know I have some baby stuff coming soon from friends and family members, so that will help tremendously. If we absolutely needed to, I'm sure we could manage with what we currently have.
Speaking of Emma getting sick, 2 weeks ago she threw up a couple of times. Thankfully, she only threw up twice, but we had no idea if she'd continue throwing up or not so John called in. I'm grateful he did. Even though she didn't throw up again after that point, I needed his help to take care of her that day. We stayed home from church the next day, too. I was bummed because it meant Emma couldn't participate in her first primary program:( Oh well. There'll be plenty more of those in the future. She ended up having a couple of blow out diarrhea diapers over the next few days, so I'm glad we kept her home. Thankfully, this was a very tame illness. We've definitely dealt with worse.
I had my 30 week OB appointment on Monday and it went well. Everything looks great: I'm measuring right on schedule, blood pressure is fabulous, heartbeat is great. I've gained a little more since last month, but that still only puts me to 9 lbs total weight gain. Not bad for 30 weeks!! I ran out of zofran last Wednesday and I'm doing ok without it. I get a bit queasy now and then, but laying down really helps. I think it's usually when I need to eat something, too. It's definitely manageable. Thank goodness; I really don't want to shell out another $45 to avoid vomiting. It's worth it, yes, but I'd rather not have to spend the money. And it looks like now I won't have to. Yay!
Sleep, on the other hand...well, let's just say 3rd trimester insomnia is not so fun and leave it at that. This little boy kicks like CRAZY, too. Especially as soon as I try to lay down and sleep for the night. Emma liked to squirm around when I wanted to sleep, too. It's pretty typical, from what I hear.
I'm trying to eat healthier, too. My sugar was a bit higher than it should be when I took my glucose test last month (though not high enough to need to take the 3 hour test or be diagnosed with GD or anything). My OB isn't worried, but I still think I need to cut back on the junk. Besides, I need to eat healthier regardless. We've found making meal plans to be invaluable in this endeavor. Really, the only times we consistently have healthy meals are when we plan in advance. We don't say "ok, this day we're eating THIS meal, and this day we're eating THAT one." No, what works best for us is to pick out some meals we want, add the ingredients to our grocery list, buy what we need, and then say, "ok, these are our options tonight; what do we feel like making/eating?" So far, since we reintroduced meal plans, we've had chicken souvlaki and Thai style chicken and veggie stir fry. Yum. One of the main things I've been working on food-wise is cutting back on sugar and white flour products. I've been eating more whole wheat and fresh fruits lately. It feels good:)
October has been dentist appointment month for our little family. Seriously, all of us had at least one dental appointment this month. Well ok, John's the only one who had 2, but his was by far the least pleasant - root canal, anyone? They did half of it at the first visit this month and the other half on Wednesday. He'll need another core build up and crown on this one, too. This is the 2nd root canal he's had in the last 2 months. Our finances are less than pleased. Thankfully, Emma and I did not share in John's luck. Emma's little teeth are perfect and the dentist confirmed our suspicions that she is in fact cutting her eye teeth. Fun. As for me, this was my first dental appointment in over 6 years...and I had 2 cavities. That's it. Not bad for 6 years and 3/4 through my 2nd pregnancy!! I've always had really healthy teeth:) I've only had one other cavity ever, and it was when I was 16. I hope all our children take after me in that sense. I don't want them to have to experience all the root canals and such that John's needed - and neither does my bank account!!
Emma is just learning more and more all the time! She picks up on everything! She's been pointing out babies for ages, but now she says, "baby crying" or "shhh, baby sleeping." She's so sweet and caring. Every time someone gets hurt - physically or emotionally - she says "ouch" with a concerned expression. She's going to be such a great big sister. We're always telling her about the baby and how she'll be able to help us with him. She randomly comes up and kisses my belly, too. She's known for awhile that there's a baby in there.
Emma recently started saying "I don't know." The first time, she had just woken up from a nap. She pointed at one of her baby dolls and said, "baby hat." I asked her where the baby's hat was and she said, "I don't know." We then looked for it and found it in her covers.
She also says "thank you" more and more, but has now added "thanks Mommy" and "thanks Daddy" into her repertoire. She puts more and more words together all the time. I can't even list everything she's said. I really need to write things down as she says them lest I forget this precious time. She also says "you're welcome" and "excuse me." And, of course, she's been saying "please" forever - though she usually says it twice:D
Emma remembers more and more, too. She always points at the vacuum and says, "vacuum." Not only that, but she then will say, "Tori vacuum" because Aunt Victoria comes over to help us vacuum, now that it's become a 2 person job due to Emma's fear of the vacuum. She's getting better with it, though. She just needs to get used to it again. It was broken for so long (that and I'm a lot lazier about vacuuming than I should be) that she wasn't used to it. We're building up her tolerance, bit by bit:)
She also knows colors VERY well. She knows: red, orange, yellow, green, blue, purple, pink, brown, gray, white, and we're pretty sure she knows black. She can identify various shades of each color, too. Today, I asked her what color my eyes were and she said green!! Yay! I know, it's a silly thing to get excited about, but SO many people have thought my eyes are blue or brown. Um, no. They're GREEN. And not just sort of green like most people who claim to have green eyes, but actually, truly, and indisputably green. I think green might be her favorite color, too, since it's always been the one she points out the most and when I asked her the other day what her favorite color was, she said green. I'm not sure if she understands the concept of favorites yet, though. *shrug*
Emma also knows a TON of names and says them very clearly. She always gets excited when we mention people she knows really well:)
Anyway, I'm sure there's way more to write (isn't there always?), but it's nearly 4 AM and I still have scrapping stuff to post. Besides, I'm sure this is plenty long for most of you. I don't even know how many people actually READ through the whole thing.
So, onto scrapping news. First of all, geniaBeana opened up a new store at Elemental Scraps! She made this gorgeous new kit, Sweet Memories, for her debut (image is linked):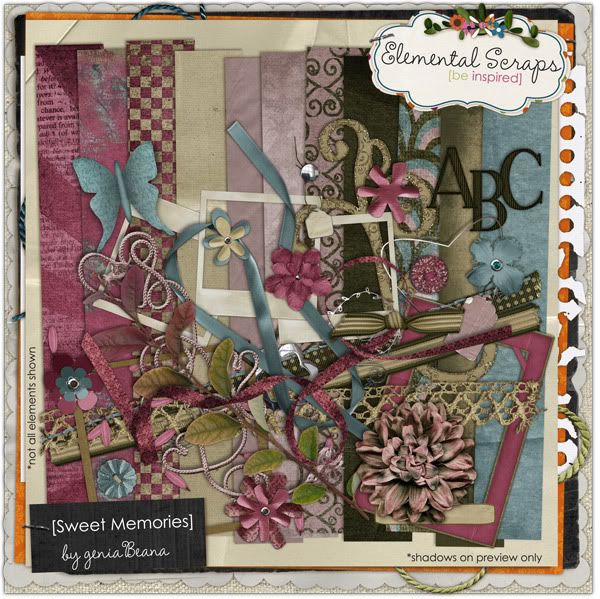 I made this page with it: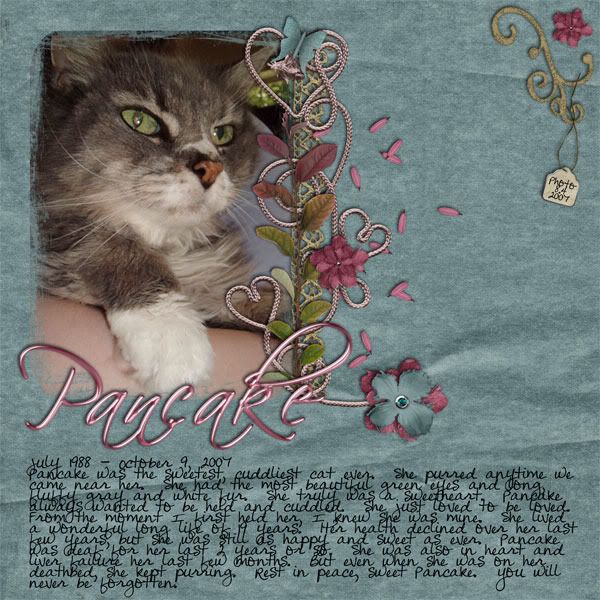 Over at GDS, both Kimi's Kreations and geniaBeana participated in the voluntary collab this month, entitled Best Buddies. Here's what I did their portions:
I made an invitation for Emma's upcoming birthday party. Naturally, I blurred out the personal information;) We wanted to invite WAY more people than we can feasibly fit in our living room. Anyway, here's the invitation: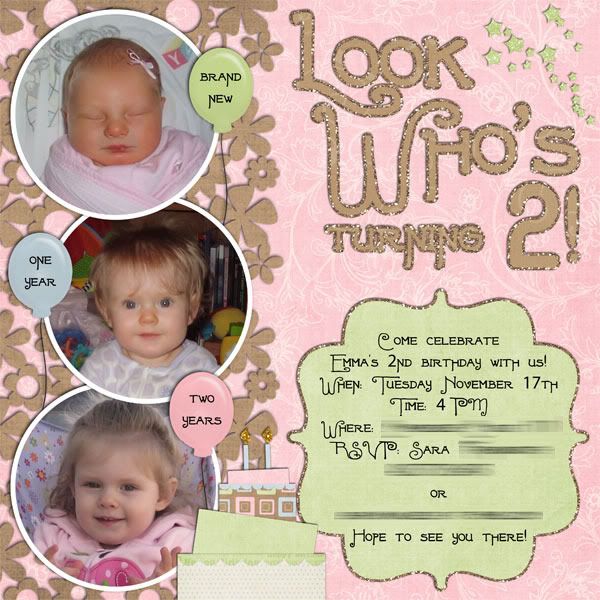 Credits:
Kit - Happy Birthday collab, digitalscrapbooking.ch (various designers)
Brown glitter - Kimi's Kreations
Gold glitter - geniaBeana Scraps
I ordered Emma's baby book!! Yay! I love that I'm getting 3 copies of it for free (+ shipping). One copy for me, and one for each set of grandparents for Christmas (shhhhh, they aren't supposed to know that...though some of them read this...uh, grandparents, pretend you don't know anything). The shipping cost a bit more than I anticipated, but thankfully I had some money in my PayPal account that I didn't even know was there, so my out of pocket expense ended up being lower than I'd planned. Of course, before I printed, I had to retrofit all the pages to account for print bleeding (basically, all the edges would get trimmed, so I had to adjust everything accordingly). But thanks to an awesome Photoshop action, it didn't take too long (I'm not sure if the action maker plans to sell it or not, but I think she should;)). I also revamped some of the pages. I wasn't quite satisfied with them before. Now I am:) Here are the new versions: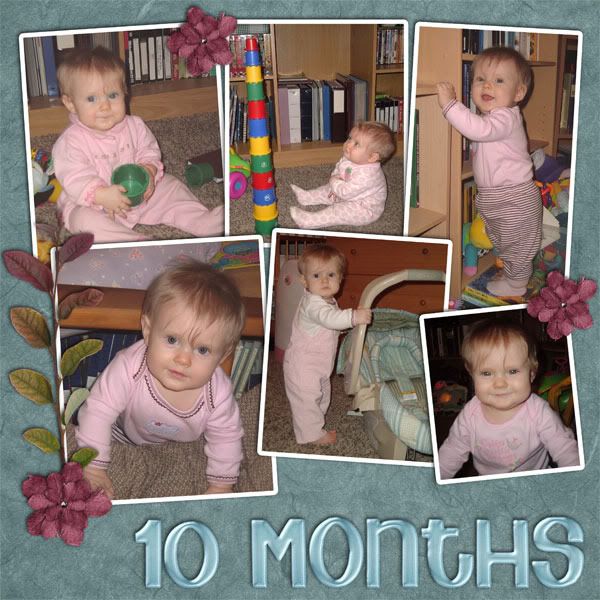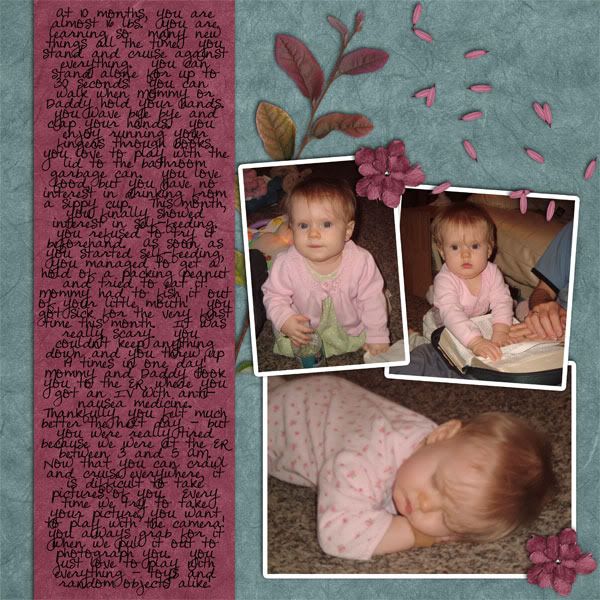 Credits:
Sweet Memories - geniaBeana Scraps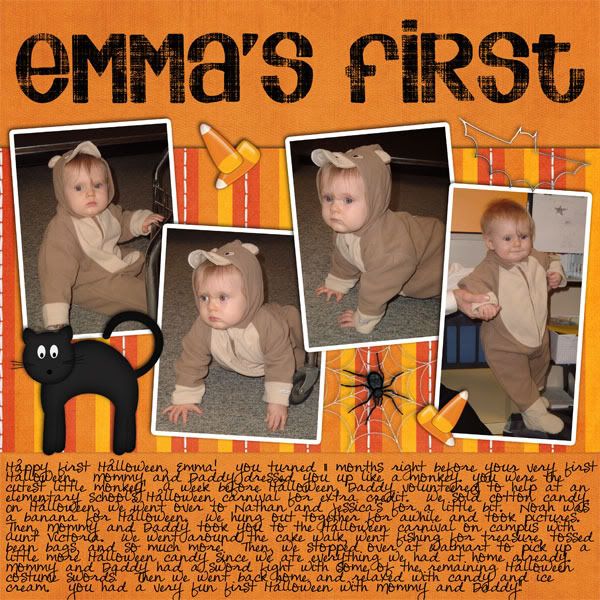 Credits:
Spooktacular - geniaBeana Scraps and Snowflake Beach Designs
Spookyville's Night (GDS Oct collab) - Kimi's Kreations and geniaBeana Scraps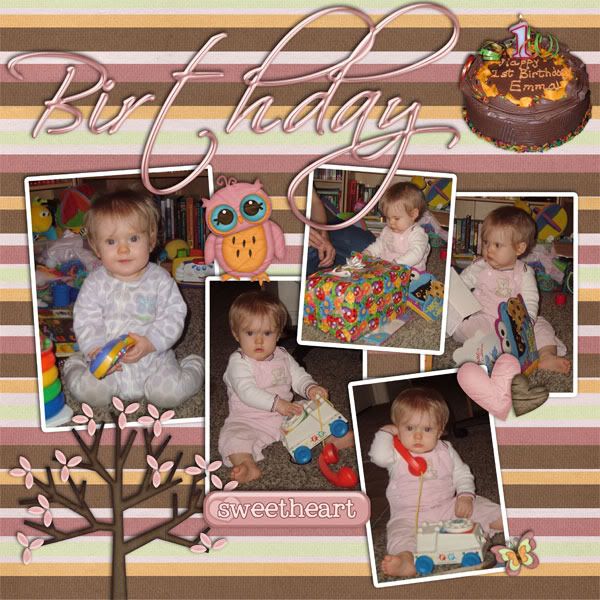 Credits:
Hoo's My Girl - Kimi's Kreations and geniaBeana Scraps
Much to my annoyance, ArtsCow wouldn't let me add just 2 pages to complete my book. No, they wanted me to add another 20 pages!! Um, sorry, but I'm not paying for 20 blank pages here...so I had to leave off the birthday pages. Oh well. I'll just put them at the front of her 2nd year book instead. Technically, that's the start of her 2nd year anyway.
And we're up to date on my pages:) I have a lot more I need to scrap soon, too.
And now we come to today's free template! Template 48 is a 12x12, 300 DPI template in PSD format. It matches perfectly as a 2nd page to template 47 (as seen on the Welcome Home pages in Emma's baby book). Or, you can use it all by itself. Here's the preview: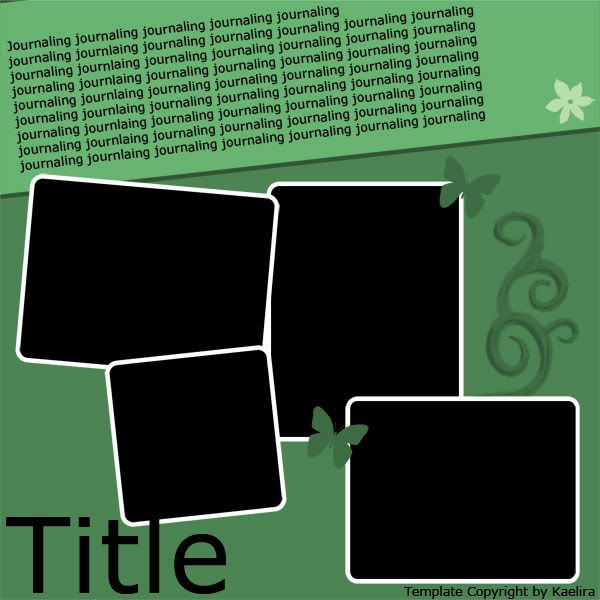 You can download it
here
.
Hmm, this is my 99th post here. I think I'll do something special for my 100th...stay tuned!