We got a mini van!! We traded in our 2006 Toyota Corolla for a 2004 Honda Odyssey. We LOVE it!! It's perfect for our growing family. Isn't it pretty?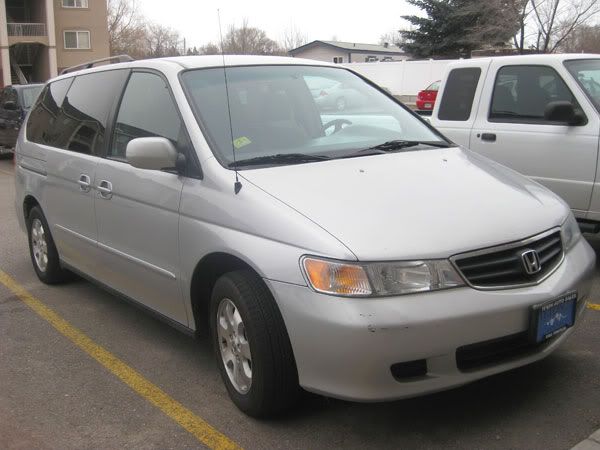 And you know what the best part is? Trade in value + cash = 0 payments. Awesome. No car debt :) School debt...well, that's another story. Kind of a necessity at this point. But we definitely didn't need to go into even
more
debt for a bigger car.
It has lots of awesome features, like double sliding doors that open and close with the push of a button. I know that's a pretty standard thing for mini vans these days, but it's new to us. There's even a button to open them on the keyless entry.
The middle bucket seats slide forward and back to adjust for 3rd row leg room. Yay! The 3rd row squish factor is something I wasn't too fond of in other mini vans I've been in. And I'm super short, so it's gotta be crowded for me to feel claustrophobic back there. Not that I'll be back there a ton since I'm either driving or in the passenger seat...but it'll be nice for adult passengers.
The 3rd row folds down into the floor to allow for more space. Yay for space! We're testing that space out soon; our annual road trip is coming up in the next 2 weeks.
It came with a DVD player, too. That's one that really didn't matter to us. We have a portable double screen player that we've always used on road trips anyway. But it's convenient :) We're not going to use it for our weekly grocery shopping, though. It's silly to pop in a DVD for the 5 minute drive to Walmart. On road trips, however, it will get lots of use!
Anyway, it has lots of fun features and lots of space. Perfect for a growing family. And, it's a reliable brand. Hondas and Toyotas are the best out there IMO. I love foreign cars :D
As for the purchase story, it's kind of long and involved. If you're not interested, don't read it. There's some craziness involved but everything is resolved now. And honestly, after all is said and done, it seriously worked out the best possible way for us.
I've been researching mini vans off and on for a couple of months. I spent a lot of time at Edmunds.com and I browsed lots of local dealership inventories online. But this particular dealership I hadn't heard of until I went to a girly party at some friends' place. Another girl who used to be in our ward was there and as it turns out, her husband recently got a job as the future general manager (when the owner retires in the somewhat near-ish future) at a used car dealership. He stopped by while I was there and we talked about cars, vans, trade ins, etc. He said they'd probably be able to do a straight across trade.
I went home and told John. He spent a lot of time with this friend at church; John is/was the financial clerk and our friend was in the bishopric. We looked up their site, but most of the vans they had listed weren't quite what we wanted. He
did
tell me that they had a couple more that had yet to be posted online.
I checked their inventory online probably a couple times a week? Something like that I think. Fairly often, but not like every single day. I also checked out other dealerships' inventories. We weren't sure when exactly we'd buy, but it wasn't a pressing need since we won't need room for 3 car seats until September.
Then, last Friday, when I checked their site, they had an 04 Odyssey listed. For an awesome price. When John came home, I told him about it. And he called our friend at the dealership. Who then brought the van over to OUR place for us to look at that evening! We checked it out, test drove it, and decided we'd buy it unless we felt bad about it.
Emma even loved it. She kept saying she wanted to buy it. I think she really liked all the space. Haha, and then she went on to say she wanted to buy a bigger house, too. Yeah, me too, kid.
We still felt good about it Saturday morning, so John stopped by the dealership to seal the deal before work. Got all the paperwork signed, blah blah blah. I wasn't there for that part and to be honest, it's not the most interesting part of my story. We did find out though that the previous owners only turned in one key - and not the keyless entry. Bummer. But they said they'd look into that for us.
Now enter the crazy insanity. I'm not gonna lie; it was pretty stressful. And the process itself wasn't exactly what I'd call fun. However, in hindsight, it all happened
exactly how we needed it to
.
So, John bought it Saturday morning before work. On his way home from work that evening, he hit a nasty nasty pothole. Yes, the
very day
we bought the car. Big potholes are pretty common around here after 5 months of cold and snow. And since John wasn't used to driving a bigger vehicle, it was harder to avoid. On Sunday, a friend at church noticed that there was a bulge in our tire and told us it was about to blow out.
We avoided driving as much as possible until we could get it looked at on Monday. They replaced the tire and wanted to replace the other rear tire so they'd have matching tread. Ouch. $200 we weren't planning to spend. Especially since we
just
bought the car and put 4 new tires on the Corolla back in September. That's $600 in tires in 6 months. Painful! Thank goodness for family helping us with the Corolla's tires.
As it turns out, it's a
good
thing John hit that pothole. It's a
good
thing we needed to go in and get the tires fixed.
Why? Because they did a complimentary check on the car...and found several things that needed fixing. Based on their estimate, about $700 worth of things. Including transmission fluid, a dying battery, and a cracked belt.
We're going on a road trip in 2 weeks. Can you imagine having car problems on an 800 mile, 12 hour road trip? With 2 small children and a pregnant woman? Had John not hit that pothole, we would never have known it needed work done. We assumed everything had been taken care of, as it should have been.
At that point, John called our friend at the dealership and told him what was going on. Our friend looked up the paperwork on our new car and couldn't find an inspection report. Meaning it somehow slipped through the cracks and didn't get checked out before it went on the lot. It got the oil changed and was detailed, but not inspected for mechanical issues. That's not supposed to happen. Like,
ever
. They pride themselves on making sure every car is in tip-top shape before they sell it. He apologized profusely and said they'd take care everything for us, free of charge. This should never have happened as far as they're concerned. They said it was their mistake and therefore their responsibility to fix. He even came to our house that evening to apologize in person. He felt
horrible
about this happening - especially since we're his friends.
After class on Tuesday, John took the van over to them to get fixed up. He hung out there for a few hours before our friend sent him home in our old car; they still had work to do on the van and it was getting kind of late. And...John had to pick up Tangled ;)
That evening, another friend knocked on our door and said he might end up buying our old car! So John took him for a test drive in the car we just sold! It was hilarious. And then, while they were gone, our dealership friend returned with our van, all fixed up and ready to go. Aaaand...they gave us a 2nd key and keyless entry (remember it only came with one key?), free of charge. Sweet!! Way to make me happy :D
He also told us that had they fixed up the problems before putting it on the lot, the sticker price would have been higher. Like 3 grand higher. And totally and completely out of our price range. So had not all this craziness happened and it went on the lot all fixed up like it should have,
we wouldn't have been able to get this van
. We would have had to settle for something else. Based on all the crazy this-was-not-supposed-to-happen insanity we had to go through, I believe
this van
was meant to be ours.
We also learned that the previous owners took immaculate care of this van. Their mechanic said there were absolutely no leaks or anything, and usually in a car with over 70,000 miles there's at least
some
kind of leak. Our car has twice that. Knowing our van has been well cared for is very reassuring.
I hesitated to write out the whole story. I didn't want our experience to reflect poorly on the dealership or our friend in any way. Yes, the van should have been fully inspected and fixed up before it went on the lot. Mistakes happen. But as John said repeatedly throughout this experience, it's all about how things are handled
after
the mistake. And they handled it beautifully. Not only did they fix everything up free of charge to us, but they threw in the keyless entry. They
really
did treat us great.
Would we go back? Absolutely. Would we recommend them to our friends and family? Without a doubt. It's not so much about the fact that a mistake occurred as it about how they dealt with it. We would definitely go back. They have great prices, great service, and are great people. We won't need another car in the next year we'll be here, but if we did, we would go to them. No doubt.
Despite all the craziness, we can't help but to feel blessed. We now have a vehicle that will met our family's needs for years to come. We don't have a car payment, at all. Honestly, I haven't had one since just before we got married. And that has been a
huge
blessing in our lives. First, it allowed us to get our 06 Corolla for $500 out of pocket after we totaled our 05 Corolla. Insurance check paid the rest. And now it allowed us to trade in the 06 Corolla for a nice mini van plus cash. I am definitely a fan of this no car payment thing! We truly have been incredibly blessed.