Baby Nathan is 4 months old!! I really can't believe how fast it's gone. How could he be 4 months old already?
I have been horribly negligent in posting updates on our sweet little Nathan. He truly is a joy. He brings so much light and happiness into our home. He smiles, giggles, and laughs all the time. He loves patty-cake, peek-a-boo, and Primary songs. He loves to watch his older siblings play. Emma and Hyrum love to hold him, entertain him, and give him hugs and kisses.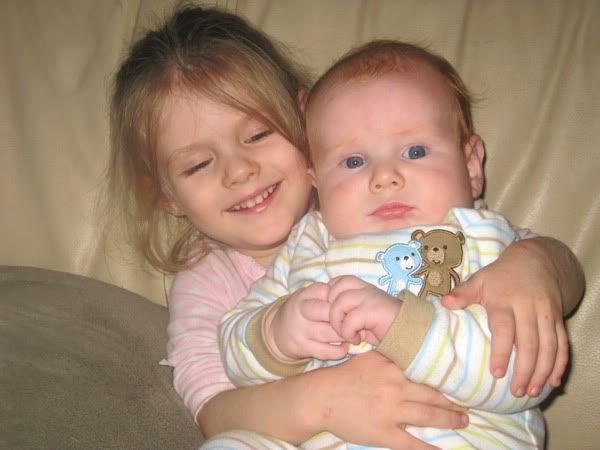 Nathan is growing so super fast! At around 3.5 months, he started growing out of his 3-6 sleepers. Seriously. My 4 month old needs 6-9 month sleepers! He still wears 3-6 month onesies and such, but he needs the length of the larger sleepers. He's been in size 3 diapers for a month or so now. He's bigger at this age than his siblings were - even his 9 lb 12 oz birth-weight brother!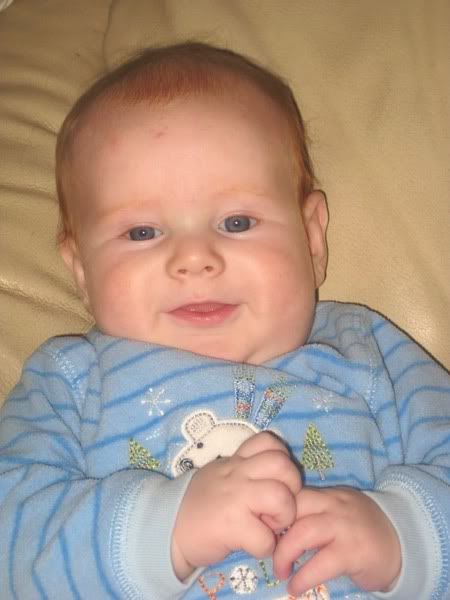 Maybe he has the random tall gene? [He comes from an exceptionally short family; I'm 4'11" and John is just under 5'5".] He's already got the random red hair gene, so who knows? And yes, he is still a redhead :D His eyelashes and eyebrows are red/strawberry blonde, so I think it's here to stay. I hope so. We
love
his red hair!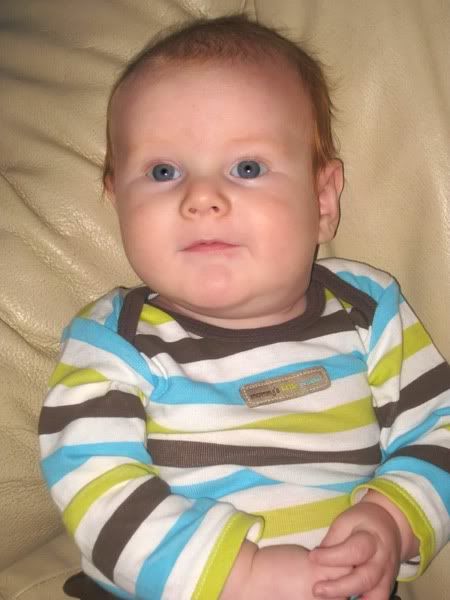 Nathan loves to eat. He smiles at me mid-feeding. He doesn't usually fuss about being hungry until I'm literally pulling his food out. He now gets distracted during feedings. Having 2 older siblings makes his meals interesting. Thankfully, he remembers that he's more hungry than he is interested in their antics and goes back to eating pretty easily.
He is now interested in our food. He watches us eat and it looks like he wants to try some, too. Ha! Not a chance! In a couple of months we'll let him try baby food...
Nathan rarely spits up. In fact, sometimes when he overeats and starts to spit up, he forces it back down. Funny baby. And he drools a lot.
He's a great sleeper! He typically goes to bed around 11 or 12 and stays asleep until like 7-8 ish, then eats and goes back to sleep until around 10. Awesome. The best thing? He pretty much
sleep trained himself
. I'm not even kidding. As long as his diaper is clean and his tummy is full, we can put him in his bed and he'll fall asleep all on his own without even fussing.
All on his own
. We didn't have to do anything. In all honesty, all my babies have been great sleepers. At least at night; Emma and Hyrum had to nurse to sleep for naps. And we had to help them learn to fall asleep in their own beds. But this self-sleep training Nathan does? Best thing
ever
.
Add to that the fact that the boys take coordinating naps 90% of the time, I am one incredibly blessed mommy!
Like his big siblings, Nathan hates tummy time. Once again, tummy time is referred to as "crying time" in our house. As such, I haven't given him enough tummy time, so he's not quite rolling over yet. Any day now. He has great head and neck control, though. Our kids seem to be born with that. And, believe it or not, he's almost sitting up. He can definitely sit supported. He can also rotate himself around on the floor.
But tummy time to help him roll over? Not so much. I try, but his cry is so sad when he's on his tummy that I just can't stand it for long. He's so sweet and sensitive. The tummy time cry is a "you're abandoning me! Please hold me!" cry. How could I resist that?
Overall, though, he hardly cries at all. He's generally content with life. He's more of a squirmer when he needs something. He squirms like crazy when he needs a diaper change - especially if it's poopy. But once it's changed, he's all smiles.
Nathan has no qualms about hanging out in his swing or on his playmat. Most of the time, anyway. Sometimes he really just wants to be held and snuggled - especially after his 2 favorite entertainers go to bed. He's such a sweet little boy. He loves being a part of everything with the whole family. He likes to look around at everything. I love when he looks right into my eyes and smiles.
Nathan loves to suck his thumb and fist. Looks like we've got a little thumb sucker! He hasn't used a pacifier in like 2 months; he prefers his thumb. We haven't offered a pacifier in awhile because he's just so content that he doesn't need it. He self-soothes with his thumb or fist instead. He's almost gagged himself a few times when sucking on his fingers, though.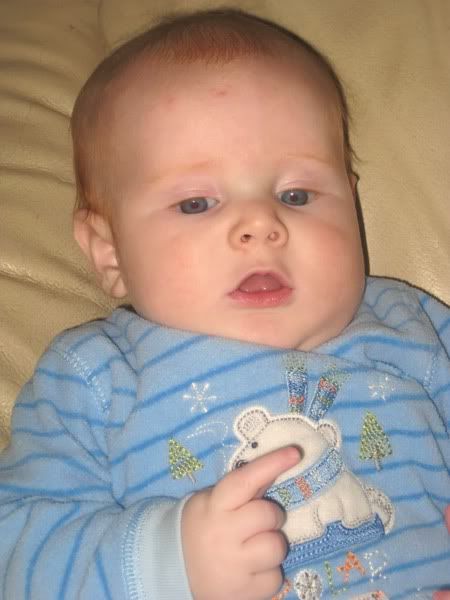 Speaking of baby hands...Nathan likes to grab things. He'll grab toys, but mostly he loves to grab hair. I usually have mine pulled back during the day, so Emma is his primary hair-pulling victim. He loves to hold my hand while nursing. So sweet!
Nathan loves bathtime! He really enjoys being in the water. He's so smiley during baths. Sometimes he gets upset when we take him out, but it's mostly because of the temperature change.
Nathan now looks more and more like Emma did at this age. Except, of course, bigger, male, and with red hair. Check out the 3-kid comparisons: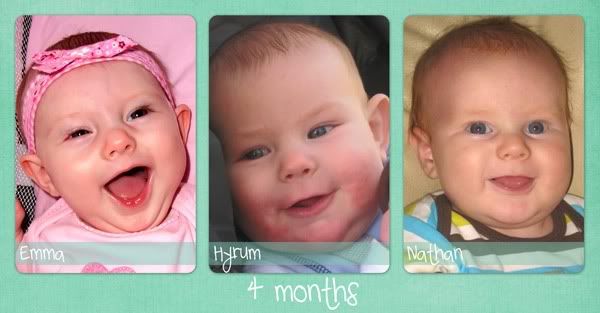 [Poor Hyrum had really bad eczema at 4 months.]
Here's some fun size comparisons: at 4 months, Emma was 9 lbs 5 oz (yes, she was teeny tiny - and still is for her age). Nathan was 9 lbs 6 oz at 2 weeks...and Hyrum was 9 lbs 12 oz at birth. My boys are definitely
much
bigger than their sister!
And what baby update post is complete without lots of pics? Most are scattered throughout the post, but here are a few more for your cuteness-admiring pleasure.
We love our sweet little Nathan! We are so grateful he came into our lives when he did. Such a sweet, adorable, loving, happy baby!