It's my turn to host the color challenge on BAM. It's a monthly challenge where the hostess picks the palette and everyone makes a LO or a minikit (3 papers, 3 elements) using those colors. The minikits will be posted as a blog train at the end of the month.
So...since it's April Fool's Day, I HAD to make an ugly palette and post it as the real one;) I loved reading the responses after the truth was revealed! Everyone was very tactful until I edited the post with "April Fool's" and the real palette:D Oh gosh it was hilarious. Here's the nasty, ugly, April Fool's palette, just so you can see how hideous it is: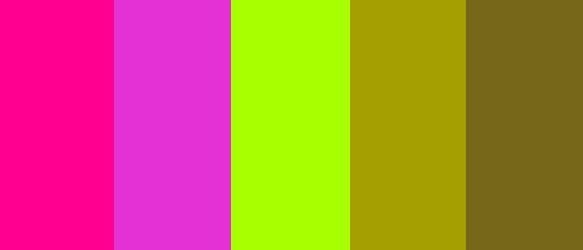 Isn't that awful?! I was going for ridiculously bright, non-matching, and diarrhea. I think I succeeded:D The REAL palette is pretty, but I'm holding off on sharing it for now;) Go join BAM (Baby and Me) if you want to see it;) We have an awesome digiscrap section, FYI.
I've got a new template for you! It's based off my Y LO, but with more slots for pictures or papers, or what have you. It'd be way cute to alternate between pics and papers on the small squares, or use 2 papers and alternate between them. Feel free to play with it as you wish! Here's the preview:
Template 21 is a 12x12, single page LO in PSD format. As always, I'd love to hear back from you and see your pages with my templates:)
You can download it
here
.
My expansion for the March color challenge is done!! I'm uploading the last of the papers now, so it will be posted in just a little bit! AND I have yet another template for you today. Lots of freebies today:D They'll be in separate posts, so stay tuned!!