I've got another template! Whee! But first, I need to apologize to my friend Shelley. She lives 2 doors down from us. They went out of town for Easter, and asked us to fish-sit for them. Well...one of the goldfish died last night :( John was going to change the water, but he fell asleep, and I was preoccuppied with hosting a speed scrap. I noticed that the kitchen smelled bad, but I assumed it was the dishes or the garbage. Nope, it was the dead fish :( We gave him a toilet-side funeral. I'm sorry, Shelley! The other one is doing great, though.
Thankfully, before she left she said she didn't care if they died while she was gone. She only had them because she was in the preschool lab last semester and taught a lesson on fish. We feel bad regardless:(
I got to host the speed scrap on BAM last night. It was SO fun hosting! These are the instructions I came up with:
1. Choose 3 different photos that go together.
2. Cluster 2 of your photos together and make the 3rd the focus of your page.
3. Choose (or make) a word art that coordinates with your photos. It can be your title, if you so desire, but it's not required.
4. Choose 3 papers - 1 solid and 2 patterned. You can do whatever you want with them and use them as much as you please.
5. Use some sort of bracket (frame, mat, single, etc) somewhere in your LO.
6. Choose 3 different elements and cluster them somewhere on your page. Duplicate your cluster, shrink it, and put it somewhere else.
7. Add whatever title and journaling you want.
And here's my page: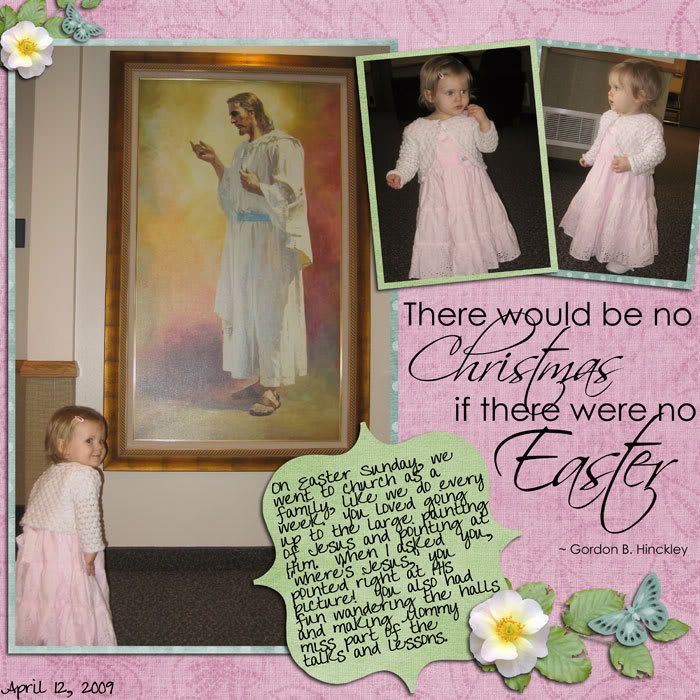 Credits:
Green and purple papers, branches - Corinne, A Touch of Spring
Blue dotted paper, butterfly, flower - Scrapmalin collab, Sweet Envy
Bracket - Scrappin Cop, CU brackets
Font - Tracy
Wordart - me (available a few posts down)
I made this page to match my previous Easter speed scrap page. They will face each other when I get around to printing them. I realized today that I stupidly saved the flattened version over the layered PSD. Poo. At least it's the full-sized flattened version. Let's just hope I don't need to edit it later on!
I made a template out of this LO, too. It was a bit inconvenient to remake it for templatizing, but it wasn't too bad. At least it wasn't one of my 2 pagers with tons of pictures! I have another one of those to post soon, too, so stay tuned!
Anyway, template 31 is a single page LO in PSD format. I love hearing back from you:) I've had lots of great comments lately, and I love it:D Thank you!! Here's the preview for template 31:
You can download it
here
. Bracket courtesy of Scrappin' Cop.
Template 32 coming up soon! (Like, in a few minutes or so after I convert it from page-to-template;))