Yet another template:) I posted 2 in a row tonight, so be sure to check the previous post for template 31;)
But first, a public announcement. I changed my TOU to allow S4O. This applies to all previous freebies as well:) However, S4H is NOT allowed. It's not fair for someone else to make a profit off what I give away for free, know what I mean? CU is also not allowed. So, personal and S4O is ok:D
I made another fit-as-many-pics-as-possible template. I won't be making another LO like this for awhile, since I did 2 in the last few days and they are way more time consuming than most other LOs. I do have another 2 pager in the works, but it'll have 8 pics (I already picked out the ones I'm going to use for mine).
This page is for the weekly challenge on BAM, which I got to host this round. LOL, I've done quite a bit of hosting this week. Anyway, the challenge was to scrap funny pictures. I did a fun collage of funny Emma pictures:) Here's my page: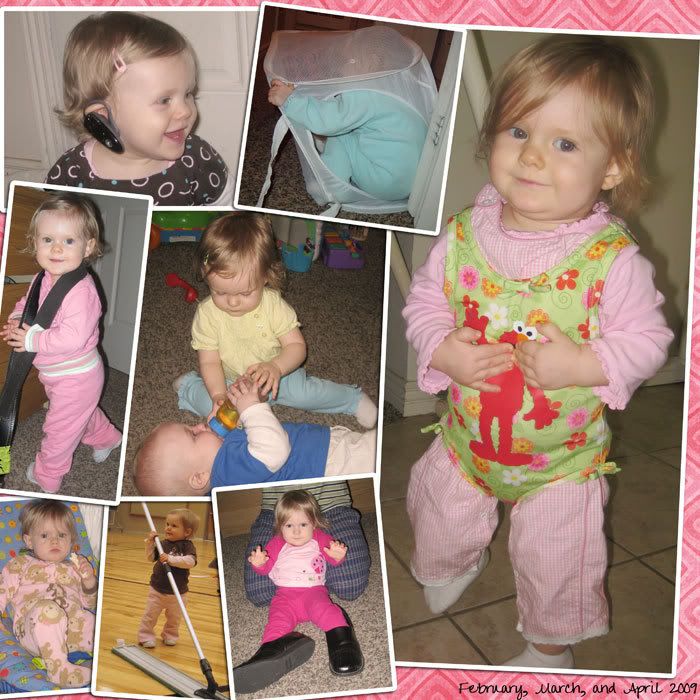 Credits:
Papers - me, Retro Rainbow (BCC1 mini and expansion) - still available further down;)
Alpha - Kimi's Kreations, BCC1 Mix 'N Match alphas
Fonts - Too Much Paper, Tracy
LOL, I had some hilarious shots of Emma with clean panties on her head (she pulled them out of the clean laundry basket while I was in the bathroom), but decided they weren't really appropriate;) Especially for posting on the internet!
And we still haven't been able to get that golfball out of the nesting cup...*sigh* I guess we'll just have to order a replacement. Thankfully, it'll only be $1.
And here's the free template. Template 32 is a 2 page LO in PSD format. As always, I love hearing back from you and seeing your pages! Here's the preview:
You can download it
here
.
Aaaand I think that's it for tonight. I'll probably do some more scrapping, so be on the lookout for another template soon ish!