Notice anything different around here? Yep, I changed my blog LO! And I used stuff I made myself! Well, I used CU overlays, Atomic Cupcake's tearing, Kimi's glitter styles, and Obsidian Dawn's swirl brushes...but I put it all together;) And I photographed, extracted, and recolored the ribbon. LOL, it's the drawstring of my favorite PJ bottoms!! I have a real blog header now, too!
Template 23 is here! But first, a new LO! This week's weekly challenge on BAM has us browsing galleries around the digiscrap world for scraplifting. The challenge is to scraplift a LO we really like. This was the first time I've done a scraplift. It was really fun! I saw this gorgeous LO and had to lift it: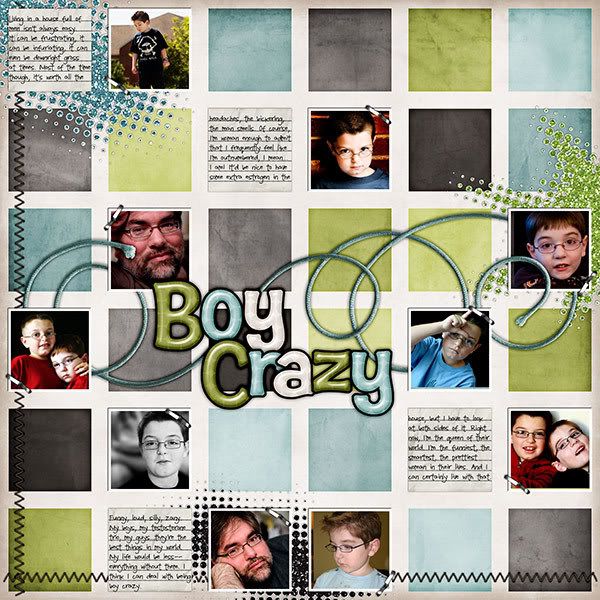 And this is my version:
Credits:
Scraplifted from Leila at ScrapMatters: http://www.scrapmatters.com/gallery3/showp...t/all/limit/all
Papers - me, BCC2 (not released yet)
Glitter styles - Kimi's Kreations, BCC2 (not released yet)
Obsidian Dawn - swirl brushes
Atomic Cupcake - colored chrome
Be sure to head over to ScrapMatters and leave Leila some love for her gorgeous LO!
And now for the template. Template 23 is a 2 page LO in PSD format. Please feel free to send me your pages with my templates or kits! I'd LOVE to see them, and to post them here with your permission:) Here's the preview for template 23:
You can download it
here
.
LOL, I WAS going to go to bed earlier tonight...ahahaha, right...it's nearly 3 AM. I really need to force myself to go to bed earlier. But...it doesn't really work, because I can't sleep. I just lay there TRYING to sleep. If I'm going to be awake at this hour, I might as well be productive, right? ;) Anyway, I'm going to TRY to get some sleep now. Night all!