I finally did my expansion from our March color challenge blog train! I had to finish Emma's ABC book first, but now that that's finished and sent off to print, I can work on my myriad other projects.
It took me forever to get this uploaded, since our internet is very tempermental about upload speeds. It was around 30-40 Kb/s when I finally got it to work, but it was more like 5 Kb/s when I tried earlier...and 4shared kept canceling it as a result. Very frustrating. But it's now up and available for download! Here's the preview: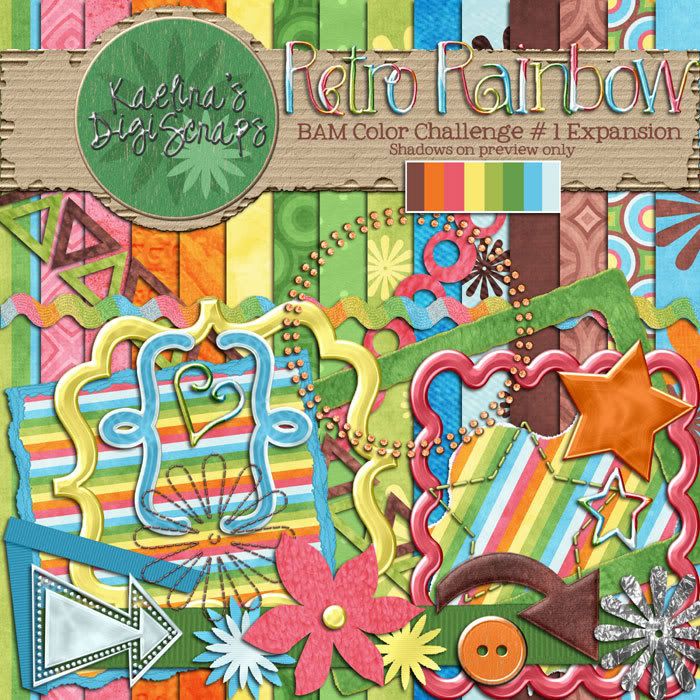 Retro Rainbow Expansion includes everything shown in the preview and a full alpha (used for the title in the preview). It's a full 12x12 size kit in 300 DPI. For some reason, one of the papers wouldn't open as a JPG, so I had to save it as a PNG instead. *shrug* I have no idea why, but it works;)
Here are your links:
Alpha
Elements
Papers 1
Papers 2
**Edit: fixed alpha link. Sorry about that! I accidentally uploaded it twice, so I deleted the duplication. I already had the link pasted and I guess it was for the one I deleted. It SHOULD work now. Let me know if you run into any problems!**
If you haven't picked up my blog train minikit yet, you can do so
here
.
As always, I'd love to hear back from you and see your LO's with my freebies:) I have an addon for Emma's Toybox in the works, and I've started on April's color challenge for BAM. I got to pick the palette this month, so I got a head start;) I had to try out the colors a little beforehand to make sure they'd look good as papers and such. I also have 2 new templates; one in the post before this, and another is coming in just a few minutes in the following post. LOL, I'm freebie happy today!