Wow, it's been a crazy week. Sorry I haven't posted anything for several days! I didn't want to update without a template to share, and it's take a few days to get around to it, what with how crazy things have been this week. I've got lots to write now, so that should make up for it;) LOL, this is gonna be long, so bear with me. If you just want the template, feel free to scroll through my rambling;) It's at the end of the post. LOL, you know you're going to have a long post when you have to write out your topics on a sticky note so you don't forget anything;)
First of all, I want to address some issues my friends and I have seen out there in the digiscrapping world. On more than one occassion, people have been violating TOUs and giving other designer's stuff out as their own. In one case, someone even used the same PSD file to turn one of Kimi's templates into a 2-pager!! Thankfully, that blog has since been deleted (thank you Angie of IkeaGoddess!). Kimi posted about this as well, but I want to reiterate that using anyone else's graphics and claiming them to be your own is ILLEGAL and completely unfair to the real designer. I hope to never have this happen to me, but if it does, I WILL contact my lawyers (LOL, my brother and his wife) and see what my options are;) If any of you happen to see someone using my products in a way that violates my TOU, please let me know!! Just a friendly reminder to ALWAYS list the credits for everything you use!
Ok, now on to other things. *sigh* It as has been one crazy week!! Tuesday afternoon, Emma started throwing up after her nap. She threw up 11 times in 6 hours!! She was perfectly fine the next day, so we assumed it was something she ate. But then on Thursday, she had at least 3 diarrhea blowouts. And ever since, she hasn't been eating well at all. But we think that's sickness-related. She did a bit better today, so that's encouraging. She DID have one diarrhea blow out today, and had another diarrhea diaper while we were at church (LOL, I'm sure when she's older she'll love that I talked about this stuff aaaall over the internet). I think she had some diarrhea on Friday, too. No poopies on Saturday, though. Hopefully she'll feel better soon!
Emma just turned 17 months old!! At 12:59 this morning, in fact. Where did the time go?! I'm majorly overdue for an update, so here it is. Emma is SO cute and smart, too. She's starting to say more words: Mommy, Daddy, Dad, ball, baby, happy, and she's said Emma a few times. She knows lots of signs: light, cookie, candy, please, thank you, kitty, cracker, love, more, fish, and all done/gone. She gives high fives and she can sometimes do the knuckles afterwards. Emma gives hugs and kisses when asked. She also knows how to fold her arms for prayers and she knows where her scriptures are (they're in picture-comic-book style and we read a couple of pages together every night before she goes to bed). Emma points at pictures all the time. She loves to point at pictures of Jesus:D She also points at pictures of herself and of us. When we ask her "where's Mommy," "where's Daddy," or "where's Emma," etc, she always points at the right person! She also knows where all her body parts are, and where they are on other people as well.
She knows where everything is, from the garbage, to her movies, to the fridge, to her toothbrush, to our car, to her goldfish. She absolutely LOVES her goldfish. She always wants to feed it and she signs fish several times a day. Emma always wants to help with everything - taking out garbage, doing dishes, doing laundry, sweeping, vacuuming, cooking, etc. She wants to stir every single thing I cook:D I think she's afraid of the vacuum when it's on unless we're holding her. (Shows how much we vacuum LOL - hey, our carpet hides everything!) Either that or it's because she wants to help. I think it might be a combo of the 2.
Emma LOVES to go outside. She gets mad if someone walks out the door without her Even if it's just someone who came to visit. She loves to go check the mail. She HAS to hold the mail key when we go! She loves keys and knows how they work. We put her monkey pack on when we check the mail because otherwise she tries to go in the street...she loves watching the cars go by. She knows which car is ours now, too.
She LOVES watching VeggieTales and Sesame Street. Her favorite characters are Larry the Cucumber and Elmo. She points at them aaaall the time. She's currently on a The Pirates Who Don't Do Anything (the movie) kick. We watch it every day. Emma also loves to color. She has learned how to tickle Mom and Dad...uh oh! When we ask her to smile, she crinkles up her nose, flashes a teeth-baring smile, and squints her eyes.
Oh, and just this week, her Elmo Live ran out of battery power and I told her he needed batteries. So she went into my bedroom, lifted up the bedskirt, and tried to pull out the toolbox!! When I opened the toolbox, she grabbed a screwdriver, went back to Elmo, and tried to unscrew the screws to open the battery compartment!! Wow, she is just TOO smart!!
Emma loves books. She prefers looking through them on her own most of the time. She also loves climbing up and down stairs - thankfully we don't have any in our apartment! There are a couple of stairs at church between the seating area and the podium, and she tries to climb up them in the middle of the meeting...and of course, throws a fit when I pick her up and take her away from them. Ah, the joys of toddlerhood. Nathan and Jessica sang today and she really wanted to go up with them!! She loves her aunt and uncle, and her little cousin, too.
She's been having issues eating lately, but we think it's because her tummy is a bit off from a virus. She did better today, at least with snacks like whole grain graham crackers and Cheerios, but she only ate a tiny bit of her dinner. It's been frustrating, but hopefully it will pass soon. She's also cutting a tooth, so she was super grouchy all day Saturday. And I've been grouchy lately, too, so it's been a hard weekend as far as that goes!
Oh, and we still haven't named her fish yet. We keep calling it a "him," so maybe we should pick a boy's name? I originally planned for it to be a girl fish LOL. I don't want to use a character name like Elmo because when it eventually dies, we'd have to tell her "Elmo died." Um, yeah, I don't want to do that.
And now for some digiscrap stuff!! Our BAM (Baby and Me, the mommy forum I frequent) blog train launches later this week!! There will be 7 minikits available, and many of us kept going and made addons! Kimi made some gorgeous seamless glitters for it, so be sure to pick those up after the train launches! I had WAY too much playing with her glitters. I went majorly overboard and made 4 separate addons, which will all be released one per day after the train launches. Since I got to pick the palette this month, our train starts here. Here's a sneak peek of our palette: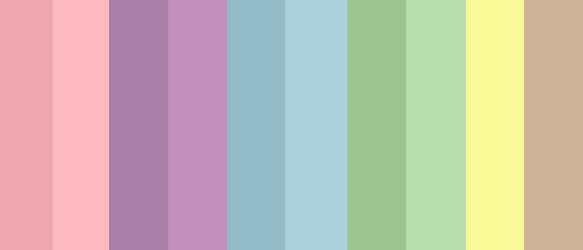 Isn't it pretty? Much better than the ugly April Fool's template I posted as a joke: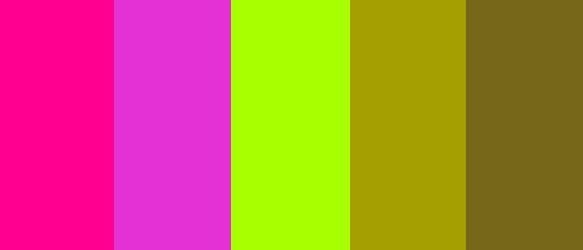 Ugh. I cringe looking at that. But it was a great gag on everyone!! The other girls were SO relieved to see I was playing them;)
Before I get to all the pages I've done since my last post, check out this cute LO Janae made using template 34:
http://scrapsndoodle.blogspot.com/
. How cool that she has a war hero in her family!! And on a random note, both my parents were born in that state;) Thanks for sharing!! I love seeing what others do with my templates.
And now for my pages!! First, I did the Altered Candy challenge at Digital Candy. We were to use all of this super cute minikit, but we had to alter at least one item to make our LO. I altered the color on the background paper and the color on the paper I used for the text and the flower.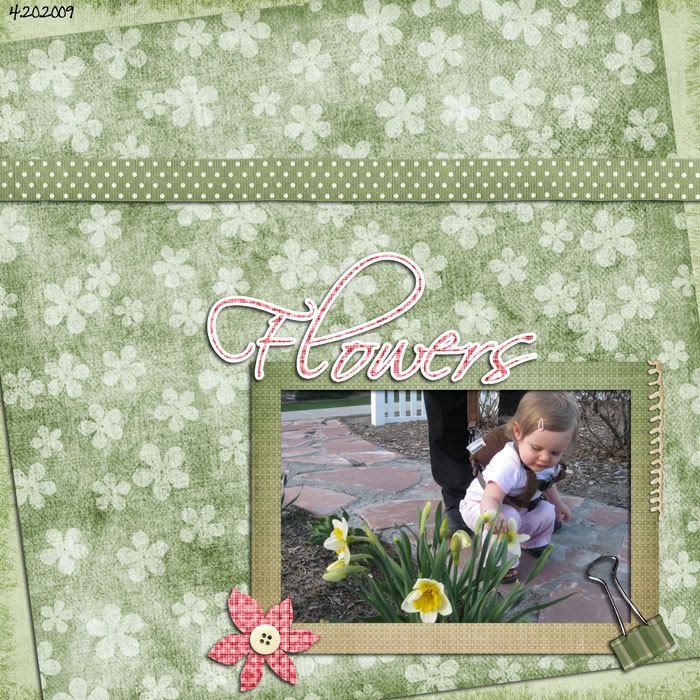 Credits:
Kit - Christie Lemmons Designs, Modern Neutrals addon
Next, I did another speed scrap on BAM. This time, we were to do things we don't normally do or haven't done before. These were the instructions:
1. Pick two pictures
2. Make a stack. Pictures, elements, papers, whatever, but there needs to be at least three of whatever in your stack. DO SOMETHING YOU DON'T DO NORMALLY. If you tend to stack papers, do something else! Also, the stacked objects should be close to the same size and shape.
3. I want to see some photomasks. If you don't have any, go find one. If you can't use them, use a fuzzy eraser to blur the edges of what you'd put in. You don't have to fill the mask with a photo, if you want paper, go for it.
4. Pull out some brushes! (if this can't be done in GIMP PLEASE let me know and I'll change the step) There are lots of fun shapes, play with the scattering til you like it and put a few brush strokes on that page somewhere.
5. Find or make some word art to go with your LO.
6. Add a doodle
7. Edge your page with something. Can be the brushes, or if you used a pagemask that counts, or use a border, whatever you'd like. Date, do any journaling you'd like, and you're good!
And my page: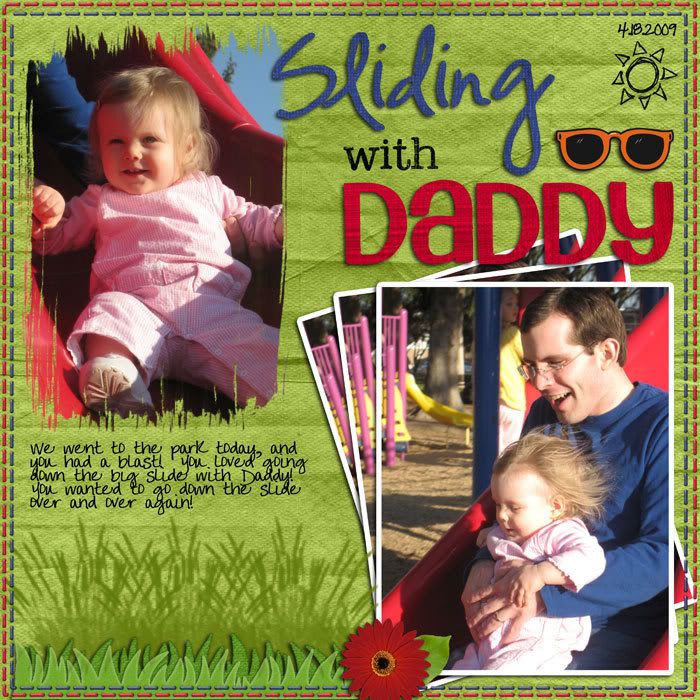 Credits:
Background paper - geniaBeana, Playtime
Blue and red papers, grass, sunglasses, flower - Chelle's Creations, Make a Splash (SM Design Star round 4)
Photo mask - Mimilou Designs
Grass brush - Obsidian Dawn
Stitches and rub-on - Atomic Cupcake
Fonts - Trace, Vaguely Repulsive, My Own Topher, Too Much Paper
Sun doodle - ?? I don't have the info on this one.
Then I made a new signature for BAM. I got sick of the other one already!! I really like this one, so I think I'll keep it for awhile;)
The paper is mine, the glitter is Kimi's, and I used Atomic Cupcake's colored chrome. Hm, these colors look familiar...;)
I made a super cute LO for our Mother's Day gift, but I can't post it here yet because my mom reads my digiscrap blog;) It's in my gallery at Digital Candy if you want to take a peek - unless you're my mom or mother-in-law, that is!! No peeking on your gift, Mom!
And last but not least, I did a page for the Recipe to Scrap challenge on BAM. These were our ingredients:
1. 2 photos
2. frame one photo
3. 3 papers
4. String
5. Glitter
6. 3 clips
7. word art
8. journaling
Credits:
Background paper - A Work in Progress, George and the Dragon
Journal paper - geniaBeana, Playtime
Pizza text paper - me, Rainbow Retro
Glitter - geniaBeana, Ocean Five glitter pack
Tomatoes and yummy word art - Ginger Scraps, Eat Your Veggies
String - Juno Designs, CU string sampler
Metal fastener - Shabby Princess, Happy Go Lucky
Clothespin - Amanda Kay, After the Rain
Fonts - Howser, Socially Awkward
Atomic Cupcake action - jelly
Phew!! Did you get through all that ok? LOL, I told you this was long;) And now for today's template!! Template 35 is my Homemade Pizza LO. It's a single page template in PSD format. I would love to see what you do with it!! Feel free to change it up to meet your needs - just be sure to give me credit;) Here's the preview:
You can download it
here
.
I also have some super exciting digiscrapping news, but I'm not allowed to tell yet;) It's cool, though. I'm excited:D
Aaand now that it's 3:30 in the morning, I think it's time for bed;) Night all!!