Hyrum turned one on the 4th. I have a one year old! Seriously, how is it possible that my son is a whole year old already?
He went from this...
to this...
Oh my gosh has he grown! It's amazing, the changes a year can make. Is he really one already?! Has it
really
been a full year?
Yes, I know it's been a year. I was there for every step of the journey. I remember holding my not-so-little newborn in my arms. I remember the first smile, the first giggle, his discovery of the world. I remember watching him roll over for the first time. I watched him discover mobility. He had various modes of self-transportation along the way: 5 months = rolling around, 7 months = army crawling, 9 months = real crawling, 10 months = cruising.
But to wrap my mind around it all, to comprehend that he truly is a year old...
I just can't do it. I know it happened. I was there. And I have the pics to prove it. Tons and tons of them.
It's strange to think my baby is now a toddler. Albeit a toddler who has no interest in toddling. At all. I can't even get him to hold onto my hands and walk. But I'm not too concerned; he'll walk when he's ready.
He does, however, have an obsession with food. He will seriously eat anything. He eats ALL the time. If he sees you eating, he wants some - even if he just ate! But he's so insanely active that he's in the 3rd percentile for weight. Yeah. Mr. 9 lbs 12 oz at birth. He now weighs in at 18 lbs 10.5 oz and is 29" long. At birth, he was in the 90th percentile...at one year, he's in the 3rd.
And yes, I DO feed him. All. The. Time.
And yet, he still hasn't doubled his birth weight. Granted, he DID start out huge. Since he's under 20 lbs, no moving the car seat around for him. Not that I've ever been able to do that at a year anyway...and since my gargantuan-sized baby can't switch at 12 months, I probably never will!
Hyrum is such a sweet little boy. He's been my little cuddle bug right from the start. He's such a sweet, cuddly boy. He brings so much joy to our lives.
But oh, can he be mischievous. That boy...oh, the things he gets into. Cabinets, garbage, the toilet brush, DVDs, books, dressers... One of his more recent discoveries is climbing onto the couch. From there, he stands on the arm of the couch...and tries to climb onto the counter! Talk about giving Mom a heart attack!
Having a little boy is a much different kind of adventure!
And now he's one! He had a fun birthday. We had his party a couple days early since that worked best for everyone schedule-wise. Sadly, Nathan, Jessica, and their kids were sick and couldn't make it. Victoria and Adam came, though, and we had SO much fun.
Dressed for church, before the party: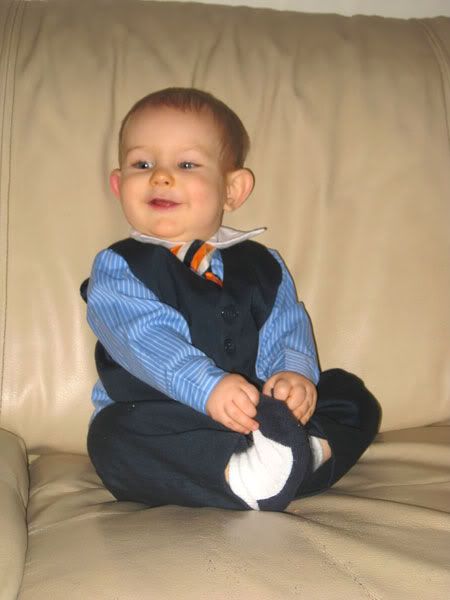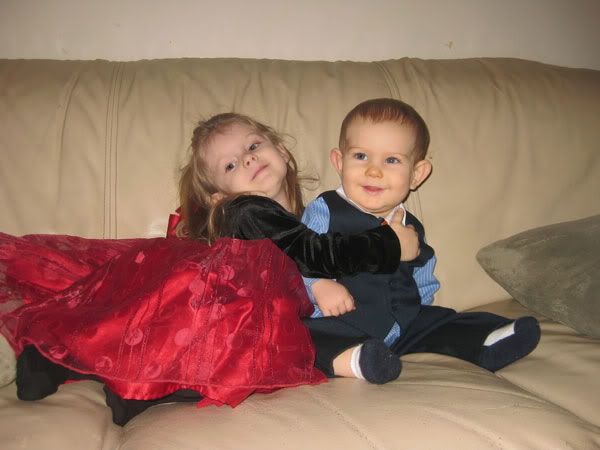 We had Papa Murphy's pizza for dinner. Then we let Hyrum open a few of his presents. He loved his new toys! And of course, so did his sister...aah, the sibling rivalry begins. Hyrum is now very vocal about anyone taking things away from him.
The loot: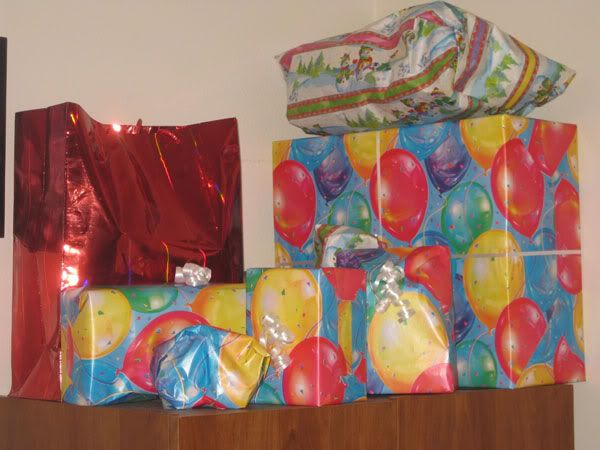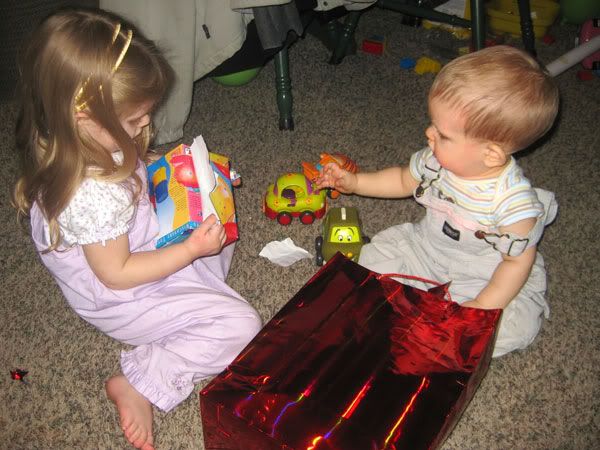 He didn't quite get the unwrapping part, so he had to enlist professional help.
Sharing? Hahaha, not exactly.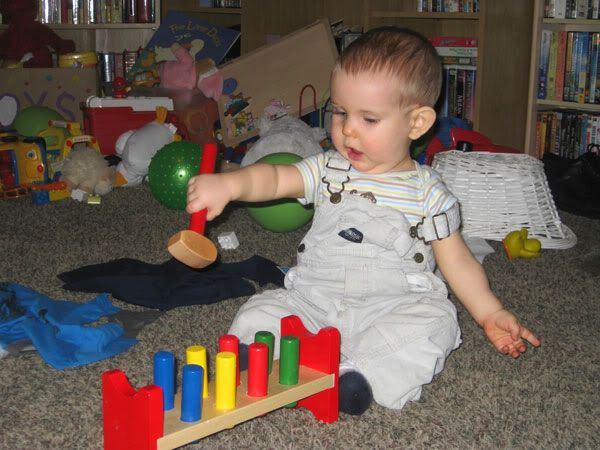 The Pound-A-Peg was a big hit!
So popular, in fact, that he got really mad each time his big sister tried to steal it. He also got frustrated after the pegs got pounded down. He wasn't sure what to do next.
Then, of course, we had cake and ice cream. The cake we ordered came out super cute...except for one teeny tiny detail...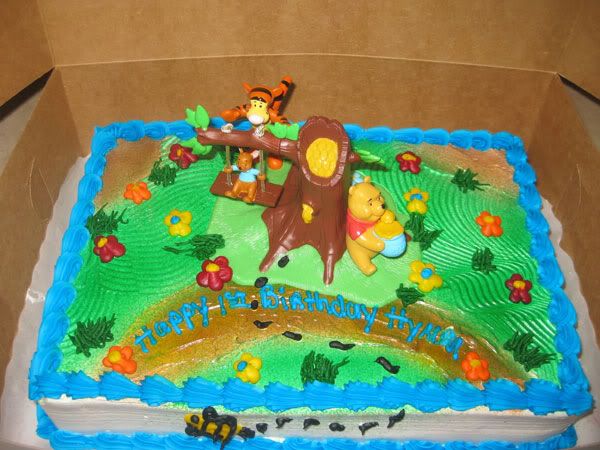 They spelled his name wrong!
Soooo frustrating!
When you look at the order sheet, you can see exactly how it happened:
The girl who wrote the order up for us wrote the r and the u in such a way that it looks like an n. But STILL. Hynm? That's not even a word, let alone a name! And it's not like Hyrum is an obscure name where we live...ugh. I know, I should totally go complain. But I'm going to be the bigger person and leave it alone.
Besides, it still tasted divine. Regardless of the fact that they completely butchered his name.
Hyrum certainly enjoyed it! I really tried to cut down on the sheer volume of cake-smash pics, but there were way too many cute ones!
First bite...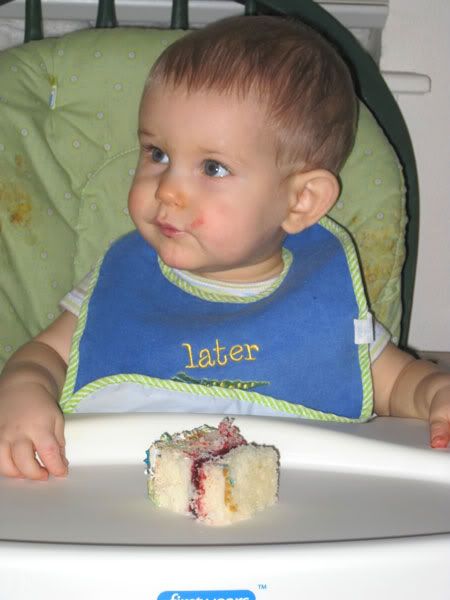 Mulling it over.
Om nom nom.
Ice cream! It's
cold
!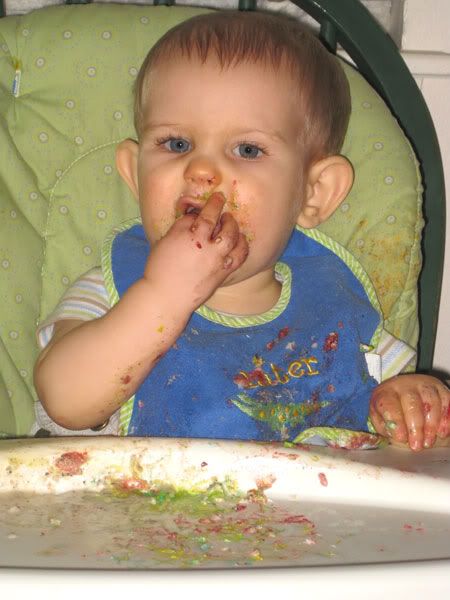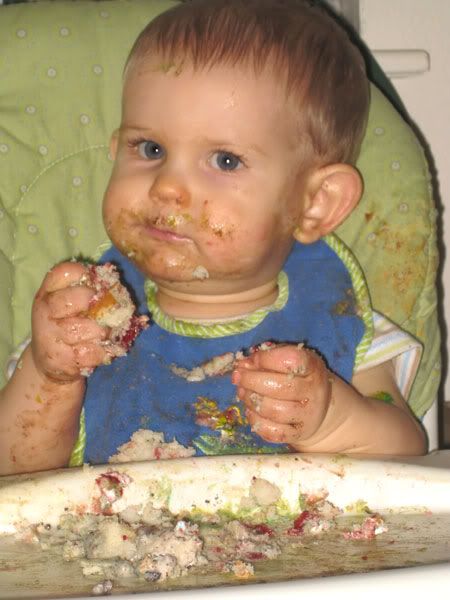 This one seriously reminds me of my brother Paul.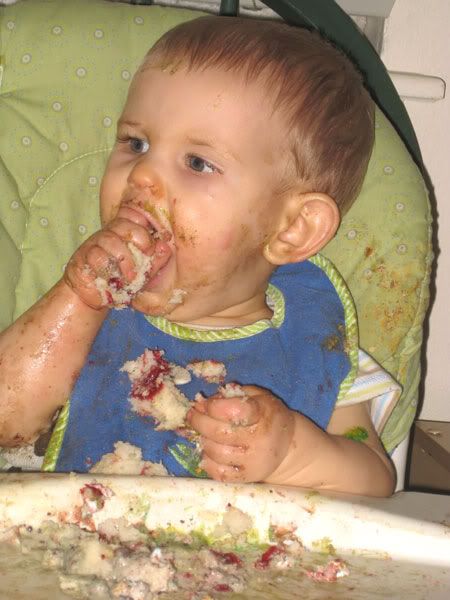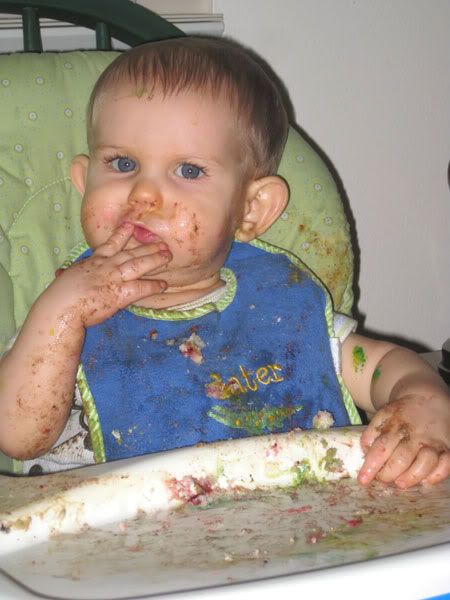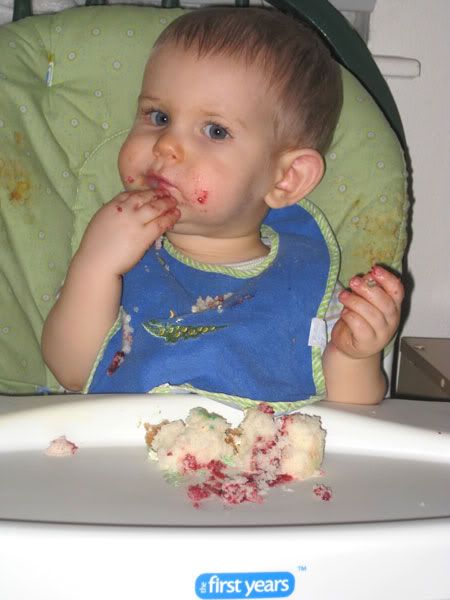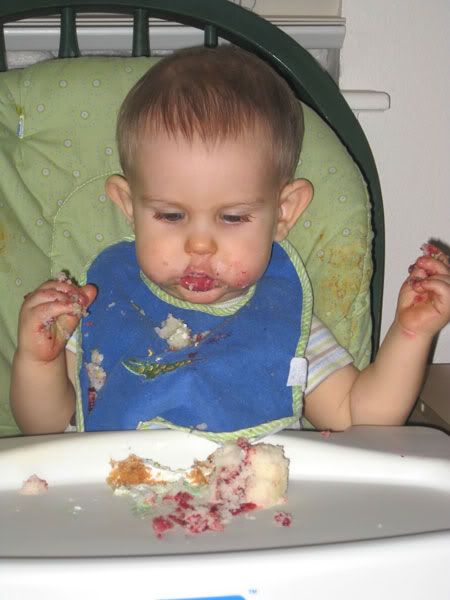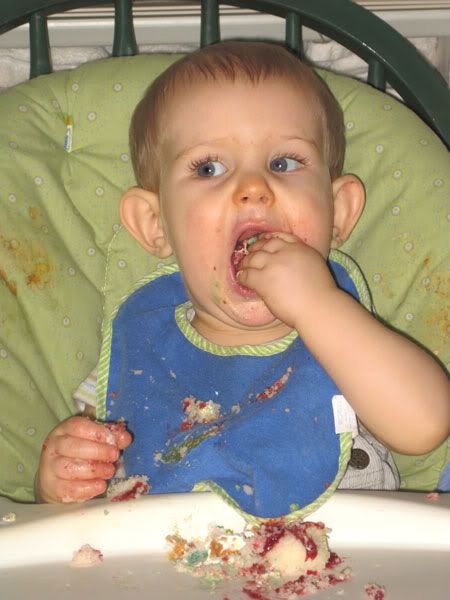 Emma mostly ate the frosting...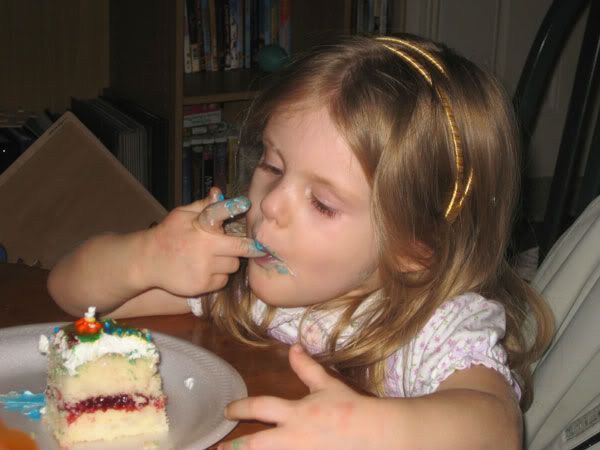 After we put the kids to bed, we played SkipBo with Adam and Victoria. SO fun! I got some hilarious fake-drunk shots of them with sparkling cider. Oh my gosh, soooo funny.
[pics if I get permission]
On Hyrum's actual birthday, we opened more presents: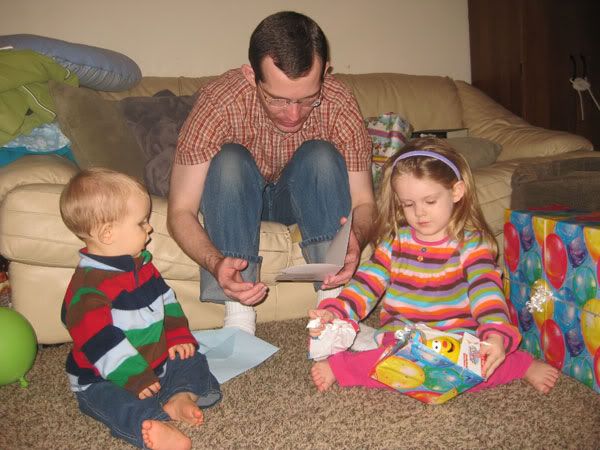 Enlisting professional help again. Nothing better than a 3 year old to open your presents for you.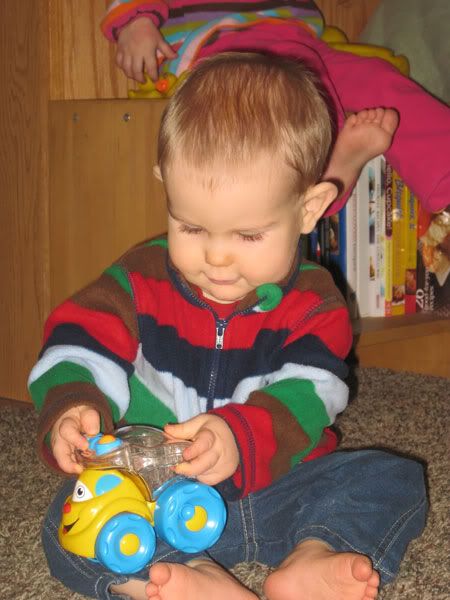 Lovin' the car.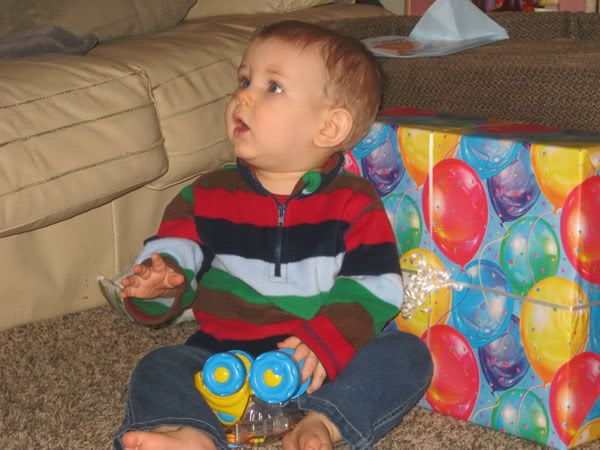 Animal sounds barnyard.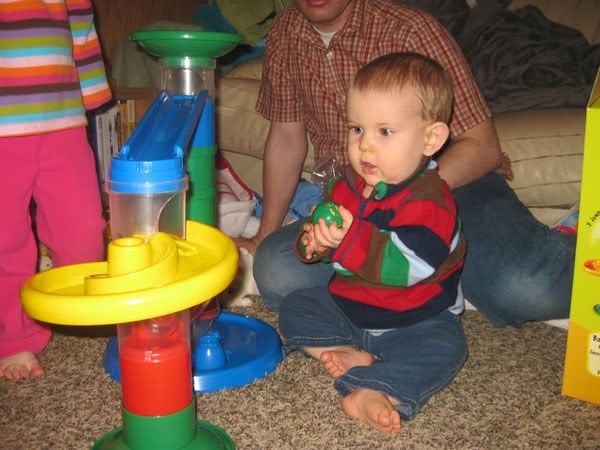 Baby marbleworks! Definitely a big hit.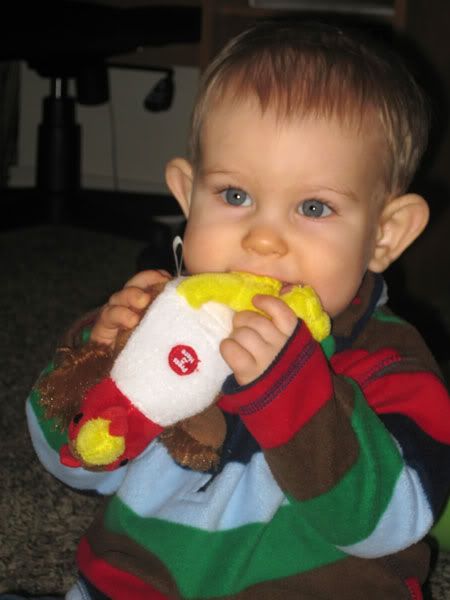 Chicken!
And we had more cake!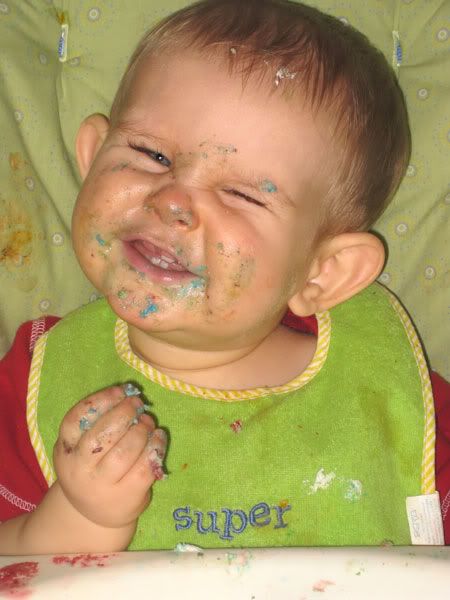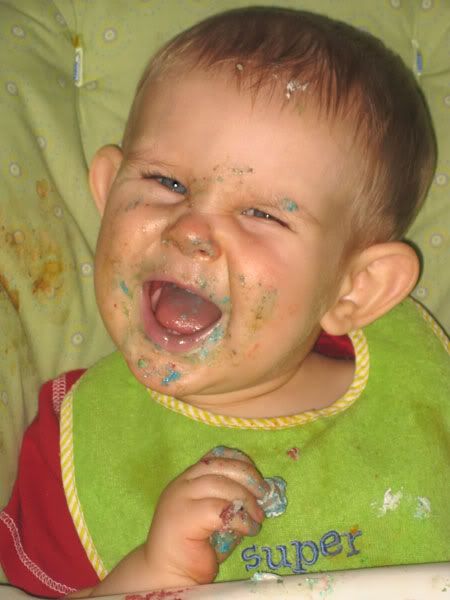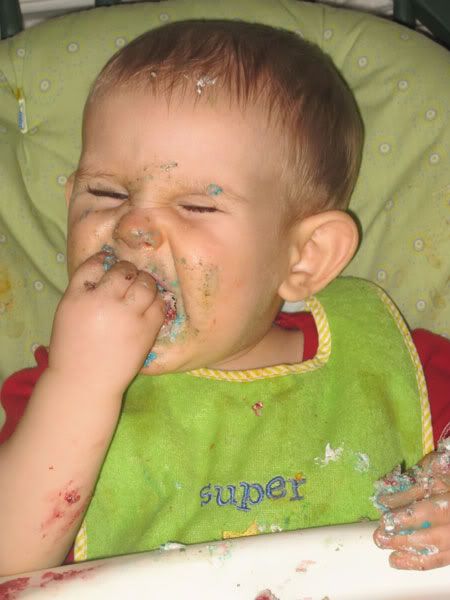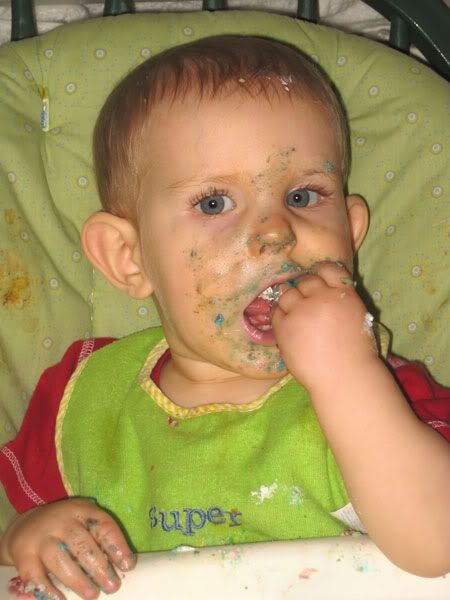 All in all, he had a great birthday! It's hard to believe he's one already! He's growing up so fast. Happy 1st birthday to a sweet, cute, little boy!
(Psst, Christmas, New Year's, and First Haircut posts are below if you haven't read them yet.)