I've got another free template for you! But first, I want to show you my latest pages. I've been busy today! John had to do some things at church (he's the financial clerk), and he took Emma along with him! Woohoo! So, I got time to work on a few pages:)
Oh, before we go on, Emma did the cutest thing today! Some milk spilled out of her sippy cup onto the couch. She picked up a paper towel off the floor that we'd been using earlier for her lunch and wiped up the milk!! What a smartie! She is, after all, only 14 months old. She likes to "help" with lots of things. It's cute. She even uses a washcloth to "clean" the tub during baths LOL! And she tries to clean herself. She's also discovered that she can feed Mommy and Daddy...
First, is a small household project. We needed a sign for the dishwasher so we can very easily tell if the dishes are clean or dirty. So I made this: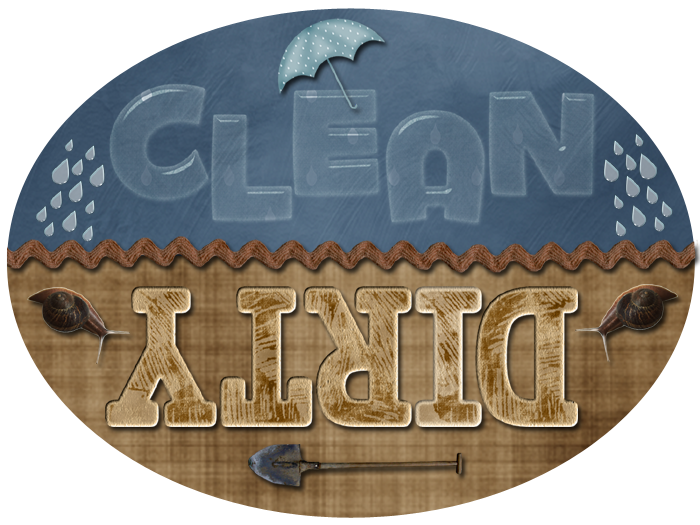 Credits:
Background papers - CuddleBeez, Blues and Browns
Ric rac - Snippets Ink, Bentley Natural
Clear alpha - Marie Stones
Rain drop paper (grouped with alpha), umbrella - MeganB Designs, Rainy Days
Rain drops - A Work in Progress, Down by the Lily Pond
Wood alpha - Dawn Mills, Romantic Heritage
Snail - Wee Faerie, Walking in the Woods
Shovel - Water Lo Project, In the Sleeping Orchard
Yes, I know the dirty side is upside down. It's supposed to be that way! When the dishes are dirty, you flip it around:) At the moment, ours are clean;)
Next, I worked more on Emma's ABC book. I did letters B and C today! I absolutely LOVE how these pages came out. Here they are: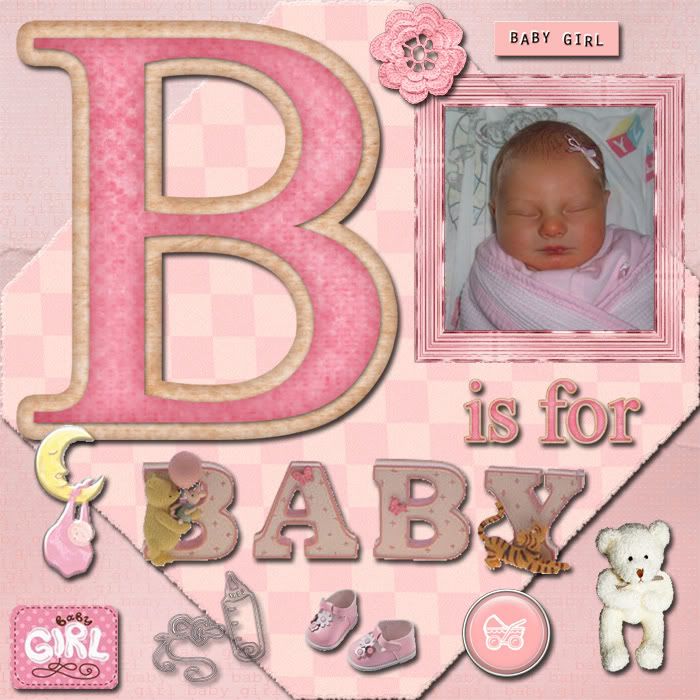 Credits:
Baby girl paper (slightly recolored) - DitaB, Baby
Pink argyle paper - Brahm's Lullabye, Plum Dumpling Designs
Alpha - Ellie Lash, Kiss Me Sweetheart
Frame - Penny57, You're My Valentine
Teddy bear - Ninie, Je T'aime
Bottle/pacifier doodle, stroller, baby girl label, crocheted flower - Raspberry Road Designs, Kimmy
Moon, baby girl stitched element - Kaccii, Sweet Moonshine Baby
Shoes, baby blocks word art - Kaccii, Baby
Atomic Cupcake actions - simple tear
Aw, wasn't Emma the cutest newborn? I took that picture in the hospital. I think it was the day we went home.
Oh yes, this page reminds me. I seem to have a hard time finding baby girl kits that are free, full size, and NOT ugly! So many of them have this hideous pink that is NOT cute at all! And what's with the tagger size kits?! I don't get it. It's a pain, because you can always make bigger elements smaller, but when you try to make small elements bigger, it gets all pixelated and yucky. Grrr. Stupid tagger size. Oh, and if you make tagger size kits, you better dang well SAY SO on your blog!
I also have a hard time finding cute (and free - buying kits just isn't in the budget right now) girl kits in general. I have more boy kits than girl ones...and I don't have any boys!! Well, not yet. Someday I probably will, but for now, we just have one beautiful little girl.
And now for letter C: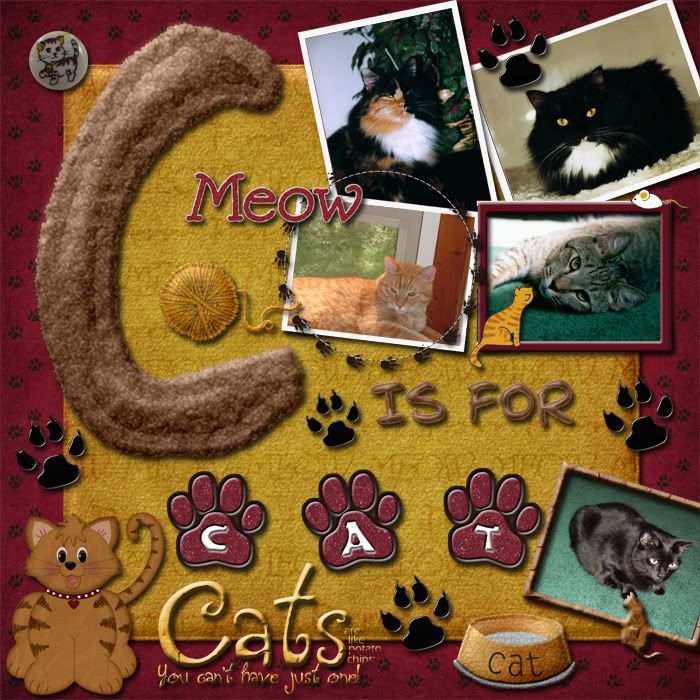 Credits:
Papers, pawprint alpha, meow word art - Audra's Little Scraps, Love My Pet
Brown alpha - A Work in Progress, Breakfast at Tiffany's
White frames, cat frame - Gunhild Storeide
Cat and mouse frame, bowl, yarn - JenV, Love My Pet
Circle frame, button - Monique Drost, Love My Pet
Paw print - Kreative Karma, Love My Pet
Cat element - Paula Phillips Designs, Love My Pet
Word art - Elegant Word Art by Bethany
Papers grouped with word art and frame - juliemarie, Love My Pet
Atomic Cupcake actions - puffy felt (on paper, bowl, and yarn)
Notice the 5 cats? Yeah, they're all mine. But they're at my parents' house. My sister claims they're all hers, but she's wrong;) Emma LOVED chasing the cats around when we went home for Christmas! The cats, however...they weren't too thrilled with her.
Oh, there were a few pet peeves I forgot to write about last night. Don't worry, this won't be as long;) I just mentioned the tagger size thing above, so I'm covered there. But another thing that irritates me are downloads that don't have all the files in a folder. When you unzip them, the files are just THERE, not in any organized fashion whatsoever. I then have to make a folder for the files. Irritating. Put your files in a folder BEFORE you zip them!! Oh, and TOUs in PDF are annoying, too, because I have to wait for the program to load to get the info I need. Txt files are way easier (notice, my TOU is a txt;)).
Anyway, now that you've read my rambling, you probably want the new template, yes? LOL, I wonder how many people actually bother reading what I write here rather than just go straight for the download.
Template 9 is a single page LO in PSD format with 7 photos - perfect for those of you doing Project 365. I'm not - I'm not consistent enough about taking pictures! Maybe next year;) I didn't know about it until the new year started anyway. Aaaanyway. Here's the preview: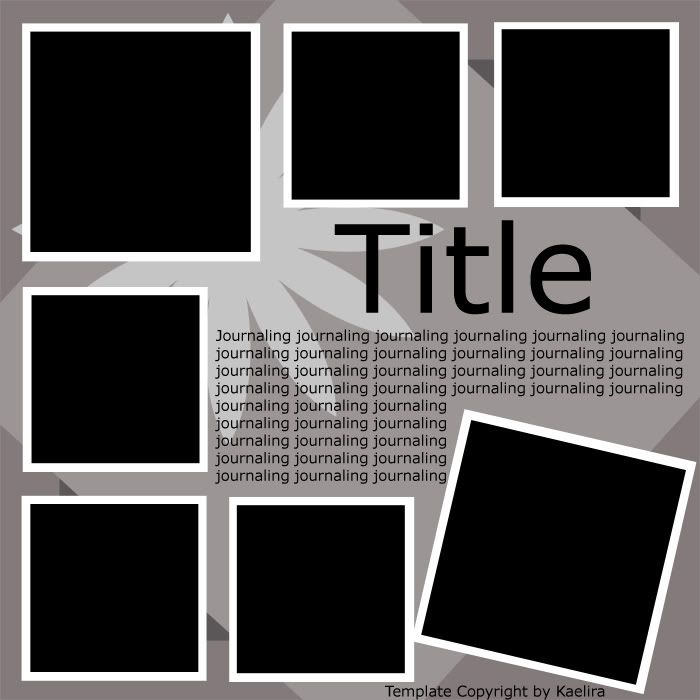 You can download it
here
. Comments are welcome, as always:)
I was going to work on this week's challenge page for my mommy forum, but it's 2 AM and I still need a shower. I planned to use template 9 for it, but we'll see if I actually do. Time to shower! Though it's tempting to put it off and shower during nap time tomorrow...hmm...decisions decisions. In any case, I'm done here! Night all!