During FHE tonight, we decided we needed an FHE chart. So, after Emma went to bed (and after I did some grocery shopping - after she goes to bed is a great time for that!), I made an FHE chart for our little family. I also made these cute little buttons for it. I put magnetic tape on the back, and stuck it on our magnetic front door (the fridge is covered with family pictures). Unfortunately, the magnetic tape won't work for the buttons over the chart. I guess the photo paper I used is too thick for it. So I'll have to get some magnets and glue them on or something. Anyway, it turned out really cute! Here's the chart: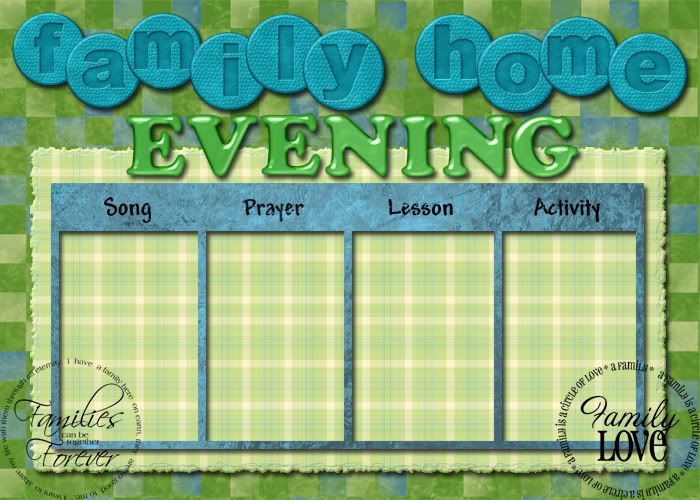 Credits:
Checkered paper and painted blue paper - Unica, A Walk in the Park
Plaid paper - Raspberry Road Designs, My Baby Love - Boy
Alphas - A Work in Progress, Brit Pop
Word arts - Elegant Word art by Bethany
Atomic Cupcake actions - simple tear, rub on
And for the buttons:

Credits for John's:
Paper - Sarducci, A Walk in the Park
Credit's for mine (Sara):
Paper - BZD Designs, Wish Dream Fly
Gem frame - Tbugz CU gem frame
Brackets - Flutterby Hollow, Blingy Brackets
Credits for Emma's:
Paper and flower - A Work in Progress, Candy Dream
Cute, huh? I'm happy with it:) Well, except for the magnet thing. But that's easily fixed.
So, the longer I digiscrap, the more I see things that bug me. I want to share my list of digiscrapping pet peeves with you;) If you're a designer, please keep these in mind;) My digiscrapping pet peeves:
Expired links. Do you know how annoying it is to go to Digifree, see a freebie you want, and then by the time you actually get to the blog, it's no longer valid? Ugh. Annoying. I hate when people only have freebies available for one day only. I don't always get a chance to look each day, and when I do, it's late at night after the baby's gone to bed. Not to mention that Digifree is on a delayed schedule anyway. So, if you're only going to have a freebie available for one day, DON'T ADVERTISE THROUGH DIGIFREE!


Music on blogs. This doesn't just apply to the digiscrapping world. This is one of the reasons I've always hated/avoided MySpace. I don't mind if it gives you the option to play it, but the autoplay thing is SO irritating! I especially hate when I can't find the little box to turn it off. Some blogs don't even HAVE that. Grrr.


When the preview listed on Digifree or Digiscrap Depot is NOT the actual freebie. I hate when I see a kit that I want to download on one of those sites only to find out the freebie is only a QP or an add on, rather than what the preview showed. Granted, this is probably not the designer's fault, but it's STILL annoying.


Ugly kits LOL. There are some hideous things out there. I honestly don't understand why people make the ugly ones. And along with that, ugly blogs. Ew. If you're going to have freebies, at least make your blog presentable.


Pages with a single picture shoved into the corner/edge of the page. I just don't get it. Isn't the entire purpose of scrapbooking to display photos? So...why is the picture teeny tiny with all this dead paper space taking up the whole page? I see it all the time on CTs. I honestly don't find it artistic or appealing. But that's just my opinion:)


No TOUs. It drives me crazy when people don't include a TOU with their freebies. How can I give you credit later if I have no idea who made it? If you have word art in PNG format for download, put your name or SOMEthing in the file name so I know who to give the credit to.


People who DEMAND that others leave them love. I like positive feedback as much as anyone else, but to flat out DEMAND it seems a bit extreme. I recently encountered a site where the designer had a JavaScript pop up that essentially said, "don't forget to leave me some love." Um...when people do that, I make a point of NOT leaving any comments! It seems rude to me.


And last but not least, I hate when I have to register to get a freebie. I don't really want to go through a "check out" process for something that's free. I've done it here and there, but only when I really wanted the freebie. I'm sorry, but why do you need my personal information if you're giving your work out for free? It bugs me. Most of the time, if I'm not already registered on the site, I decide I don't really need the kit. So, really, this hinders the amount of downloads a given freebie will receive. At least from my end;)
LOL, now that I've got that off my chest, it's time for a new template!! Template 6 has been the most popular by far, with over 200 downloads! I know, compared to a lot of designers, that's hardly anything, but considering that I'm just staring out, I think it's pretty good:) Template 7 has had the least, which honestly surprises me. Maybe people are starting to get sick of Valentine's freebies? *shrug* Oh well.
Anyway, enough late-night babbling from me. Template 8 is another double page template in PSD format. Here's the preview: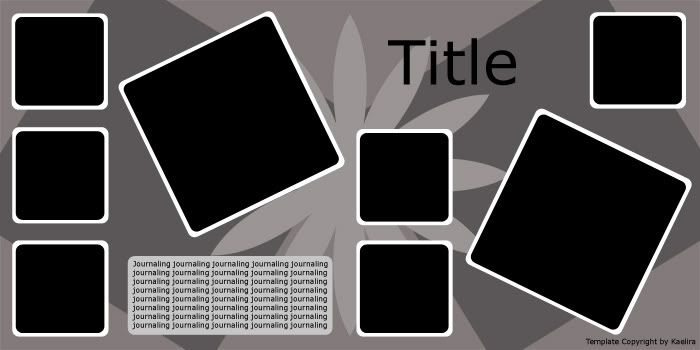 You can download it
here
.
Feel free to give me feedback! LOL, but it's not required;) I'd also love to see your pages with my templates. Do you prefer double or single page templates? I can make either, I just want to know what people want:) I'm also toying around with the idea of making a kit...it's kind of a scary prospect, but it could be fun. I have an idea for one that I think would be fun:)
Anyway. You've probably all stopped reading by now, and I REALLY should be in bed. I keep staying up this late. I'm just not tired at 3 AM. Weird. I'm wide awake. And majorly rambly. Sorry! Ok, I need to stop typing now LOL. Night all!