We went camping in Yellowstone. We'll never live as close to Yellowstone as we do now and since this is our last summer here, it was now or never. John had never gone, and I only went once when I was 13.
We originally thought we'd make a day trip out of it, but after looking at maps and researching all the sites we wanted to see, it just wasn't practical. Not for a family with young children like ours. We'd be too rushed and stressed to enjoy it.
So we decided to turn the trip into an overnight campout. It was SO fun! It took a lot of planning, but I just
love
planning fun vacations. I had the whole trip planned out 6 weeks in advance.
LOL, John loves the fact that I love planning things. Because he
doesn't
.
We drove in through West Yellowstone. We saw this sign just before we drove into the park: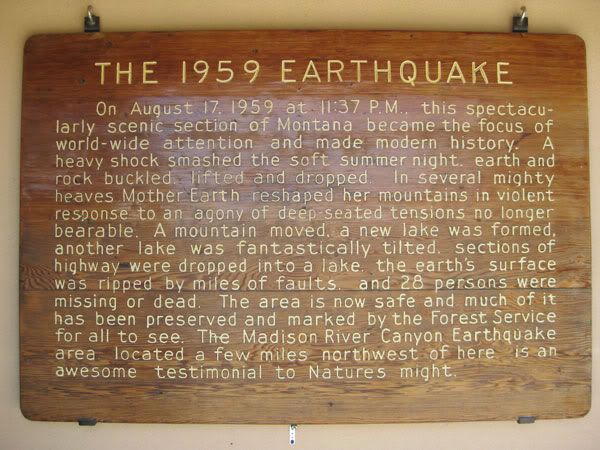 Here's a little family history story for you. Many eons ago, my dad worked at the old inn at West Yellowstone. He was there, staying in a dorm, during the earthquake. His aunt, uncle, and cousins often camped at the campground that got destroyed. They stayed in West Yellowstone to visit him that night instead...which probably saved their lives.
First thing we saw when we got into the park...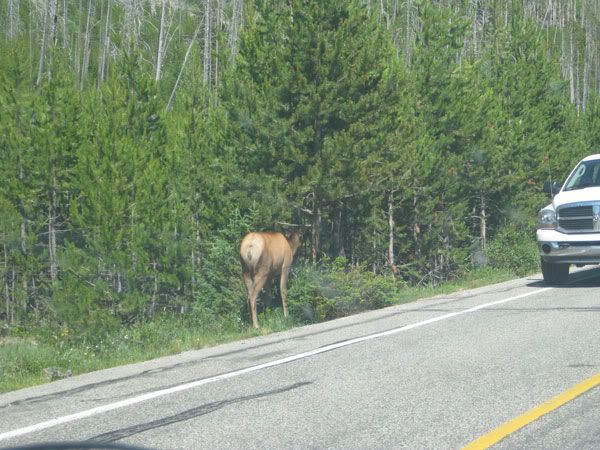 We drove down through the fountain paint pots, mudpots, and geysers.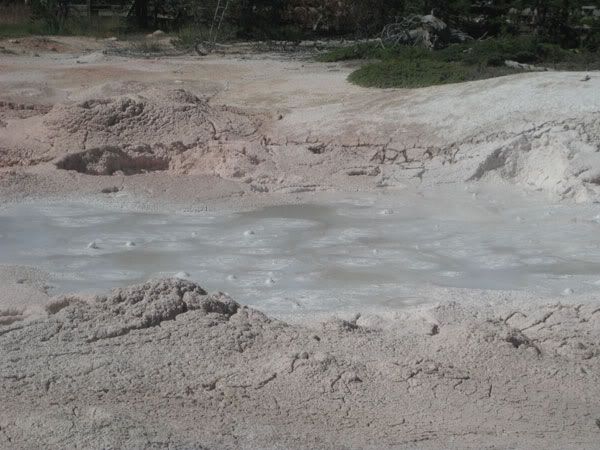 Clepsydra Geyser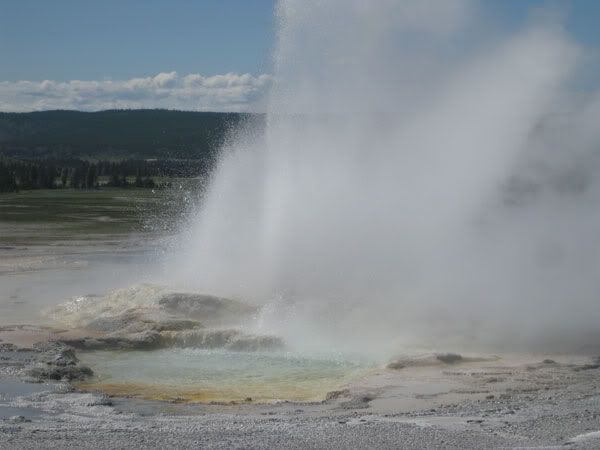 Then we saw the Grand Prismatic Spring and its neighboring springs. I just LOVE how blue they are!
Boiling water from the Grand Prismatic Spring flowing into the Firehole River.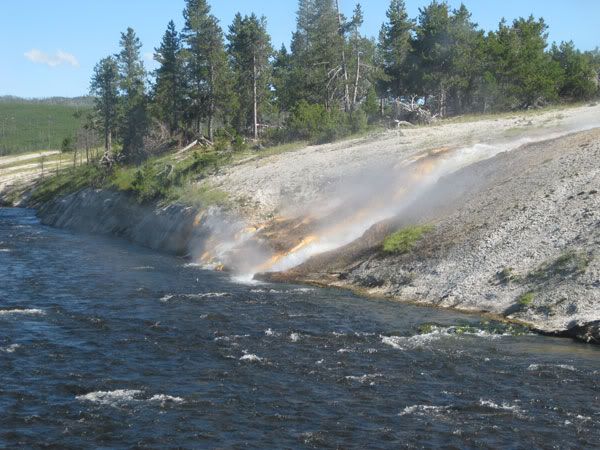 I can't remember the name of this spring, but it's beautiful!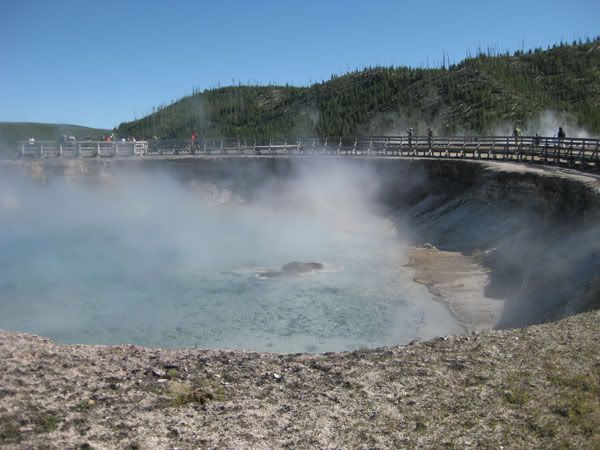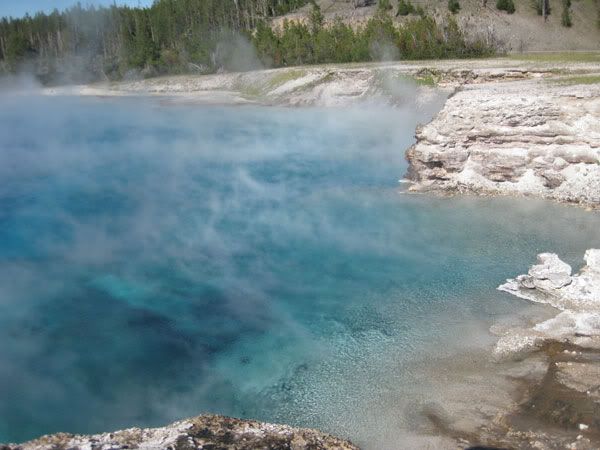 Grand Prismatic Spring
And of course, no trip to Yellowstone could be complete without a visit to Old Faithful. We got some ice cream while we waited for the geyser to go off. The waiting crowd: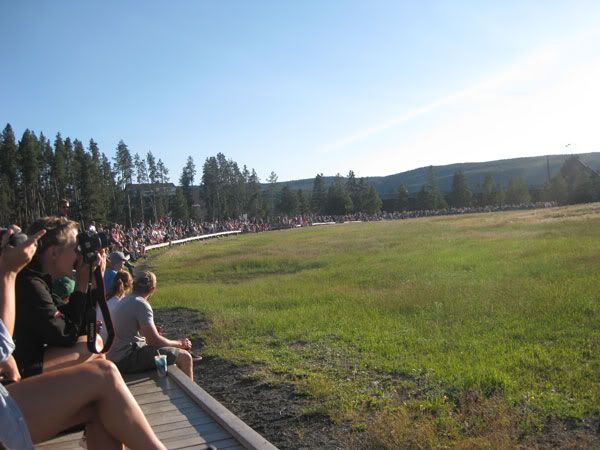 Old Faithful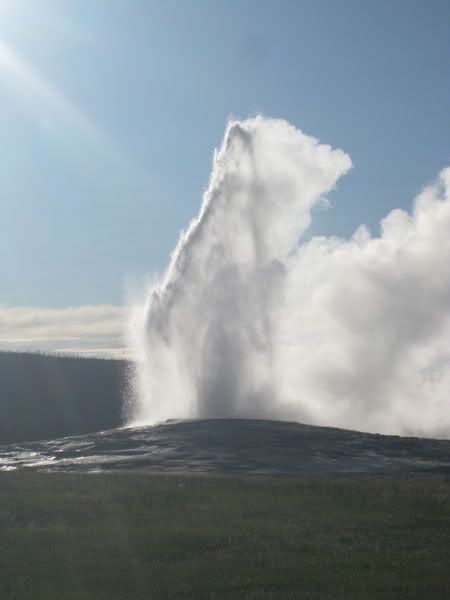 I wish we were at a better angle from the sun, but it was way too crowded on that side.
After we left Old Faithful, we headed over to our campground. We reserved a campsite at Bridge Bay, right near Yellowstone Lake. We got a later start than anticipated and our stops took longer than planned, so it was dusk by the time we reached our campsite. But we still had a blast!
At our campsite near the lake :) The kids loved their kid-size camping chairs. We cooked hot dogs and s'mores.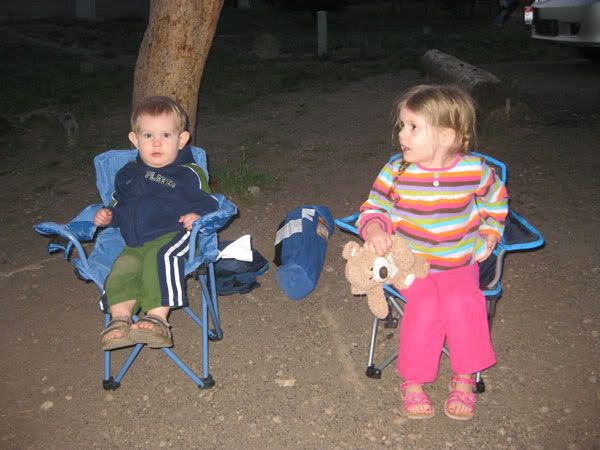 It was really COLD that night. But we had 3 blankets apiece and the kids wore double layers of fleece. Our little campers playing in the tent the next morning: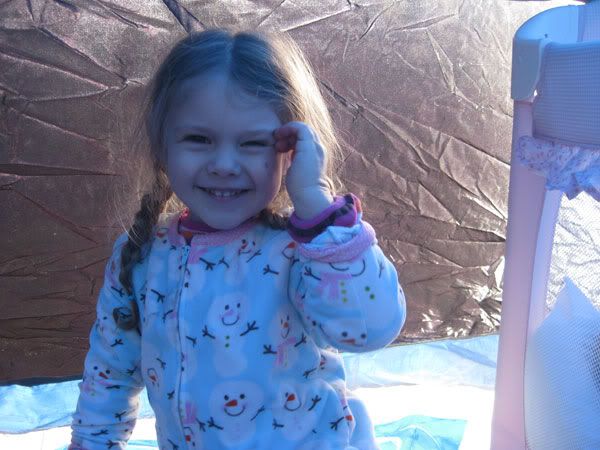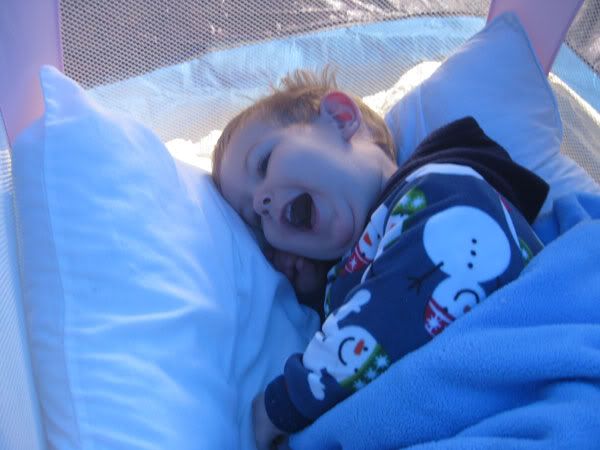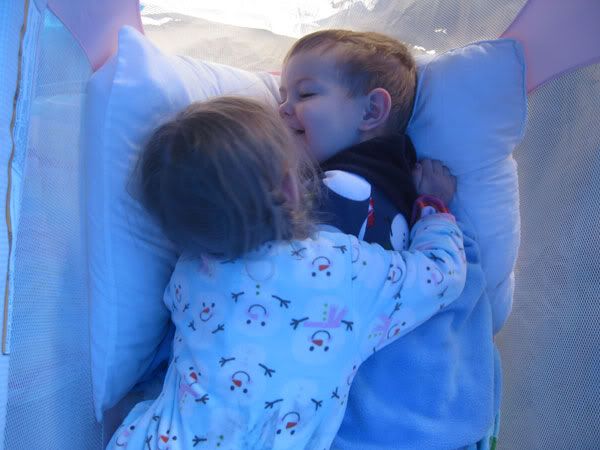 Breakfast time! We baked muffins the day before we left so we wouldn't have to cook breakfast.
Our campsite. The campsites were small and clustered together - but we were near the (flushing!) bathrooms :) Perfect for a 3 year old and a pregnant lady.
Emma picked the type of muffins to make: chocolate chip and blueberry.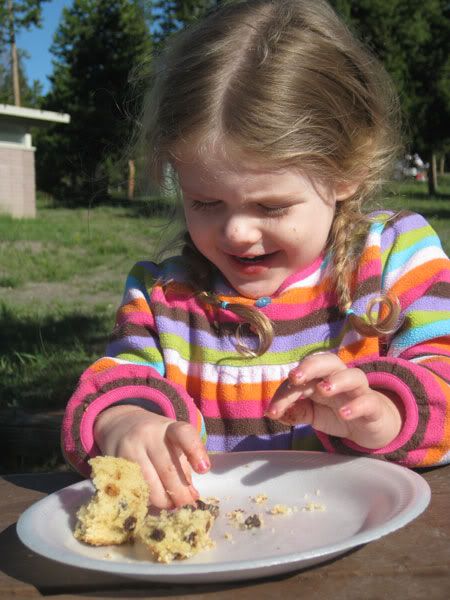 They loved this little tree at our campsite. It's just their size! They also loved the dirt...they got SO dirty!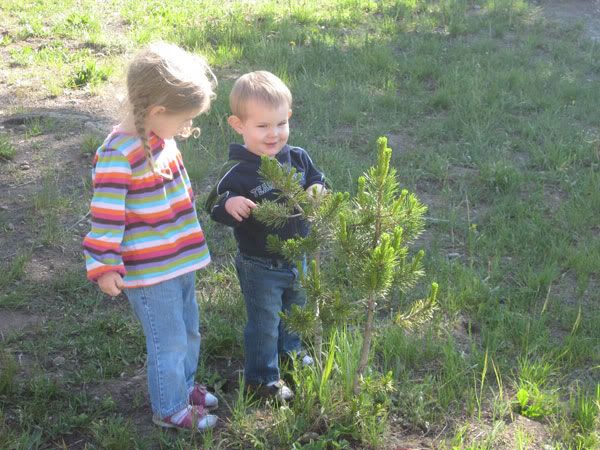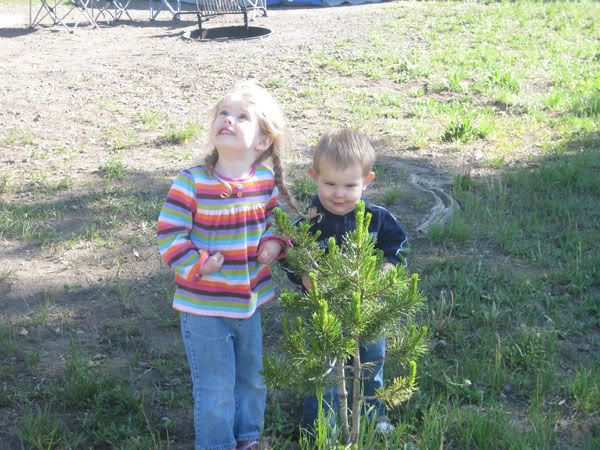 A rare photo of me. It's not
too
horrible. I straightened my hair the night before our trip so it'd be easier to deal with. Camping at 31 weeks pregnant :)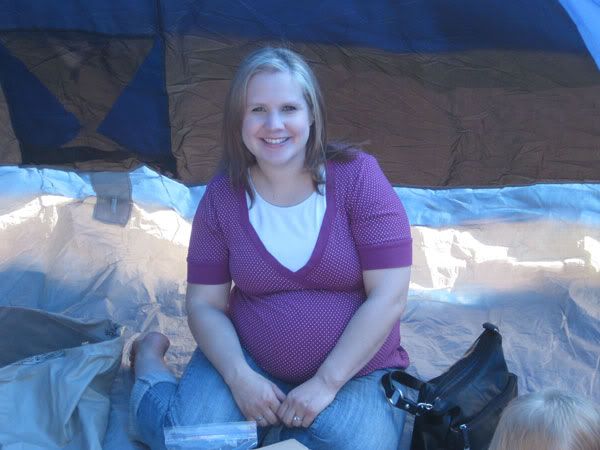 View of Yellowstone Lake from our campsite.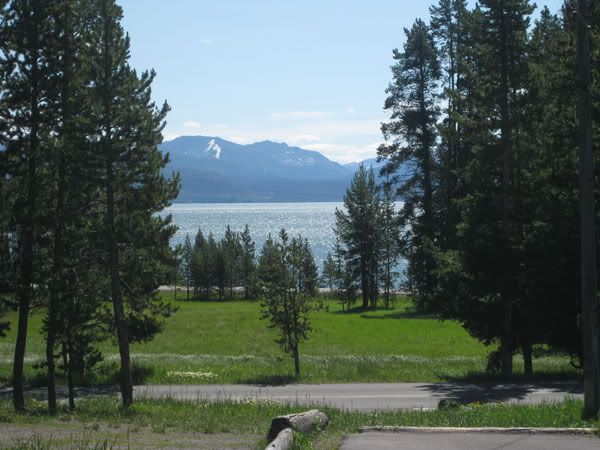 Packing up camp. Emma was such a great helper!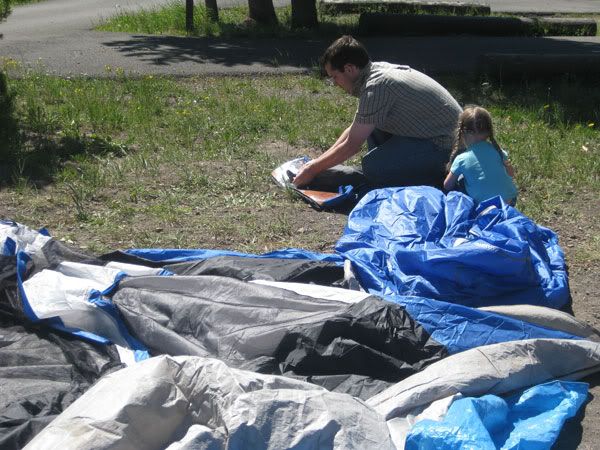 Hyrum, on the other hand, kept getting into everything and trying to run off, so I stuck him in his car seat while we packed up...with an Oreo...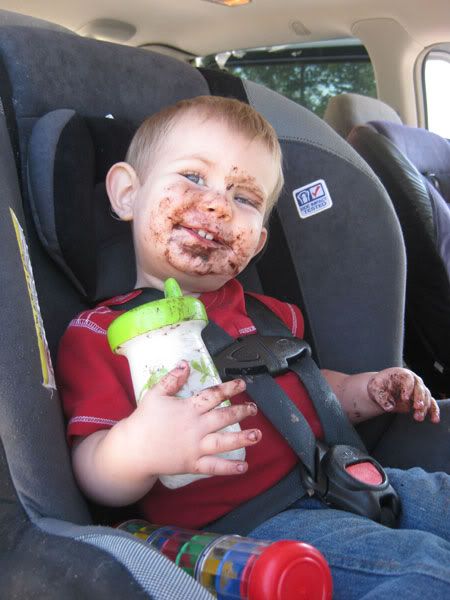 After we packed up camp, we headed up to see the Upper and Lower Falls. It took longer than we thought it would (doesn't it always?), but it was definitely worth it! We drove by gorgeous scenery and saw lots of wildlife on the way.
Yellowstone Lake
Buffalo! We saw tons of them near the lake and river.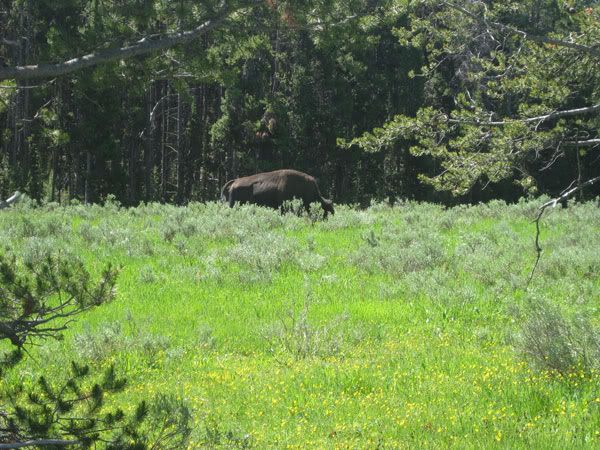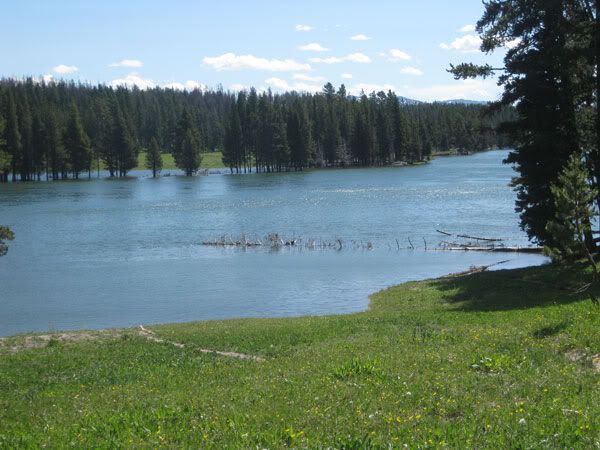 Another buffalo. I later realized I'd left my camera in night mode...oops. I think that's why the grass is so vibrant.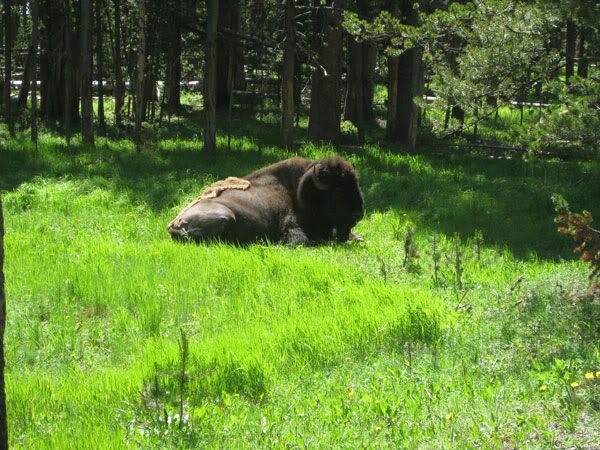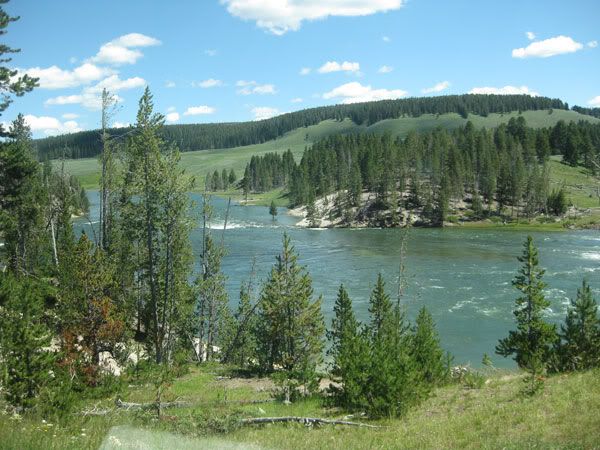 Someone was interested in this bike pack...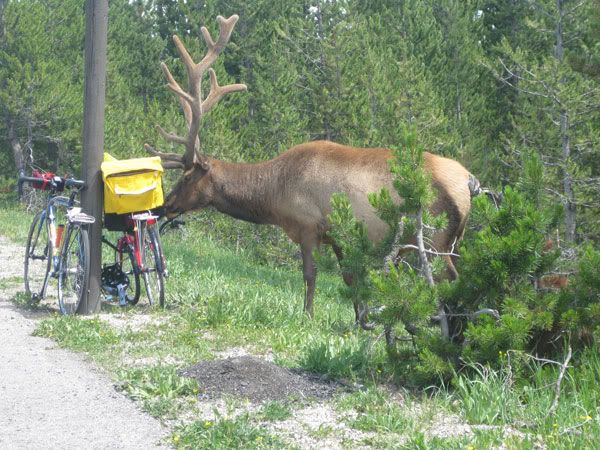 Our little tourist ♥
She put her bear up her shirt and said she had a baby in there...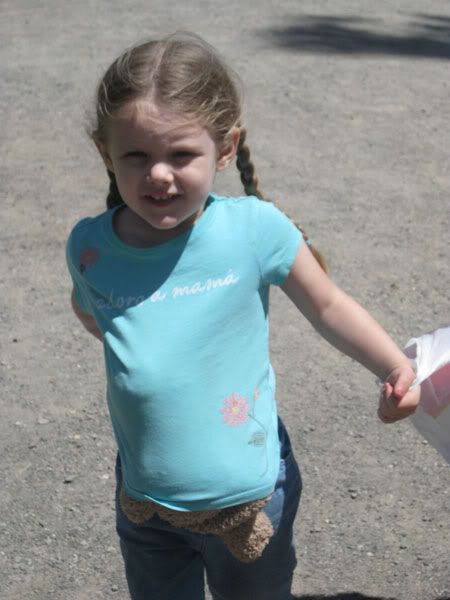 Upper Falls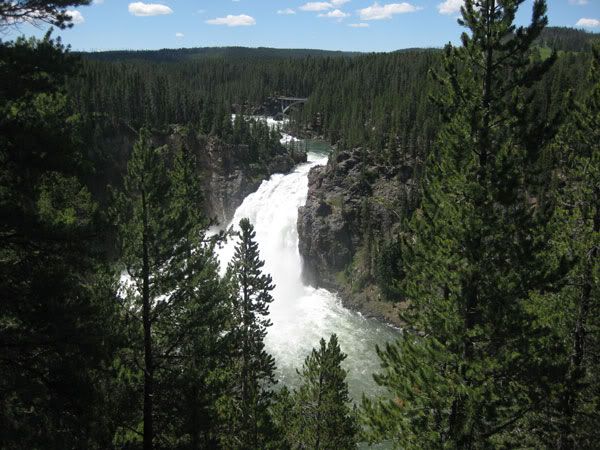 Lower Falls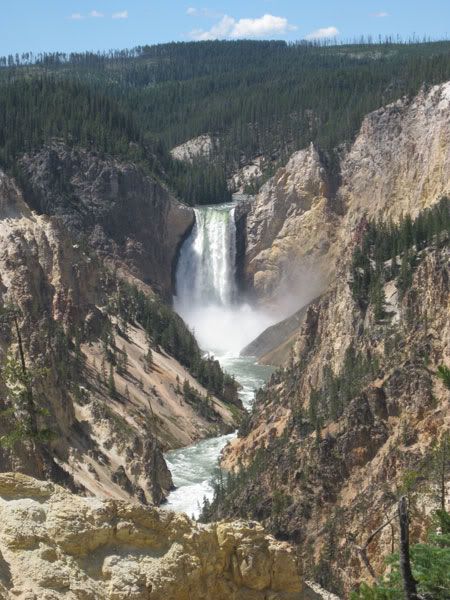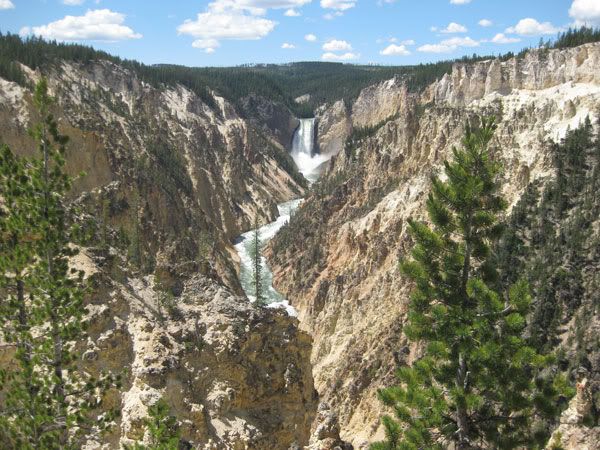 We got the kids these cute little camera key chains that show pics of Yellowstone. They LOVE them. Emma kept saying, "I'm taking pictures. Of Yellowstone!" $2 souvenirs for the win!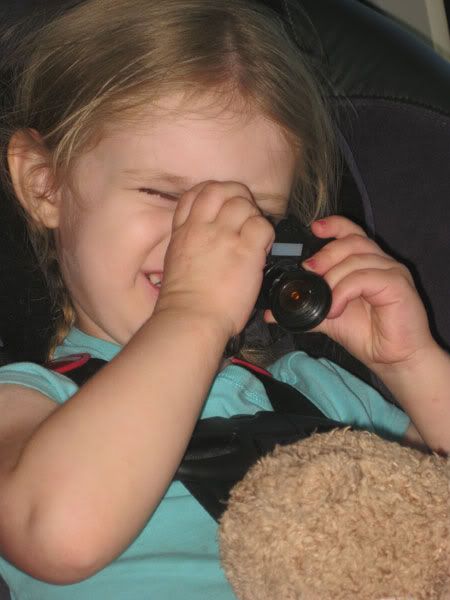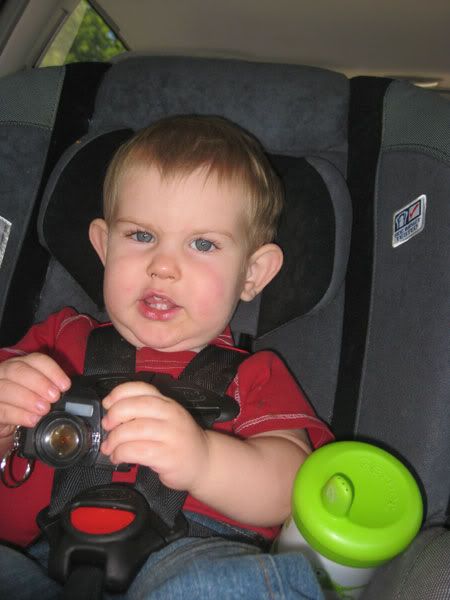 Then we drove down through the Tetons. First we saw Jackson Lake: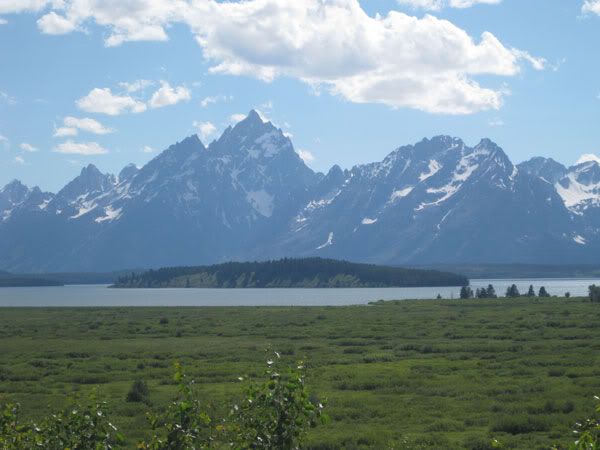 We stopped at Jenny Lake for awhile and walked around.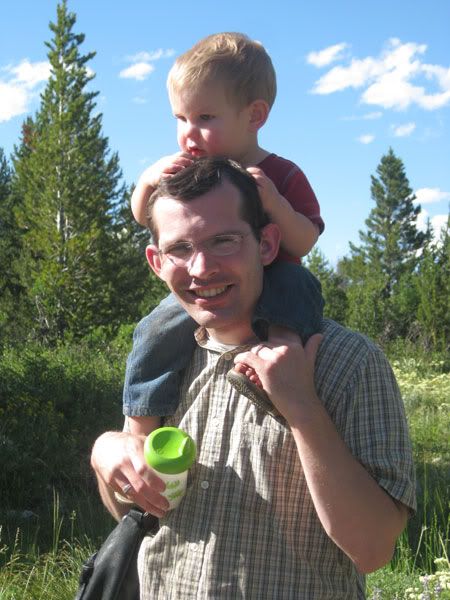 Totally out of focus, but it was too cute. Emma put her bear on her head, like how Hyrum was on John's shoulders.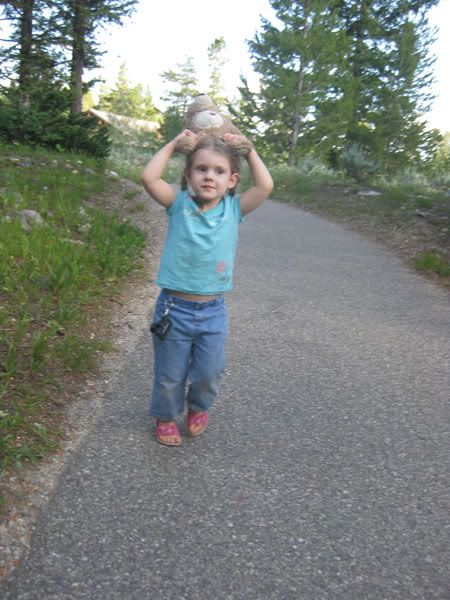 Walking around at Jenny Lake: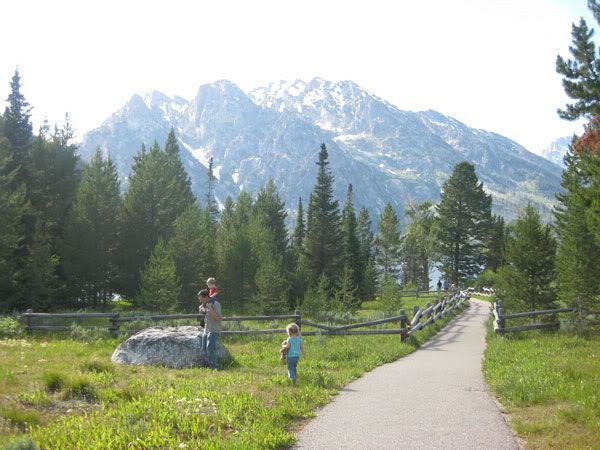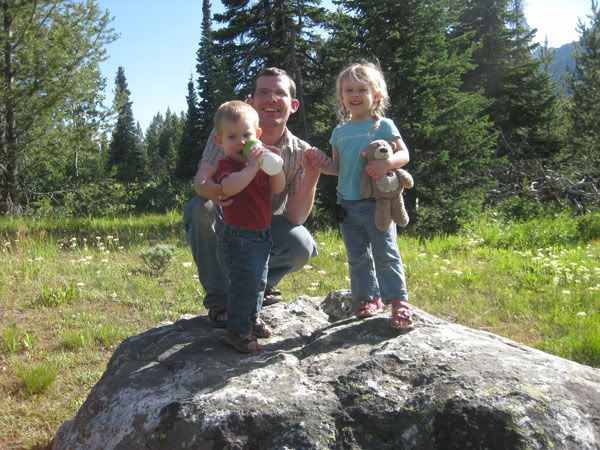 Jenny Lake. The sky was a gorgeous blue, but the sun was right above the mountain so it looks white in the pics :( We dipped our feet in the water a little. It felt SO good!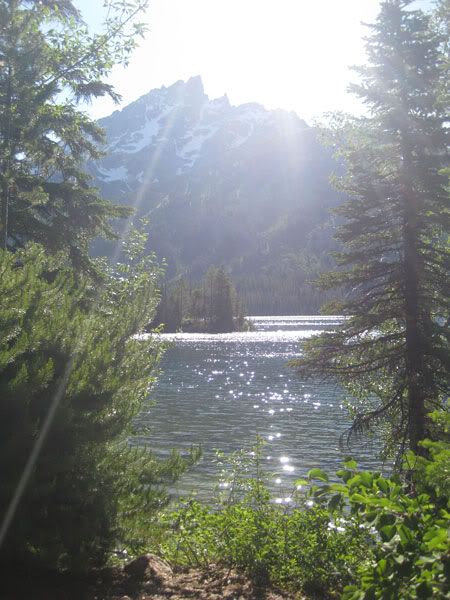 Next, we stopped in Jackson for dinner. We ordered burgers to go. John waited for the food while I took the kids over to the park. They were too antsy to stay in the stroller! They were so sick of being in the car by this point that they just needed to run around like crazy.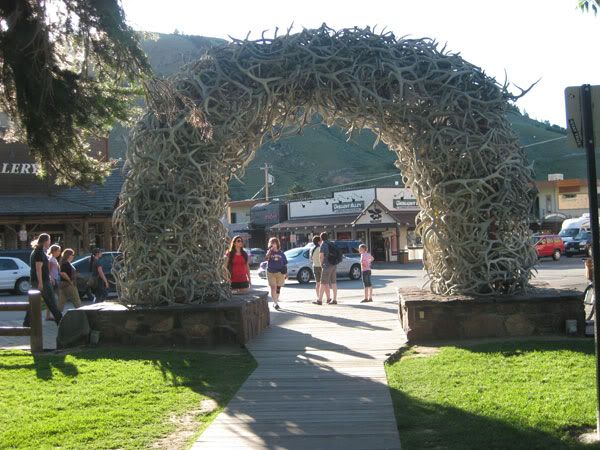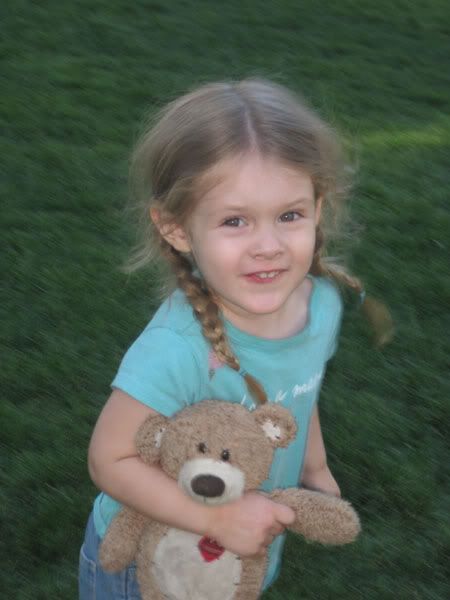 Horse-drawn carriage in Jackson.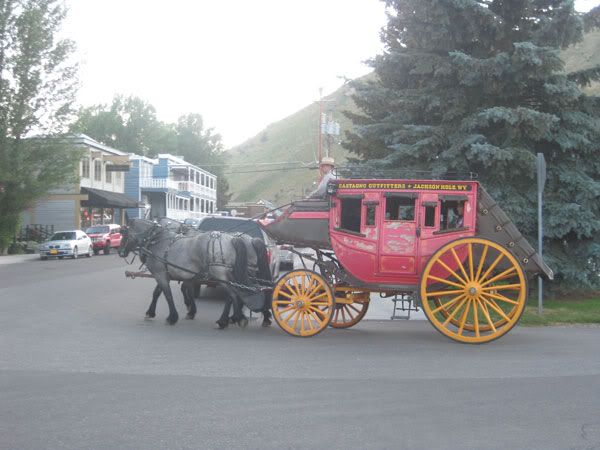 Antler arches in the town square.
We drove home after dinner. That last part of the drive seemed to last forever! The kids were so super tired and Hyrum cried most of the way back. They did
not
want to be in the car anymore. DVDs can only do so much ;)
Despite the frustration that hit all of us towards the end, it was 100% worth it. We all had SO much fun!! We loved it. Emma keeps saying, "I want to go to Yellowstone again sometime." Or, "I want to go camping again sometime."
John and I decided that we want to go to on a family vacation to Yellowstone again someday...but in like 10 years when all of our kids are completely potty trained! And during this trip, we learned that you can rent an RV...so that might be the way to go when we do!