Hello blogging world. It's been awhile, huh? We went on a 3 week vacation to visit family. And anyone who has traveled with small children knows it takes at least a week of pre-vacation prep and another week of post-vacation clean-up and adjusting. It was good to visit family, but we're glad to be back. More on our trip in another post.
Today, I want to tell you about something close to my heart. My dear friend Kimi has an amazing sister named Colleen. And Colleen...well, she has cancer. We lost my uncle to cancer in January 2010 (just 13 days after my son was born), so it's near and dear to my heart.
Colleen had lymphoma 5 years ago, but this time it came back as leukemia. She has 3 children. They all had to temporarily relocate for her bone marrow and stem cell transplant, which took place earlier this week. Colleen has to stay near the treatment center for the next 4 months. Kimi is helping to organize an auction for Colleen and her family to help cover the expenses of being away from their home for a few months while she recovers. The auctions run once a week and each week has amazing items up. You can also donate directly to Colleen's Paypal account.
This week, the entirety of Kimi's digiscrap store from her designing days is up for auction! I was on her CT back in the day and I can tell you this is an amazing steal. These kits haven't been available since the end of 2009. A couple of the kits are collabs with geniaBeana. Trust me, if you ever liked Kimi's Kreations products, you will
not
want to miss out on this.
For more info on Kimi's digiscrap products, check out
her scrapping blog here
.
For the auction itself, click
here
. All auction funds and donations go directly to Colleen and her family.
There are all sorts of other awesome things up for auction this week, including handmade jewelry, artwork, and home decor. And next week, I'll have these bows and flower clips up for auction: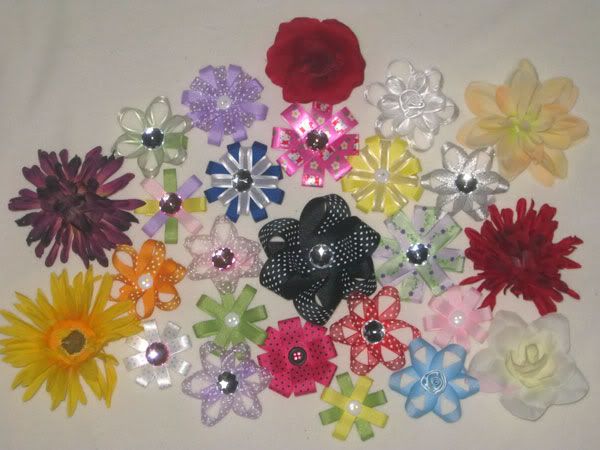 I plan to open up an Etsy shop for bows and other fun crafty things in the near future. I'll let you know once it's all set up :)
But for now, I need to get our home back in order. At least we finally unpacked all the suitcases today! Sickness and vacation don't mix well. But more on that next time.