Wishing a very happy birthday to my favorite little girl. Emma has brought so much joy to our lives in her 3 short years. I know she'll continue to fill our lives with sunshine. She truly is a joy.
Emma, I love you SO much! You are the sweetest, cutest, smartest, most precious little girl. Happy birthday, sweetheart.
I'm a funny mix of excited and emotional. I vacillate between the two extremes. Sometimes I get super excited about all the fun birthday stuff. But sometimes, I get emotional. My baby is 3. Three years ago, I held my tiny 6 lb 11 oz baby in my arms. Now, she runs, talks, plays, knows all her letters and their sounds, and uses the potty. She's changed so much. It's hard to imagine her as that tiny, helpless baby she once was.
It's strange to think I've officially been a mother for 3 years.
At the moment, I'm excited. I'm excited for her to open her presents. I'm excited to see her face when she unwraps the dollhouse I made for her. She's seriously going to LOVE it. It's all set up with the furniture and everything. Progressive photos posted on Facebook. Here's the finished product: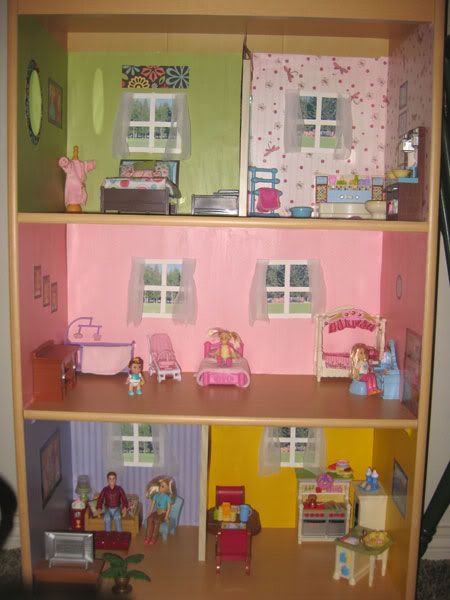 And wrapped up, with the other presents on top: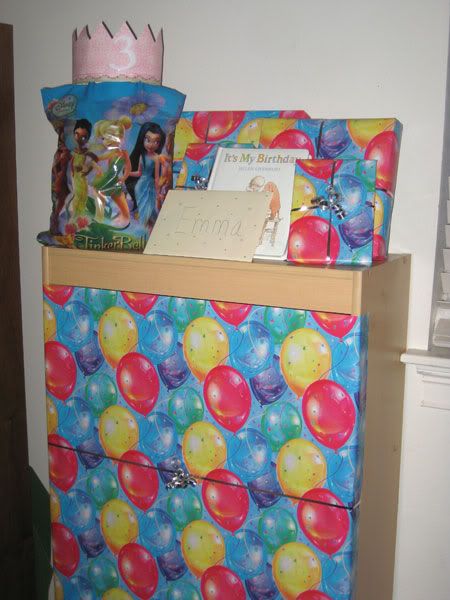 She's also getting a Play Doh set, Candyland ($5!!), some clothes (thanks Mom!), a LeapFrog DVD set (Letter Factory, Talking Words Factory, etc), and Tinkerbell and the Great Fairy Rescue ($10 Black Friday find! And no, I'm not crazy enough to do the whole before-the-butt-crack-of-dawn Black Friday shopping thing. John works retail and since he was there anyway, he perused the movie selection...and got this).
Yeah, she'll love her presents. I can't wait to see it! Being a mom is SO fun. I just love getting fun things for my kids that I know they'll love. I love to watch them discover their new toys. Seriously, so fun.
We had her friend party last week. We figured most of her little friends would be out of town for Thanksgiving, so we threw the party a week early. It was so fun. Naturally, it was Tinkerbell themed.
First, we dug into the snacks while we waited for everyone to arrive. Then we played pin the wings on the fairy. I made a pinata out of card stock (why spend the $15 on the official Tink one when I can make one out of things I already have?).
It's funny how boys and girls are so different. The girls were very meticulous about putting the wings in the right place. The boys, however, just slapped them on wherever. The girls barely touched the pinata when they hit it. The boys...well, they still didn't hit very hard (after all, they're 2), but they definitely put more into their swings than the girls did.
Then Emma opened her presents. It was...interesting. The presents were all great. Don't get me wrong there. She loved all of them. But it was difficult to get photos because the other kids kept getting in front of me. And...we had some drama with other kids wanting her presents. But, again, it was a house full of 2 year olds. And some babies and a 1.5 year old. Sharing isn't exactly their strong point. They're old enough to know what presents are, but not necessarily old enough to understand that they're for another kid. Must be tough, being 2.
After presents came the cake. Of course. I got a Tinkerbell cupcake cake. Yum. It didn't look at all like the picture I ordered it from, though. Oh well. No big deal. It tasted good and it had Tinkerbell on it, so Emma was happy. I have no idea why they chose to use RED as the accent color...*shrug*
All in all, it was a fun, successful birthday party. And that night, when Emma was supposed to be falling asleep, she sang the birthday song to herself. Soooo cute.
As for actual birthday plans, we're opening presents first thing in the morning. John has to work at 11 and won't be home till around bedtime. So, presents in the morning, play all day, then dinner and cake in the evening. Emma requested pizza for dinner. I'm not sure what I'm doing for the cake quite yet. I'll let Emma pick which cake mix to use. I'll make it sometime during the day. Should be interesting.
Oh, and other plans include me going to bed sometime soon ;)
Happy birthday, Emma!