Happy DSD everyone! I don't think I'll get much scrapping time this weekend, but that's kind of how life is right now. 2 young kids + husband in school/working part time = very little scrap time. I
did
get Emma's birthday party invitation done late last night. It turned out super cute.
Not to mention the fact that Christmas is right around the corner...and between Thanksgiving and Christmas we have 2 birthdays and our anniversary. And right after Christmas we have another birthday. Ah, fun stuff.
Thankfully, I'm DONE with the kids' Christmas and birthday shopping. Well, almost. I need to get Hyrum some PJs and other 18 month sized clothes. And candy for the stockings. But other than that, I'm done with their stuff.
Now to finish John's shopping...I have his birthday present and I have a couple things in mind for anniversary and Christmas gifts.
Aaaanyway. Back to digiscrapping stuff. geniaBeana has an absolutely
gorgeous
grab bag out for the DSD. It's full of all brand new stuff - a beautiful new kit, cardstocks, scatters, journal bits, and templates - all for only $4.99! SUCH a steal. Full retail value is over $19. Check it out (image linked to her store at Scrap Matters):
Isn't it gorgeous? If you click on the link, you'll be able to see previews of the individual pieces you'll get. I personally don't like to buy unless I know what I'm getting; with this one, you get to see it first :) But you gotta hurry; they'll only be bundled up like this for a week.
And here's the page I did: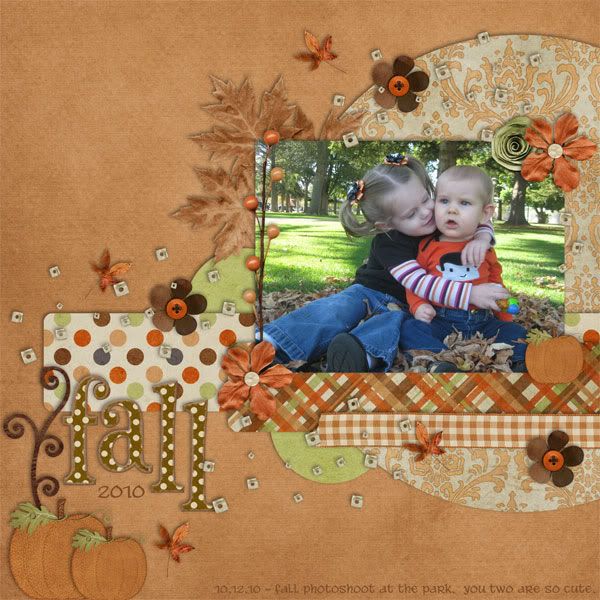 Aw, aren't my kids the cutest ever? And no, I'm not at all biased ;)
And look, I made a template! Ironically, right after I announced I was taking a break from template making. I hadn't made any in months, either, so the irony is...well...ironic LOL. I decided to leave the shadows on this time. I think it looks better that way. Of course, feel free to change them to your own preferences. Out of curiosity, do you prefer templates with shadows or without?
Template 64 is a 12x12" template in PSD format. Here's the preview:
Click
here
to download. Enjoy!
Happy Digital Scrapbooking Day!