This post WILL be positive, as promised! And there's a free template at the end to boot:)
First of all, I had an OB appointment again today. I go every week now, so unless I go into labor between now and Monday, you'll likely be reading about another next week! Anyway, everything looks great. I haven't gained any weight this week, which is amazing considering how many holiday treats I've enjoyed! We have a lot of generous friends and family who keep bringing things over...and I end up eating most of them! So at 37 weeks, my total weight gain is 14 lbs! Awesome! Blood pressure was great and I'm measuring right on track. Baby is head down and I passed the group strep B test. I took it last week and got the results today. Woohoo! I purposefully did NOT get checked for dilation. It's not exactly enjoyable and I've had no indication of labor yet, so it seems pointless to put myself through the discomfort. Now all that's left is to have this baby! Oh, and I should start packing my hospital bag soon, too;) At least I made my list of what to pack. That's a start, right? ;)
But he can't come until Friday at the earliest - it's finals week for John!! Oh I can't tell you how much we're looking forward to the end of the semester!! Only 4 more days. John's going to be insanely busy this week while he tries to finish everything up, but we'll get there. Just 4 more days till freedom!! At least until classes start up again on January 5th - the day AFTER my due date. Please let us have a 2009 baby!! But he'll come when he's ready and not before. I don't believe in being induced unless there's a legitimate medical reason for it. Wanting the tax credit isn't a good enough reason in my opinion. But I'll try non-drug ways of getting him out before then;) Don't worry, I won't try castor oil - that just sounds nasty and not healthy at all. Blech.
I finally got a good look at Emma's teeth tonight. Not only is she cutting the top 2 eye teeth, but she's cutting the bottom ones as well! 4 eye teeth at once? No wonder she's been so cranky lately! The top 2 look like they've just started poking through the gums a teeny tiny bit. The bottom ones are getting close, too. As miserable as I'm sure she feels, I'm glad she's getting all 4 at once - just so we can get this whole cutting of teeth over and done with as soon as possible. With how late of a teether she is, she probably won't cut her last set of molars till she's 3 anyway. LOL, just in time for her brother to start getting teeth, if he's anything like Emma. Wouldn't it be ironic if Emma cut her last molars as her baby brother cuts his first set of teeth? Knowing my luck, that's how it will be!
I promised another cute Emma story yesterday, but I got so worked up over other things that I never posted it. So here it is! Because she was awake for a couple of hours in the middle of the night, we missed the first 2 hours of church - which is when Emma goes to nursery. Well, after church, Emma and I were hanging out in the building while we waited for John to do some financial things before choir practice for the Christmas fireside that night. Emma went down the hall and stood right outside the room where she has nursery! She even got the right door! There are several other nursery classrooms down that hallway (I think 3 or 4 total?) and she KNEW which one was hers! She very clearly wanted to go in. But there was another nursery going at the time, so of course I couldn't let her. She listened to them sing, though. Through one of the other doors, she heard them singing Popcorn Popping, which is one of her favorite songs. As they sang, she did all the hand motions from the other side of the door! It was adorable! I'm SO glad she loves nursery!! Some kids have a hard time with it and I'm grateful Emma has loved it from day one.
If you read the previous post, you'll know that Emma now freaks out if we close her bedroom door for naps or bedtime and that lately she wakes up when we try to close it after she's asleep. Well, for the last several mornings, I've been awakened not by her chatting to herself in her room, but to a soft little knock at my bedroom door! Thankfully, she comes to get me BEFORE she goes out into the living area. I know she comes to get me right away because sometimes I'm already awake and just laying comfortably in my bed.
Speaking of how adorable Emma is, last week someone on BAM (the mommy forum I frequent) posted a thread called "what does your toddler do that you love." She also had a "what does your toddler do that drives you crazy" thread, but I opted to only respond to the first since I really need to focus more on the positive right now. So, I thought I'd share what I wrote there with you here:) Here's my post:
I LOVE when she says in her sweet little voice, "love you, Mommy." It makes me melt every time.
I love her hugs and kisses. She also does the smacking "mmmmwa" sound when she kisses us and it's SO cute.
I love her smile. It's so sweet.
I love when she kisses my belly or points to it and says "baby" or when we ask her where her baby brother is, she points at my belly and says, "right there."
I love when she comes to sit on my lap (which is quickly evaporating), just to cuddle with me or have me read to her.
I love the way she says "please please" and "thank you" - especially when the thank you is a "thanks, Mommy" or "thank you, Mommy."
I love her laugh. It's so contagious and fun!
I love when she tries to tickle us and says, "tickle tickle tickle." She recently started saying, "No, I tickle you" when we tickle her.
I love when she points out colors and tells us what they are - "it's green," etc. (I think green is her favorite color, which is fun because it's my favorite too.)
I love how calm she (usually) is after a time out. She says, "sorry, Mommy" or "sorry, Daddy" and says she's sorry for whatever the offense was (hitting, etc) and then gives us a hug.
I love how sweet and sensitive she is. When she hears a baby cry, she says, "baby crying" and wants to go comfort the baby. When she sees that someone is sad or hurt, she has a concerned look on her little face and clearly wants to help them. It's SO sweet!
I love to hear her talk to John on the phone. She'll say, "hi, Daddy," "love you, Daddy," "bye, Daddy," etc. She also does this for grandparents, aunts, uncles, and for me (on the rare occasion I'm not there with her LOL) - when she's in the mood, that is!
I love how she ALWAYS wants to help with everything. She loves to help with the laundry, dishes, garbage, cooking, and cleaning up spills (which she's usually the cause of anyway).
I love when she sings along and dances to her favorite songs, or quotes parts of her favorite movies while we watch them together.
I love how excited she gets about simple things, like snow, going to the store, going to church, etc.
I love how she loves to play with other kids. We're working on the sharing thing, but she's getting better.
I love when she listens to us explain things and then totally gets it and follows through - from simple commands to explanations of "we have to carry you in the parking lot, but once we get in the store you can get down and walk."
I love how smart she is and how well she remembers people and things. For instance, she always points at the vacuum and says, "Tori vacuum" because Aunt Victoria comes over to vacuum for us (now that Emma has developed an extreme fear of the vacuum...). Or when we ate the last of the cookies our neighbor Nicole gave us and I told her Nicole lived in the apartment above us. Several hours later, at the tail end of a busy day, I asked her who lived above us, and she said, "Cole."
I love that she is a great sleeper (except when teething) and wakes up happily chatting to herself most mornings. I love that she sleeps in till at LEAST 8-8:30 (lately it's been more like 10-10:30, but we've had a lot of late/difficult nights with the whole teething thing).
< /end cuteness >
Isn't she just the cutest and sweetest little girl ever?! We think so! She definitely has her moments, but you know what, so do I!
I have some Christmasy stuff to write about, but I think this is plenty of reading material for tonight! Aside from the scrapping stuff, which is coming up next! I'll write about all our Christmas activities so far next time.
And now for Scrap it to me Tuesday! I missed out on it last week, what with all the craziness going on that week. I actually haven't technically finished a page since then, so I'll just post the ones I meant to post last week instead! I've done some scrapping since, but I'm not sure if the pages I was working on are complete yet. I'm still trying to find JUST the right picture for one of them and I may have to start over to get it just right. Taking pics of Emma is exceptionally difficult. More on that another day.
Anyway. Scrap it to me Tuesday is a fun thing Chanin is doing over on her blog. Click on the banner below to find out more!
Here are my LOs for "this" week: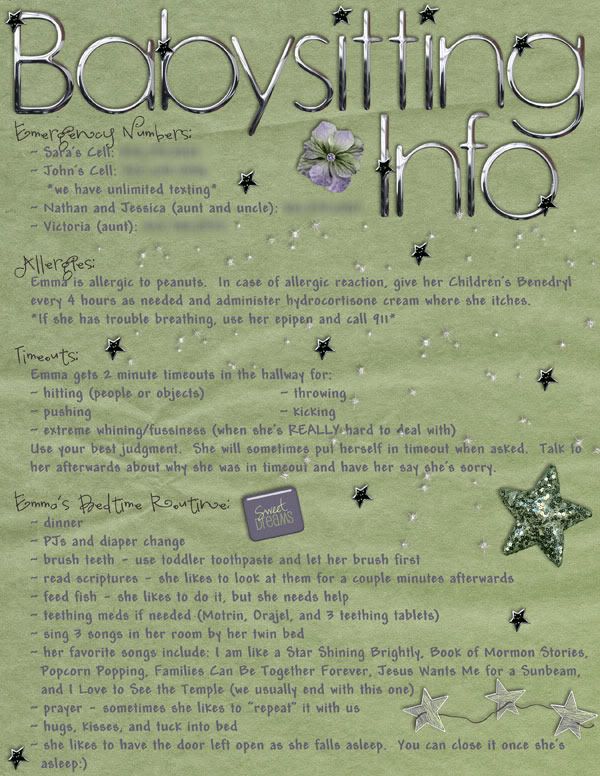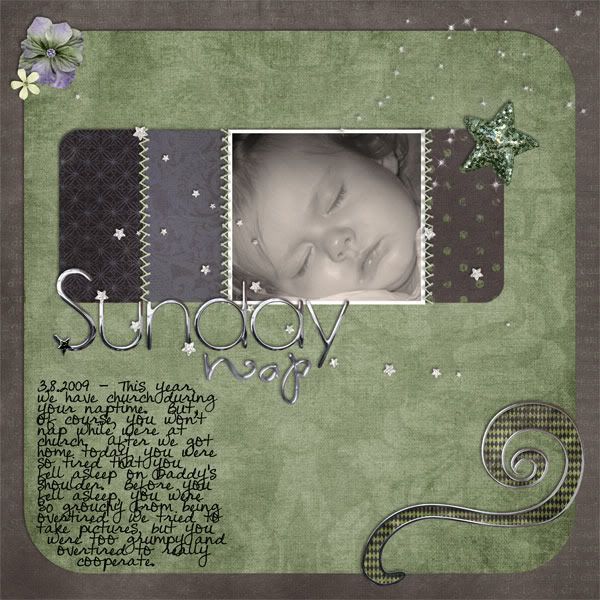 I used geniaBeana's gorgeous new kit, Dream a Little Dream, on sale at both
Elemental Scraps
and
GoDigitalScrapbooking.com
for 30% off. Isn't it just beautiful?
For Sunday Nap, I also used one of geniaBeana's templates from her new template pack:
And now for a free template! Template 55 is a 12x12 template in PSD format. Here's the preview:
You can download it
here
.
Enjoy! I always love hearing back from you:) Now hopefully soon I'll be able to get some much-needed sleep! Night all!