Happy anniversary to us!! John and I have now been married for 3 wonderful years. We've had our ups and downs (mostly ups), of course, but we've pulled through all our trials triumphantly - and as such, are stronger together than ever before. It's strange to think it's already been 3 years. And yet, at the same time, I feel like we've known each other forever. Maybe that's because I know we will:)
We've been having some challenges that test our patience lately, such as a teething 2 year old, the last few weeks of pregnancy, and finals week and its accompanying stress. But the semester is now officially OVER. Hallelujah!! Can I just say how grateful I am that I'M done with school? Because I can't even imagine the stress we'd have right now if we were both taking classes. Heh, there's a reason things happen the way they do. I wouldn't have been able to cope with the stress of being in school and a mom at the same time. The women who do both at the same time amaze me.
Anyway, total tangent. Since it's our anniversary, I want to share a little bit about how wonderful my sweet husband is. Warning: this will get sappy;) Words can't encompass his goodness. He isn't perfect, and sometimes his faults and shortcomings drive me crazy (I'm sure mine are MUCH more irritating though!), but he truly is the sweetest man I've ever known. He is ALWAYS willing to help, even when he has tons of other things he needs to do. He helps me with cooking, cleaning, and child care. Yes, he even changes diapers - more often than I do these days! He does the dishes, takes out the garbage, and cleans out the fridge - my 3 LEAST favorite chores - so that I don't have to. He loves me and treats me so much better than I feel I deserve.
Here's a recent example of just how awesome he is. Saturday night, John was asked to go help someone in need. While he was gone, I started giving Emma a bath. It was all fun and games...until she pooped in the tub. Ew. I pulled her out, drained the water, then thought, "now what?" We were home alone. I couldn't exactly stick her back in the tub until the poop got all cleaned up. But she needed to be scrubbed down cuz, ew, she'd been sitting in her own poop. I grabbed a clean wash cloth, got it wet and soapy, and started to wash her off with it. It was then that John came home. He got all the poop out of the tub and helped me hose Emma down with the shower head over the tub (nobody got in the tub, of course! Ew!). John dried her off and got her dressed while I filled the tub with a bleach and water solution to soak. Then, after we let it soak awhile, John scrubbed the tub and bath toys down. I was going to do it, but he didn't want me to be around all the chemicals:) LOL, now I'm glad I didn't clean the tub a few days back when I cleaned the rest of the bathroom! It would have been pointless!
John is sweet, kind, and loving. He always does little things for me, like leave cute little love notes on the bathroom mirror or rub my back or feet. He is very supportive and understanding. He is never upset about the house not being perfectly clean or dinner not being on the table when he gets home. He doesn't have unrealistic expectations for me. He understands that being a mom is hard work and constantly thanks me for what I do (even though 90% of the time I feel like I don't do all that much).
John is THE best daddy in the whole world! He plays with Emma, cuddles her, and still has patience with her when I don't. Emma just ADORES him. Other children are automatically drawn to him, too. Yeah, he's THAT guy that every child just loves and wants to play with. He loves kids, too. At church activities, every time I turn around he's holding SOMEone's kid!
But most importantly, John is spiritual and faithful. He truly lives his beliefs. This, and his kindness, are what attracted me to him. And really, his kindness is BECAUSE he lives what he believes. I am grateful to know that I can call on him to bless our family in times of need because of the way he lives his life. I try to live the same way, but I think he does it better;) He is a great example to me of how to be Christlike. He makes me want to be a better person. I am SO grateful I married John. He truly is the best man for me:D
As for our anniversary plans, John works during the day. He gets off at 2, but I have an OB appointment at 4:10. 38 weeks! Woohoo! They want to check for dilation, so that's not going to be particularly enjoyable. I want to know, yes, but it's just SO uncomfortable! Then, we'll all go to the library to look at the current books and movies selection. We have family home evening every Monday night, so we're going to do some fun things for that. The current plan is to make and decorate sugar cookies. Then, after Emma goes to bed, John and I will have a nice romantic steak dinner by candlelight with sparkling cider. Yum. I haven't entirely decided how I'm going to marinate the steak yet, though. Hmm. Any suggestions? Then we'll relax, probably watch Harry Potter 6 - our joint gift to each other this year since money is so tight - and then go to bed. Should be fun! I hope it works out as well in real life as it does in my head! Our anniversary last year was rather anti-climatic. We were snowed in at my parents' house...it was kind of depressing. So hopefully this year will be MUCH better!
Of course, our plans could always be changed by this little thing called LABOR...but that'd be ok with me!! I don't think it's very likely, though. But you never know. Our hospital makes a steak dinner for the parents after a baby is born, so either way, we're gettin' steak! And their food is actually decent, too;)
In other news, I am getting SO excited for Christmas this year! I love Christmas!! I've been planning for it since early October. Since I'm due so close to Christmas, we clearly aren't traveling anywhere this year. But that's actually what I wanted this year, anyway - even before we discovered we were having a baby. Last year was SO stressful when we traveled home and spent most of our vacation snowed in at my parents' house where we ALL had major cabin fever. I like that this year we'll get to have a nice, quiet Christmas with just our little family, followed by a yummy dinner with Nathan and Jessica. I'm really looking forward to it:)
Another thing that makes this year so fun for me is that Emma is now old enough to get what's going on. It's been SO fun picking out what to get her for Christmas! And decorating is always fun, too. Emma LOVES the Christmas tree and other decorations. And then there's all the wonderful music. But, of course, the most important thing is teaching her what Christmas is really about. I love that she's getting it - to some degree at least.
We haven't done any of our holiday baking yet. Mainly that's because I was majorly slacking about going to the store. That, and our kitchen is a disaster area. It's getting better, though. We're going to make sugar cookies, peppermint bark (but with milk chocolate instead of white chocolate), and, of course, FUDGE. The Christmas season is not complete if it doesn't include fudge!
It's really fun to get to play Santa Claus this year. This is the first time I get to stuff the stockings and all that fun stuff. And I've ALWAYS loved wrapping presents. As a child, Mom would put me to work wrapping gifts because I love it so much. It's fun. LOL, she frequently had me wrap my OWN presents! At least the clothing packaged up in department store gift boxes - or the ones I picked out myself. I just love making presents look pretty. I like to use pretty wrapping paper and bows and ribbons and everything. It's just so much fun!
Anyway. All our presents are wrapped and under the tree - and Emma has been surprisingly good about leaving them alone. Our tree has been up since just before Thanksgiving (I know, I know...we were so impatient to get it up, though!). We have lots of other decorations up, like 2 nativities, stockings, block letters that spell JOY, a gingerbread house we put together, a couple of little houses and figures, and a few other random things. It's been so fun! Oh, and I made some cute snowflakes and snowmen for our front window. We'll leave them up all winter since we'll have snow until March or April.
Anyway, I'm excited. It'll be so fun to see everyone's reactions to their gifts! I have 2 gifts under the tree, and I know what both of them are because I picked them out (LOL, I even wrapped one of them). The only surprise gift I'll be getting is from Nathan and Jessica (as far as I know). But that's ok - I like getting gifts I actually want/pick out best anyway! It's more fun to get things for everyone else.
A couple of weeks ago, I posted a Christmas card. Well, as cute as that one is, I decided I wanted to do another one instead! I wanted something more traditional and classic. Bright colors are fun and all, but I'm more into the traditional shades of red and green. So I made this card and letter instead and emailed it to friends and family: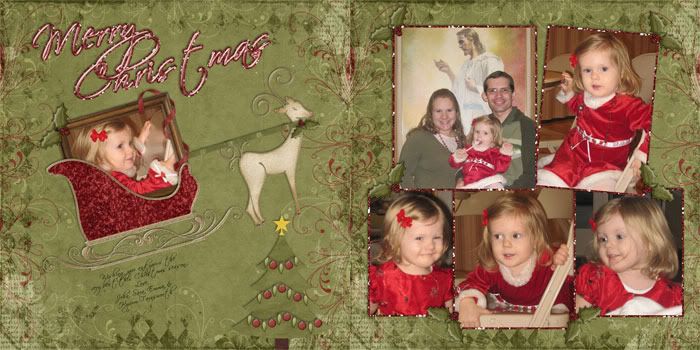 Close up of the card pages: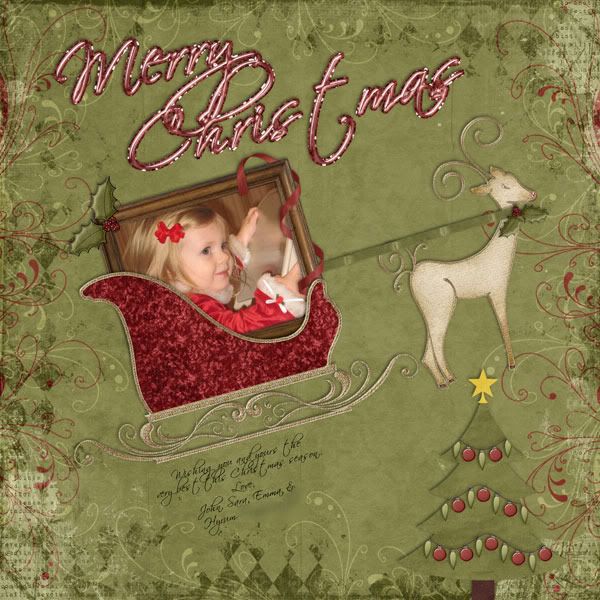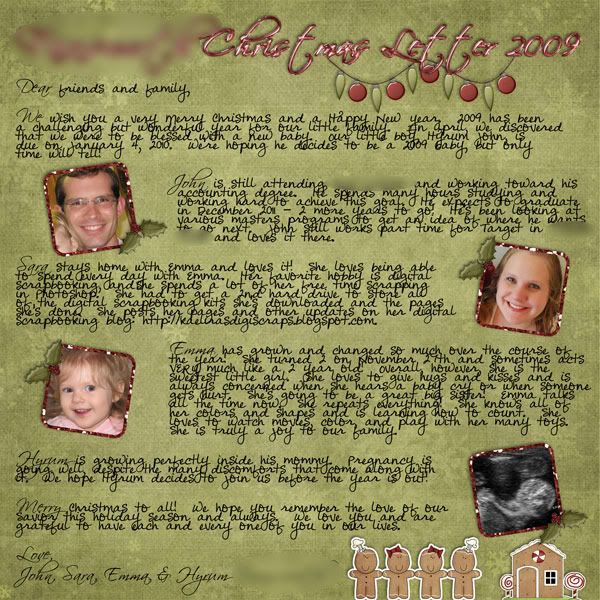 Credits:
Holiday Sugar Cookies blog train; portions by: geniaBeana Scraps, Shelleyrae Designs, Trish H Designs, Wimpychompers Creations, Wyld Web Designs, Color with Caryn, Bon Scrapatit Designs, Jennifer Fox Designs, and KimB Designs.
Didn't it turn out so cute? I'm happy with it, anyway:) The hardest part was getting semi-decent pics of Emma. That kid is SO hard to photograph! She always wants to see the camera. She LOVES seeing pictures of herself on it. But...how can I TAKE them if she's always coming around to look at them?! Gyah. Either that, or she's making funny faces or looking in the opposite direction. I have SO many back-of-the-head shots it's not even funny. Oh, and of course, when I finally DO get a pic with a cute expression, she either has food all over her face, red eye, or the lighting is horrible. Usually all 3...*sigh* Or worse - totally out of focus. But sometimes the basic shot itself is so cute I have to use it anyway. I want a digital SLR so bad. But that's not gonna happen for a VERY long time, so I'll have to make do with what I've got.
Anyway, today's template is based off the 2nd half of the card. Simple, but effective. Template 56 is a 12x12 template in PSD format. Here's the preview: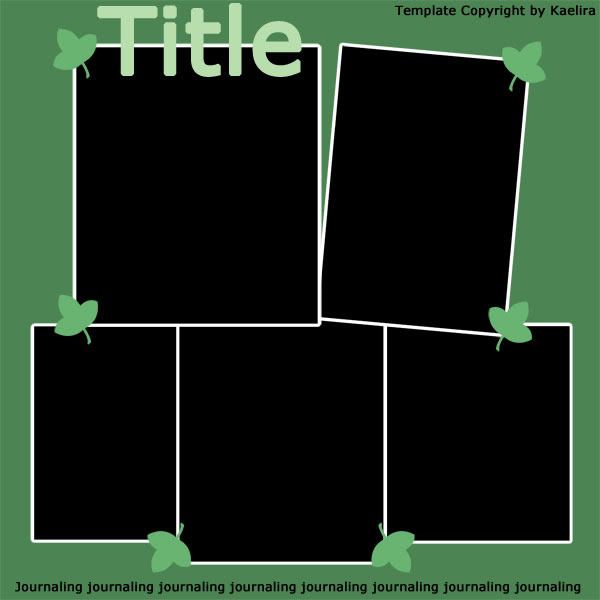 You can download it
here
.
*sigh* And Emma's awake again. I went to use the bathroom a bit ago and, while there, heard knocking. Sure enough, Emma was knocking on her bedroom door. It's the middle of the night. She should be sleeping! John's watching her for a bit so I can finish this post (I was almost done anyway). Time to go help him put her back to bed! Hopefully you're all sleeping better than we are!!