Merry Christmas everyone! I'm SO excited about Christmas this year. I hope everyone has a great day with loved ones and good food. For those who celebrate Christmas for its true meaning, I hope you feel the love of our Savior today and remember Him.
As for our plans, first we're going to have our traditional Christmas breakfast of crescent rolls baked with cream cheese and chocolate chips inside. Yum. So easy, but SO good! It's one of John's family's traditions and I have absolutely no objection to continuing it! LOL, in fact, I first heard about this tradition from John's youngest brother when we made magic bars on our first date - and his brother invited me over for Christmas so I could try it!! That was an awkward moment - the only one I had the entire date - and mainly because I wasn't sure how I should respond to it. I shrugged my shoulders and said, "hmm, maybe, we'll see" or something like that. I didn't want to say "NO" because, um, I like John and didn't want to be rude. But I also didn't want to be all eager like "yeah, I totally want to come because I'm majorly in love with your brother even though this is our first date" kind of thing. Ironically, we ended up getting married just 4 days before Christmas that year - so I wound up being there as part of the family!
Oh, and we had an awesome anniversary:D Everything went according to plan except for the watching a movie part - and several delays made everything take longer. It was just too late by the time we got dinner and everything. That, and neither of us really felt like watching a movie anyway. And John had to work the next day. But we did have a nice, yummy, and romantic steak dinner by candlelight followed by some relaxing cuddle time.
Aaaanyway. Back to our Christmas plans. While we wait for breakfast to cook, we plan to read the scriptural account of Jesus' birth and talk about what Christmas is REALLY about. Then we'll eat and move on to stockings and presents. Maybe it sounds mean keeping a kid from her presents right away, but I know that if we do presents first, she won't listen to the story. She'll want to play with her toys instead. I don't know how much she'll actually listen at 2 anyway. But I DID print out some cute Christmas pictures from our church's website for her to color while we read - shepherds, Mary and baby Jesus, wisemen, etc.
I'm excited to watch Emma open her presents:) Especially now that she's old enough to get what's going on. We keep talking to her about Christmas and everything and when we mention presents, she smiles and whispers presents with anticipation in her eyes. It's so cute. I think she'll love what she's getting:) I wrapped the vast majority of them (Mom sent her presents unwrapped because she knows I LOVE wrapping presents) so I know what most of them are, but there are a few things under the tree that I'm clueless about. Should be fun! LOL, I'm more excited to see Emma's mystery gifts than my own! But I only have a few presents under the tree and I know what most of them are anyway.
After presents, we'll just hang out and eventually start on Christmas dinner. Really, it all depends on what time we get up and started and such. And how long everything takes. Things always take longer than we expect them to. But we're going to Nathan and Jessica (John's sister)'s for Christmas dinner around 5 PM. We have a few gifts for them, too. We're all in similar financial situations, so we agreed to do really inexpensive gifts. Jessica made their gifts for us and we shopped at the Dollar Tree. I think they'll like what we got them, though:) TOTALLY perfect for them. Especially Nathan's:D
As for food, I'm making a roast. Yes, at 38.5 weeks pregnant. But really, it'll mostly cook itself in the crock pot anyway. Super easy. We'll also have mashed potatoes, gravy, stuffing, green beans, pies, etc. Don't worry, John and I aren't doing ALL the cooking! We've split things up evenly:)
And we'll play it by ear from there. We'll probably hang out with them over there for awhile and just enjoy being together and such. It'll be nice and relaxing. Maybe we'll go drive around and look at Christmas lights afterwards, since that's one of the activities I really wanted to do that we just haven't had time for yet. Though really, it depends on how late it is and how tired/grouchy Emma is by the time we leave. After Emma goes to bed, John and I might watch a movie. Again, it depends on how late it is and how tired John is since he has to work the next morning. Ah, the joys of retail jobs.
Oh, and once again, I'm almost a week late in posting about my last OB appointment. I have another on Monday unless I go into labor before then. Anyway, everything looked great. I gained 3 lbs since the previous week, but my OB said it's probably all just water weight at this point. I've still only gained 17 lbs total, so I can't really complain. I look and feel like a blimp, though! I'm definitely looking forward to no more swelling! I'd like to be able to wear my wedding ring again, thanks. I've been wearing a pretty green and silver Celtic ring I bought in Dublin back in 2004. It works, but it's just not the same. Anyway. I got checked at my appointment and it wasn't that bad. I guess I'm just haunted by the pre-epidural checking while in active labor from last time. As of Monday, I am 2 cm dilated and 50% effaced. Of course, that could mean anything! We'll find out more this coming Monday - or sooner if labor hits between now and then. His head is low, but I'm still pretty high. For those of you who want those TMI details LOL!
I have a sweet story to share. We have been incredibly blessed this holiday season by the generosity of others. Not just this holiday season, though - our friends and family are incredibly supportive ALL the time. But more on that later. I have a specific story I want to tell first. On Monday night (our anniversary), while we were baking sugar cookies for family home evening, there was a knock at the door. I got to the door pretty quickly, but no one was there. I looked down and saw a big bag with 4 full stockings in it! Each stocking has one of our names on it - including one for our baby who isn't even here yet! They're STUFFED to the brim. We have NO idea who left them, other than the fact that they know what we're naming our son - so clearly it's someone who knows us well enough for that. I don't know exactly what's in them yet; John said we should wait till Christmas. But I can see some of what's poking out the top and John got a DVD, I got some slippers (which I needed anyway - my old ones are totally shot), and it looks like both kids got some clothes and toys. We just feel SO blessed and thankful that someone thought of us and went to all the effort to do this for us. Isn't that just so sweet of them? And the fact that they gave them to us on our anniversary just added to the specialness of the day:D
Another awesome story: we got a package from Val (geniaBeana Scraps - I'm on her CT) FULL of little girl clothes and shoes in the sizes we need, and some little boy clothes, too! Kimi (recently retired Kimi's Kreations and very close friend) made me a Mei Tai baby carrier and sent it along with some cute baby boy clothes, too. Man, these girls are the best! I love my friends:) Thanks for being awesome!
Speaking of friends, my friend Vicki tagged me! I'm supposed to list 10 things that make me happy. LOL, I'm going to cheat and re-use my thankful list from Thanksgiving;) Hey, it's not cheating if it's my own work, right? And I put a lot of thought into making it in the first place. But I'll add some details to each one. I wanted to write more then anyway, but it wouldn't fit on the page without looking cluttered. Here's the page I posted for Thanksgiving, followed by a more detailed version of the list in text form: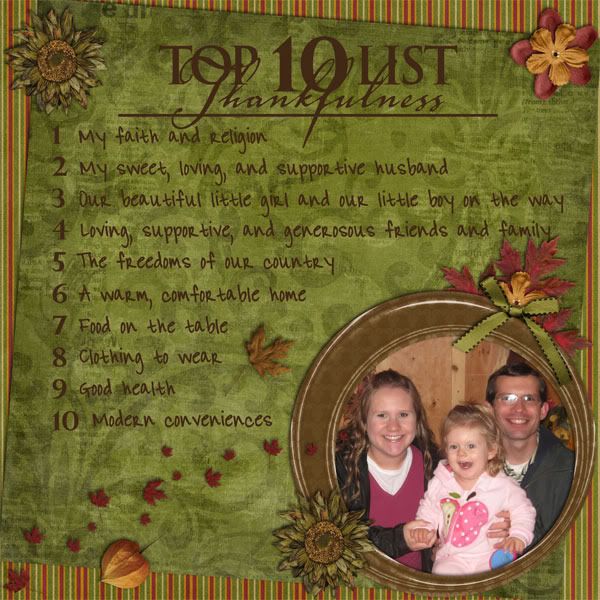 Credits:
Autumnal - geniaBeana Scraps
Wordart - Elegant Wordart
10 Things That Make Me Happy:
1. My faith and religion. I would not be who I am without this; I would not have the wonderful life I have if it weren't for what I believe. It is my faith and my attempts to follow my Savior that bring TRUE happiness to my life.
2. My sweet, loving, and supportive husband. I am SO blessed to be married to John. He is such a sweetheart. He makes me laugh and he always shows me how much he loves me. Being with him truly makes me happy.
3. Our beautiful little girl and our little boy on the way. Children are SUCH an amazing blessing. They definitely have their challenges, but every good thing in life does. Emma always makes me smile and laugh, just by being her cute self. I know our son will bring the same kind of joy to my life - once he finally listens to the eviction notice I wrote him! But in all seriousness, I know that he will add just as much happiness to my life as Emma does.
4. Loving, supportive, and generous friends and family. I am SO grateful for the love and support of our friends and family! Many of them have gone above and beyond to help us out when we needed it most. I only hope I can do the same for them.
5. The freedoms of our country. I love living in a country where I have the freedom to say, think, or believe what I want. The fact that I have all these rights makes me happy.
6. A warm, comfortable home. It is so nice to have a warm, cozy place to come home to - especially at this time of year when it's SO cold outside!
7. Food on the table. Who DOESN'T love food? Having food in my fridge and in my cabinets is such a simple thing, but such a blessing! I have to remind myself that there are others who don't have this simple luxury.
8. Clothing to wear. See above. Again, a simple thing, but so many people in this world don't have this. I'm abundantly blessed in this department - despite the fact that the vast majority of my wardrobe currently doesn't fit!
9. Good health. I know I complain a lot about the various discomforts of pregnancy, but I am SO happy and grateful that my baby and I are both perfectly healthy. The fact that I can even GET pregnant is a wonderful blessing - one that I need to keep in mind more often. I know many women struggle with infertility or miscarriages and I am grateful I have never had to experience that pain. We've also managed to stay relatively sick-free this cold and flu season so far - let's hope it continues that way!
10. Modern conveniences. You know, things like electricity, indoor plumbing, forced air heating, AC (well, in the car at least - that's the only place we have it), home appliances (fridge, stove, oven, washer, dryer, dishwasher, microwave, Kitchen Aide mixer, etc), computers, Photoshop CS4, internet, cell phones...basic "necessities" in our modern age. LOVE THEM. They make me happy:) And I'm hopelessly addicted to them.
And now I'm supposed to tag others. So many of my friends have already done this and I can't keep track of who has and who hasn't. Plus, I don't even know who I know in real life reads my blog here anyway! Sooo...instead of tagging specific people, I'm going to tag...YOU. Yes, you read that right - you. But here's the catch - you have to comment with a link to your blog so I can see YOUR list:)
Which reminds me. I added word verification to decrease spam comments. Sorry if that annoys you, but I don't really want the spam! Evil spammers...bleh. Anyway. It's 6 AM, I haven't gone to bed yet, and I still need to shower and make peppermint bark (with MILK chocolate because white chocolate is NOT chocolate). Hm, should prove to be an interesting day! But it'll be good because it's Christmas! I'll MAKE it be good - I've been looking forward to Christmas for too long to be a grouch!
Merry Christmas everyone!!