Happy Thanksgiving everyone! I hope you all had a great Thanksgiving. We sure did:) We had a great meal (cooked almost entirely by me) and just enjoyed having a quiet Thanksgiving with our little family of 3.75 (counting the baby). I don't like turkey, so I made a ham instead. I see no point in putting forth all the effort necessary for a turkey when I don't even like it, or in having tons of turkey leftovers that I won't touch. Don't worry; I warned my husband that I wouldn't make a turkey for Thanksgiving before we got married. He had no problem with it at all:) He actually prefers ham, too. And I make a fabulous honey glaze, if I do say so myself:) Our menu consisted of ham, mashed potatoes, gravy, stuffing, sweet potatoes, jello salad, rolls, homemade cranberry sauce (SO much better than canned), pumpkin pie, and chocolate raspberry cheesecake. Ooooh was it good! And now we have tons of yummy leftovers to enjoy! I was VERY happy with how the cheesecake turned out. I got the recipe
here
and exchanged the white chocolate chips for milk chocolate chips. Yum. SOOOO good. I hope everyone else had a great Thanksgiving with tons of yummy food, too! I digiscrapped some of the things I'm grateful for, which you'll see further down in this post:)
For those of you crazy enough to get up super early for Black Friday shopping, good luck and I hope you get the deals you're looking for! I went once and most of what I wanted was gone before I could get to it. It was too crowded and crazy for me. Definitely not my thing. But to each their own! I'll be browsing
GDS
with my $7 gift certificate, though! Hopefully I'll be able to figure out what I want to get with it before the day is through;) I had every intention of staying as far from the stores as possible today, but we may end up going to Payless Shoes later in the day (after John gets off work - he works retail and has to be there at 4:45 AM) to get Emma a desperately needed pair of boots for the winter. The hand-me-downs she got from her cousins are too small and she currently only has one pair of shoes that fit - and they are SO not winter-proof...as we discovered the other day when we played in the snow...
But THE most important thing about today is that it is Emma's birthday!! Happy birthday, Emma! I have a 2 YEAR OLD. Wow. How did that happen? Two years ago from this moment, I was in the hospital with my brand new baby girl. And now she's running around and talking like crazy (well, technically, right NOW now she's asleep for the night - but you get the idea). How did that happen? I've been thinking about her upcoming birthday for a couple of months now and mentally preparing myself for it. I accept the fact that she is now 2, but it is still hard to believe that 2 years have already flown by. She has grown and changed so much from that first moment I held her in my arms. It's a good thing I'm pregnant or I'd have some serious baby fever right now! Her growth and development was so gradual that it feels completely natural. All the same, it's strange to look back on those early moments and think, "was she really ever that little?" In many ways, it seems like she's always been as she is now. THIS is why I scrap. So I can remember all these precious moments of our family's life before they fly away forever.
Speaking of scrapping, geniaBeana has some awesome brand new Black Friday releases! Be sure to check out both her
Elemental Scraps
and
GDS
shops as everything is 50% off!!
First, we have Autumnal, which is perfect for scrapping all those Thanksgiving dinner photos. We were all drooling over Thanksgiving food in the CT forum when she posted the preview!
Mmm, doesn't it make you want to pull your leftovers out of the fridge and start munching?
And here's the page I did with it: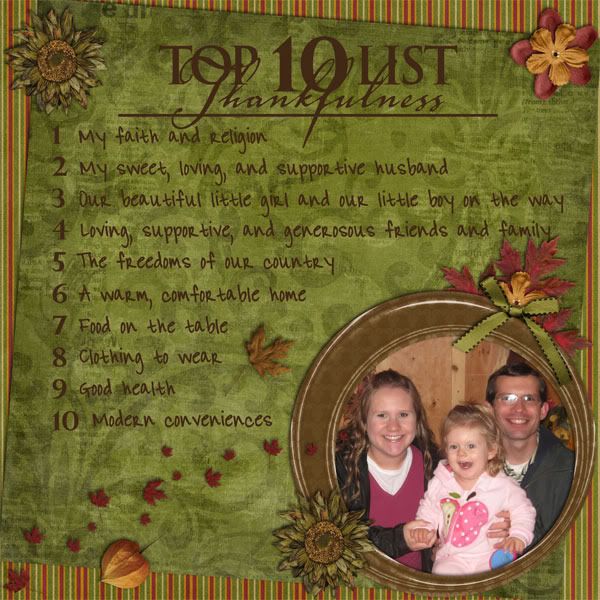 Wordart from Elegant Wordart
LOL, modern conveniences encompass such "necessities" as electricity, heat, indoor plumbing, refrigeration, dishwashers, washers and dryers, computers, cell phones, internet...and of course, Photoshop CS4;):D But in all seriousness, these are some of the many many things I am thankful for.
Next, is an adorable Christmas collab with Dylabel Designs called Holly Jolly: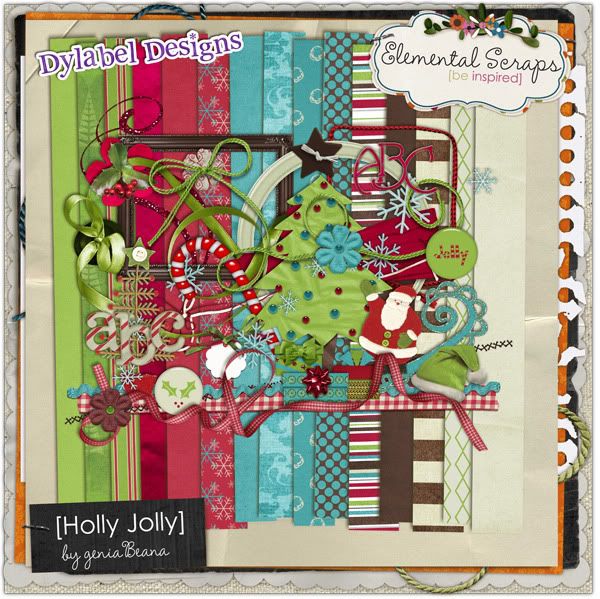 Isn't it just super adorable? I haven't had a chance to play with this one yet (we've had a crazy week), but I can't wait to! I think our Christmas card will be done using this kit:) There are also some gorgeous glitters and adorable flair to match the kit at geniaBeana's stores, so be sure to check them out!
As to our crazy week, first I had an OB appointment on Monday. Everything looks great! I gained 2 lbs since my last checkup, so now I'm up to an 11 lb gain total - at 34 weeks!! Sweetness. Less to lose later:D Baby is measuring perfectly, blood pressure is awesome, etc. But I officially have been too swollen to wear my wedding ring for about 3 weeks now. It's funny; I LOOK much bigger this pregnancy, but I've only gained 11 lbs...go figure. I didn't have any swelling issues with Emma (totally lucked out there!) and was able to wear my wedding ring right up to the very end. Not this time! I was wearing sandals in the cold until it started snowing. Thankfully, my boots miraculously fit comfortably on my swollen feet.
The worst part about the swelling, however, is that it gave me carpal tunnel in my left wrist/hand. I'm right-handed, so I totally didn't expect to have those problems with my left side. But the way my OB explained it to me makes total sense. Carpal tunnel is caused by excess fluid on the joints. Pregnancy swelling can easily do that - in fact, it's the number one cause of carpal tunnel. The fact that it runs in my family doesn't help, either (Mom, Grandma, aunt, and uncle all have carpal tunnel). The less dominant side is more likely to have problems because it isn't as active - and therefore doesn't dispel the excess fluid as well. Interesting, huh? Too bad the knowledge alone can't make my wrist stop hurting:( I have a brace on it, which helps, but it can only do so much. Just a few more weeks...
The rest of our crazy week involved a sick little Emma:( She threw up 3 times on Tuesday and once on Wednesday. She also had one of those nasty blow out diarrhea diapers that necessitated an immediate bath. Thankfully, she's feeling much better now:) Though, she seems to be sniffling a little now. If she ends up having a cold, I'll know exactly why...it'd be yet another case of parents bringing their sick kids to church and getting MY kid sick! Ugh. If your kids are sick, KEEP THEM HOME!! ARG. *steps off soapbox* I really hope she doesn't have a cold. It's bad enough she was sick on her birthday LAST year (which, coincidentally, landed on Thanksgiving)...ironically, with a cold. And an ear infection. Thankfully, it didn't seem to bother her in the slightest.
Oh, and I haven't written about Emma's birthday party yet! We had her party on the 17th because we knew most of her little friends would be going out of town for Thanksgiving. It was really fun! We had some yummy appetizers (cheese and crackers, apple slices, grapes, carrots and ranch), a couple of fun games for the kids with prizes (raisins and fruit snacks), presents, and of course, cake! They party turned out really well:) I'll have to scrap the pics soon. We all had fun hanging out and watching the kids play. Thanks to all who came! I couldn't get Emma to wear the cute little crown I made her, though:( Hopefully I can get her to wear it today for her ACTUAL birthday!
Aaaand now that you've scrolled past all my ramblings, I've got a free template to share! Template 53 is a 12x12" template in PSD format. Here's the preview:
You can download it
here
.
Thanks for stopping by and hope you all had a great Thanksgiving!!
Aaaand my 2 year old just woke up screaming...and sounding all stuffed up. Something tells me it's gonna be a loooong night...