Wow, I said last post I'd probably be back the next day and it's been a week. Ha. I'm a blogging slacker these days. But I've been scrapping like crazy! I started on Emma's baby book about what, 2 weeks ago maybe? Yeah...I'm halfway done. And it's going to be 40 pages long. If I keep going at this rate, I'll be done in a couple of weeks! My goal was to have it done before our little boy arrives - think I'll make it? I've got till January;) And I've got a template for you today:)
I was going to post an update tonight, but it's already nearly 1 AM as I'm starting this post...so no update tonight. I wanted to start on this earlier, but Photobucket was refusing to recognize newer versions of files I wanted to upload. No idea why. But it kept loading images I'd saved over! Gyah. I finally got it working just now. I left it alone for awhile. Maybe the old images got cached somehow? Who knows. But it's all fixed now.
But before we get on to scrapping stuff, Emma is now 22 months old!! O.o Wow. How did that happen? My little girl will be 2 in just 2 months!! I'm making plans for her birthday party in my mind already. I don't know what day I'll have her party yet, though, as her birthday falls on Black Friday this year and a lot of her little friends will be out of town. I'm planning for sometime the week before, but no set date or anything yet. I've got some time;)
Kimi's Kreations has a super-cute new kit out! It's called Doodlebug and it is simply adorable. It's also 20% off right now! Image is linked to Kimi's store:) Her glitters are all 50%, so if you want some of Kimi's yummy glitters, now is the time to run over and grab them!
And here's what I did with Doodlebug: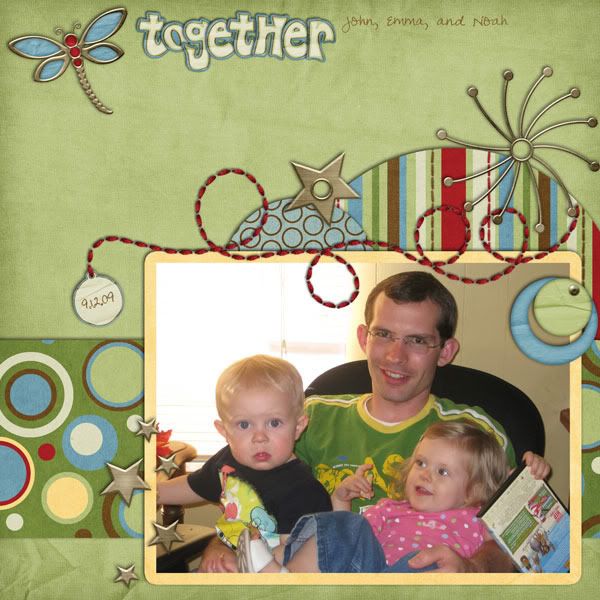 That second one is now a magnet on my fridge:D My house really does need a major cleaning again. The problem is, however, I've had no physical energy. Sure, I can sit at the computer and scrap...but that's not exactly physically exerting. This pregnancy is seriously kicking my butt - at least in terms of energy to DO things. And the fact that even at nearly 26 weeks I need medication to keep me from vomiting...oh, and the heartburn. Speaking of, I need a Tums again. John would help with the cleaning more if he had time, but he's super busy with schoolwork. He does take care of the dishes and garbage, thankfully:) Those are 2 of my least favorite chores, so I really appreciate him doing them. The garbage gets pretty nasty...especially in Emma's room;)
Aaaaanyway. Back to scrapping. Kimi also has a cute freebie sampler of Doodlebug available to anyone who completes her
progressive layout challenge at GDS
. Check it out! Here's the page I did for it: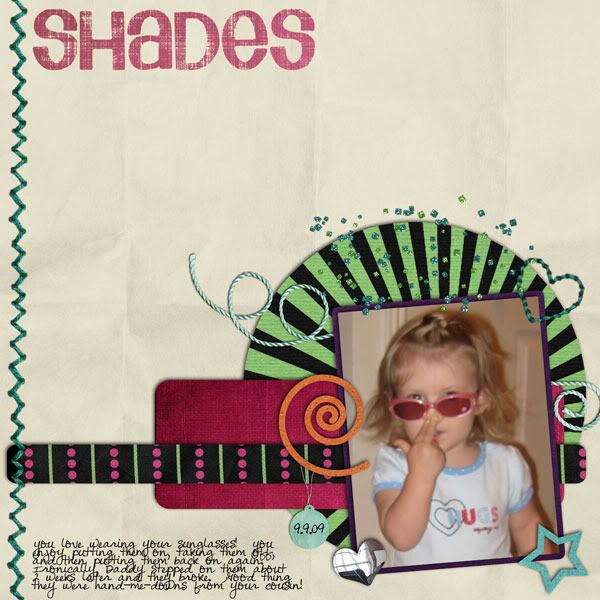 Credits:
It's a Party - geniaBeana Scraps
Girl's Night Out - Kimi's Kreations
Lemonberry Fizz - Kimi's Kreations
Hoo's My Boy - KgB Scrap Kreations (Kimi's Kreations and geniaBeana Scraps collab)
MLAS September Pixel Edition - Kimi's Kreations
Ironically, as I was working on the steps per day of the challenge, John accidentally stepped on Emma's sunglasses and they broke. Oh well. At least they were hand-me-downs;) We'll get her some dollar store ones next summer.
Speaking of seasons, here's a page I made of a fun art project Emma and I did together. Ok ok, so Emma mostly sat there and watched...but she did a little of the painting. She's not really interested in finger paints. She loves to color and such, but the paints are too messy for her to enjoy them.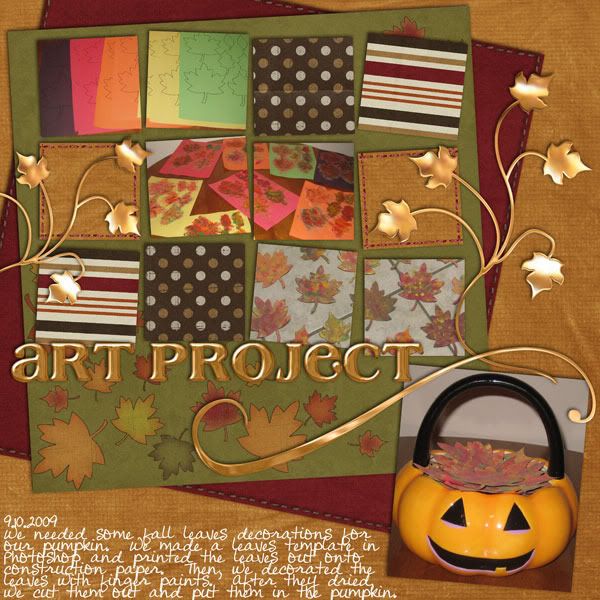 Credits:
MLAS September Pixel Edition - Kimi's Kreations
Before Meets After Template 4 (modified)
And now onto Emma's baby book! This is the part my family wants to see LOL! Hopefully they'll actually read this...;) Man, it's a good thing I'm already pregnant while scrapping Emma's baby pictures. Otherwise, I'd have some serious baby fever. Going through Emma's old pictures and reading my journal entries is making me nostalgic. My little girl has grown up SO much. She's become little miss independent. I adore my sweet toddler, but it'll be nice to hold a tiny newborn again:)
I've already posted some pages, but I'm going to repost them here anyway so you can get the full effect. It's only 2 extra pages anyway;) I did a bit of reworking on the birth pages, so they need updated copies up. I skipped a few pages here and there, since the kits I want to use for them are either in progress, need finding, or don't exist yet;) Anyway. I'm doing 2 pages per month, plus 2 pages for special events and holidays (Christmas, baby blessing, etc). Now you know why it will be 40 pages long! Credits are posted every 2 pages. I've been using a TON of Kimi's My Darling kit. It's SO perfect for a girl's baby book! I've been using pretty much all CT stuff for it. Anyway, here is Emma's baby book so far: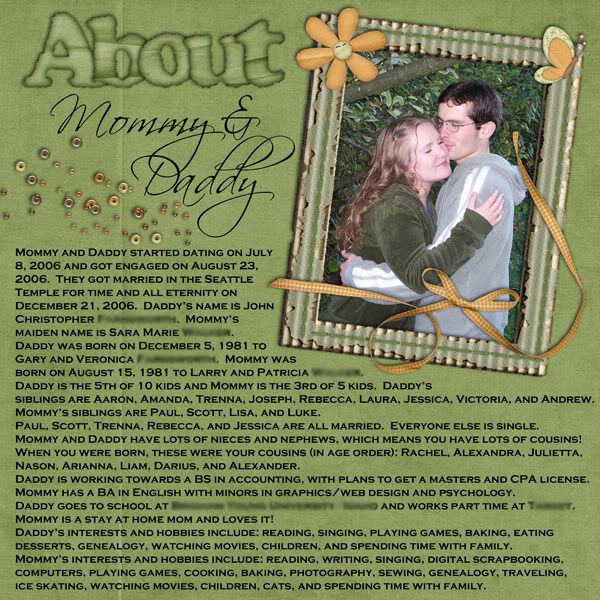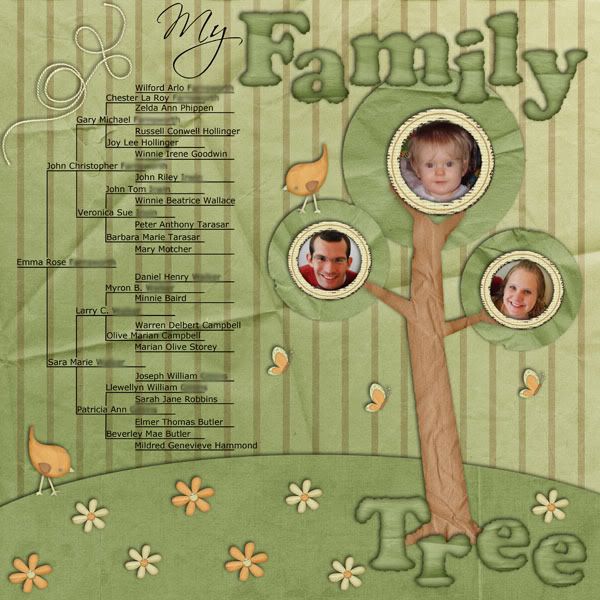 Credits:
Country Caramel - Kimi's Kreations
(BTW, the family tree LO is still available as a free quick page a few posts down;))
(Insert ultrasound and belly pic pages here - waiting for a certain kit-in-progress to come out)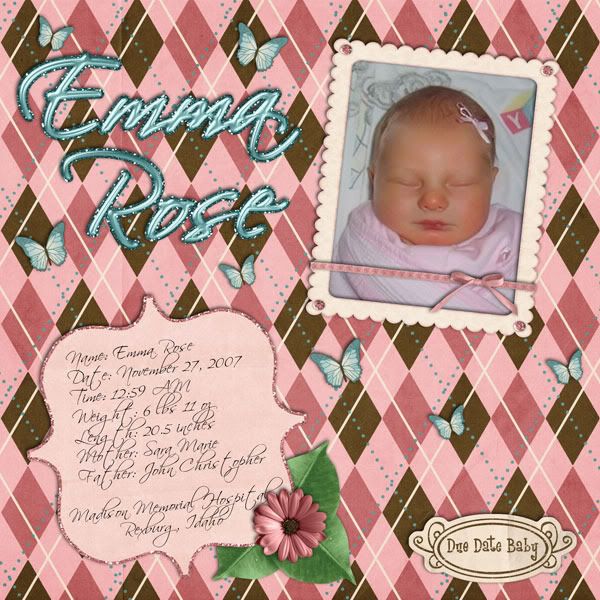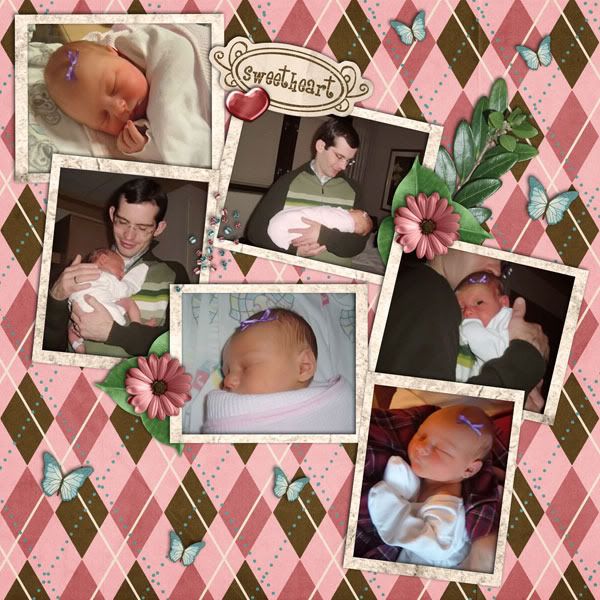 Credits:
My Darling - Kimi's Kreations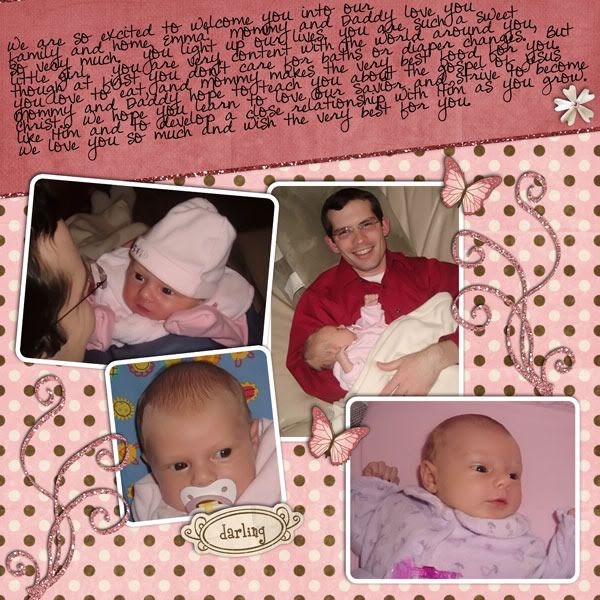 Credits:
My Darling - Kimi's Kreations
(Insert 1st Christmas pages here - need to find a kit for them still)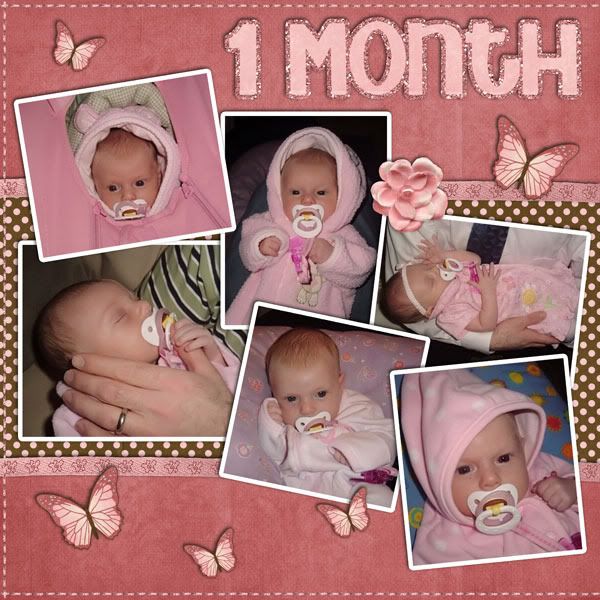 Credits:
My Darling - Kimi's Kreations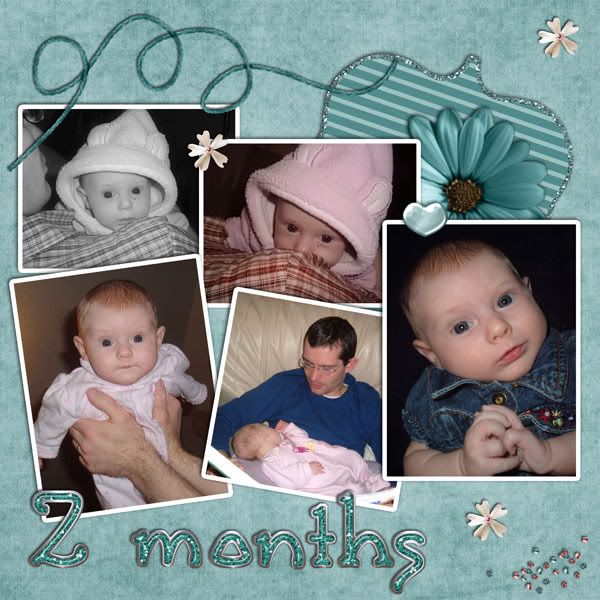 Credits:
My Darling - Kimi's Kreations
GDS Birthday Bash alpha - Kimi's Kreations
Credits:
Happy Go Lucky - geniaBeana Scraps
Credits:
My Darling - Kimi's Kreations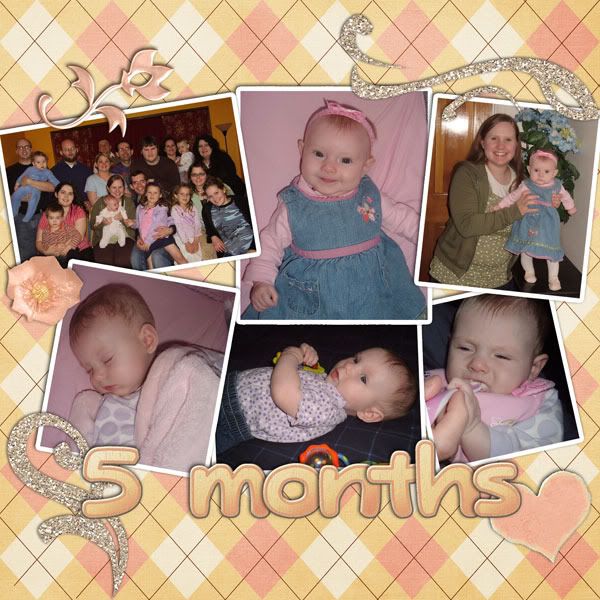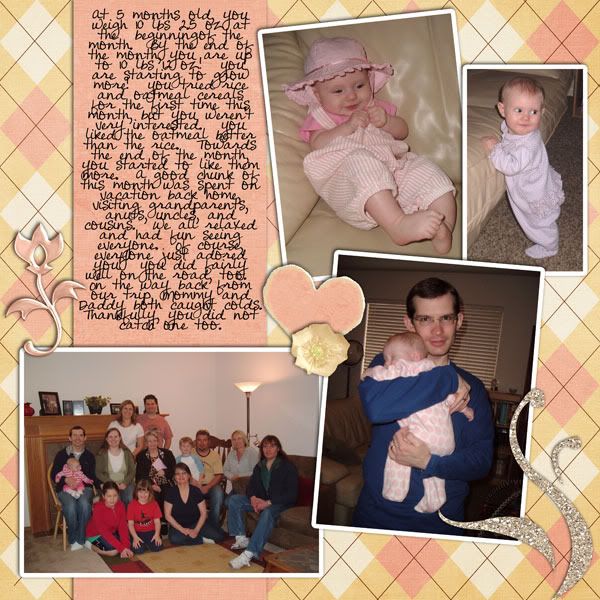 Credits:
Peaches and Cream - Kimi's Kreations (her very first kit! It was a freebie; not sure if it's still available)
My Darling glitter - Kimi's Kreations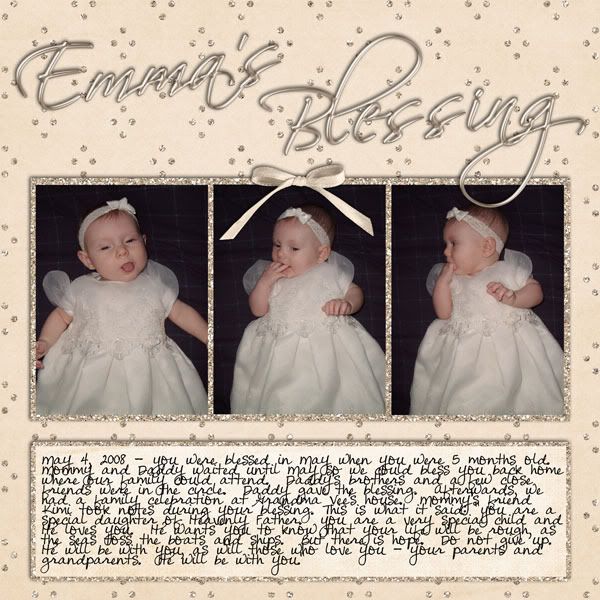 Credits:
My Darling - Kimi's Kreations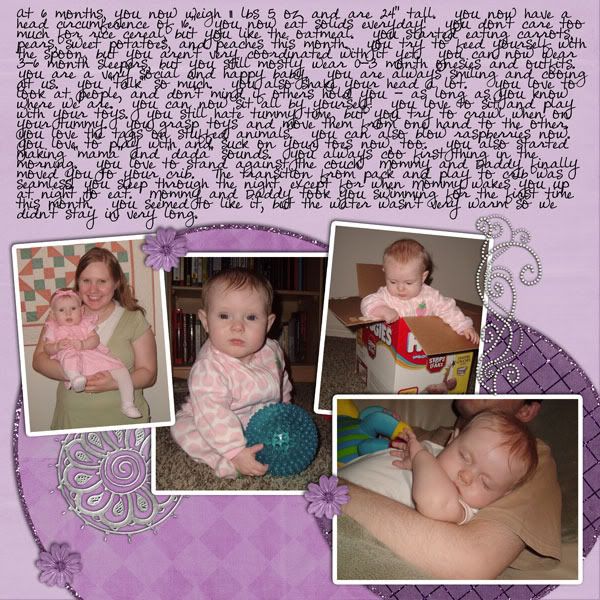 Credits:
Queen for a Day - geniaBeana Scraps (her very first kit! It was a freebie; not sure if it's still available)
BCC2 glitter - Kimi's Kreations
And that's what I've got so far! Phew! Thanks for looking! 20 pages done; 20 to go. Most of which will become templates in the semi-near future;)
Now that you've waded through my plethora of pages, I have a free template for you. It's of my Shades LO, from Kimi's progressive challenge. Template 46 is a single page LO in PSD format. As always, I'd love to hear back from you and see what you do with any of my templates:) Here's the preview: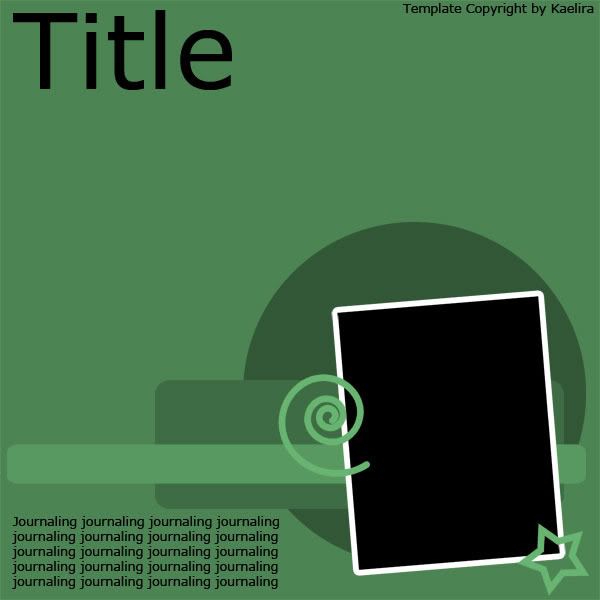 You can download it
here
.
And that's all for tonight! I hope to get some more templates up soon ish, now that I have a tooooon of LOs that need to be templatified, so keep checking back! And of course, I'll be posting more baby book pages in the process;) Night all!