My first blog post from my new computer! I've had it for 2 weeks now. I spent the first week getting everything all set up. Installing programs and personalizing my settings and such. And the second week I found myself preoccupied with Pinterest...I finally got around to exploring it and, of course, became obsessed.
But! My new computer! It's here! It's beautiful! It's fast! It's quiet! It's toddler-proof! I am totally in love ♥
How can you not love the prettiness?
So, a few system specs for the other nerds out there: 3.3 gHz dual core processor, 8 gb RAM, 3 internal hard drives (250 boot, 160 and 500 slaves), DVD burner, Radeon HD 4830 512MB 256-bit graphics card, and Windows 7 (64 bit).
Love love love. And I love that my 2 year old can no longer push the power or reset buttons on me.
Just for kicks, here's a shot of the innards of both my old and new computers: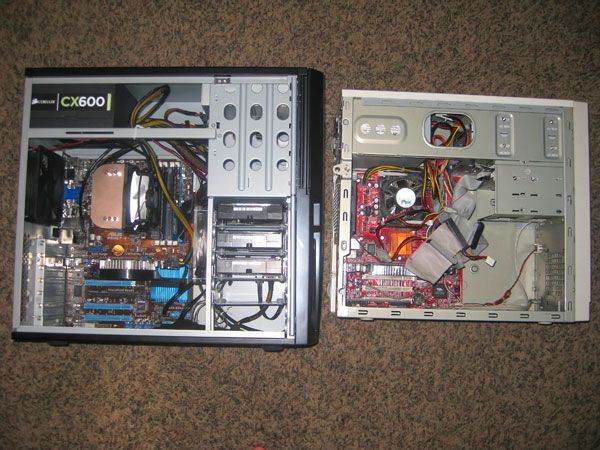 The old one no longer has hard drives since they're now in the new one. And, as I expected, the hard drives were perfectly fine. Yay for no data loss!
Adjusting to Windows 7 was super easy. I had XP on my old computer, so it's definitely different. But, I've used John's Vista lappy enough to be familiar with the visual changes. I love the prettiness of 7 :D
I love how fast my new computer is. Photoshop is sooooo much faster than before!! Love it!
I've had some issues with importing my Sims 2 neighborhoods. Lisa figured out a way to make it work, but it's a long tedious process. We've only got one neighborhood working so far. We'll get there; it just isn't my highest priority.
Ooooh how I love having my own awesome computer again! Thanks to Lisa for building it and to Mom for paying for all the non-Lisa-hand-me-down parts :D I'm so super blessed. And spoiled. I think I'm pretty spoiled. I sent Mom and Lisa some pretty flower clips and a thank you card.
Now that I have a working computer again, I'll be able to get back into posting more. More to come soon!