I've wanted a new name for my blog for ages. Like, at least a year and a half. I'm still into digital scrapbooking, but my blog has evolved to include so much more. But I could never come up with something that really
fit
. I didn't want anything with our last name or our location, which simply added to the challenge of finding just the right name.
I think I have
finally
found the right name for my blog! Eclectic Mom. The URL is still the same, but the overall name has changed. I like it. I think it fits me well. Whenever someone asks me to describe myself in one word, eclectic is always my answer. I am a very eclectic person; I have so many different roles, talents, and hobbies that one adjective alone isn't sufficient. I'm LDS, a mom, a wife, a writer, a musician, a digital scrapbooker, a cook, a baker, and an amateur photographer. I have an English degree. I love to plan and organize fun activities for our family, as well as my tasks throughout each week. How else could I capture all that but with the word eclectic? And so, my blog now has a new name! Finally!
In a previous post, I mentioned that Nathan looks
a lot
like his big brother Hyrum. So much so that we frequently catch ourselves calling Nathan by his brother's name! Just for fun, I put together a couple of comparison pics.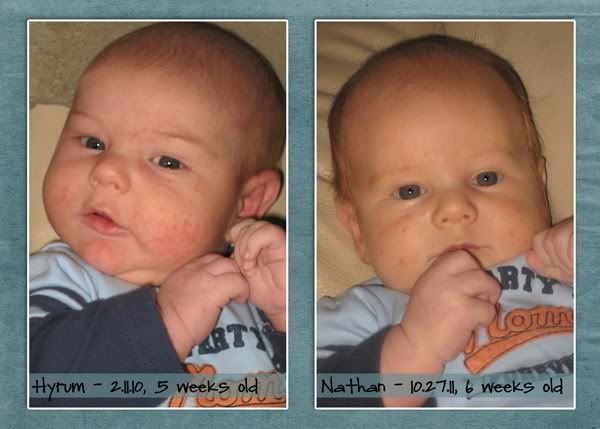 I swear they are 2 separate babies! Really! But they really
do
look a lot alike, don't they? Case in point: Emma saw the 2nd set of these pictures up on my computer and said, "that's Nathan and that's Nathan." And she sees both her brothers all day, everyday. No wonder we keep calling our baby Hyrum!
Emma frequently says, "he's so handsome, just like his brother." ♥
I love that they "just happen" to be in the same outfits. Ok ok, so I kind of did that on purpose...but still. They could totally pass for each other! Thank goodness for technology that keeps track of the dates for me. Although Nathan's red hair helps as well ;) It's fun to have an idea of what Nathan will look like in a couple of years. We love our adorable kids!!