I love fall. I love the brightly colored leaves, the cool crisp air, Halloween, Thanksgiving, all the comforting fall foods. It's invigorating. I love it.
I try to ignore the fact that it hails 5 months of snow.
We had a great fall day today. It was such a gorgeous fall day out. Just the perfect amount of crispiness in the air.
First, the kids and I walked over to our favorite consignment store. Hyrum just had a growth spurt and his toe poked a hole in my favorite 6-9 month sleeper. I only had 3 sleepers in the next size up. Or should I say have, because the consignment store didn't have any either? But I did find lots of other cute clothes for the kids, including a super cute pair of shoes for Emma and shirt that says, "who needs Santa when I have Grandma?"
And Emma found the coolest thing of all. My mini bargain hunter. She's the one who found the kid digital camera for $2 back in March. It's in our living room at the moment.
This time, she found 3 LeapFrog froggies. She loves frogs. And we're hoarding a couple of the library's LeapFrog DVDs (Letter Factory and Storybook Factory). Don't worry, we'll turn them in soon. I don't think I can renew them again; I've had them for almost 3 weeks now. I want to buy them eventually (birthday/Christmas most likely) because Emma is totally getting the whole letters and sounds thing down because of the Letter Factory.
Oo, and I just saw on Amazon that it's under $8. Sweet. Hm, might do some 'add to cart'-ing very soon...
Anyway, I digress. She loves the characters. She quotes the DVDs. And she's learning from them. At first, I thought it was just the 3 frog figurines. But no; they come with an awesome bus that teaches the letters and the sounds they make
just like the DVD.
It even has the super-catchy song they sing for each letter. I get it stuck in my head all the time.
So you know we had to buy it. And it was only $4!!! John and I determined that the full retail would be around $15-20 ish. And we got it for $4. So cool. The frogs are sleeping with Emma tonight. I just love finding great things for great prices!
Then, we had some grocery shopping to do. Emma and I shared a ham sandwich from the deli while Hyrum scarfed down 2 jars of baby food. That boy loves to eat.
After some creative squishing of consignment purchases and groceries under my double stroller, we walked home. (Sidenote: have I told you how much I looooove my double stroller? Seriously, LOOOVE it. I love that the large basket can hold all my groceries.)
Once I got the groceries put away (or at least the perishables anyway) and the kids situated, I made a super yummy chicken chili for dinner. Yuuuuum.
Not to brag (ok, maybe to brag a little), I make the best chili ever. In my oh-so-humble opinion.
After dinner, we had a super fun FHE. We collected leaves in a bag. The plan is to take fall pictures of the kids with leaves in the background. With how windy it is here, you never know when they'll disappear. So we made our own little stash for the hopefully soon photo session. Maybe I'll try to take some tomorrow.
But we didn't just collect the leaves. We had a leaf fight.
And I started it.
Big surprise, huh?
No, not at all. Of course I instigated it. I'm the troublemaker.
But it was soooo fun. We all laughed and had a total blast. Then we went in for hot chocolate and cookies.
Isn't that an awesome way to end a day?
But wait, there's more.
I got an unexpected phone call tonight. My name was selected from a drawing to win a free dinner for 8!! I think it's a marketing ploy, but hey, free is free. And free food from a yummy local restaurant? I'm certainly not going to complain. Now I need to decide who to invite...and find a babysitter.
I think I'll go to bed soon. But first I want to share some recent pages I scrapped.
As always, geniaBeana has kept herself busy making gorgeous kits. I seriously love her stuff. I'm so grateful to be on her CT, even though I'm a sporadic scrapper these days. It's been awhile since I posted anything scrap-related, so I'm sure I neglected to mention she is now exclusively at Scrap Matters. How cool is that? It's a perfect fit IMO.
Anyway, here are the pages. This one is pretty much my current desktop, with some alteration to accommodate the different aspect ratio: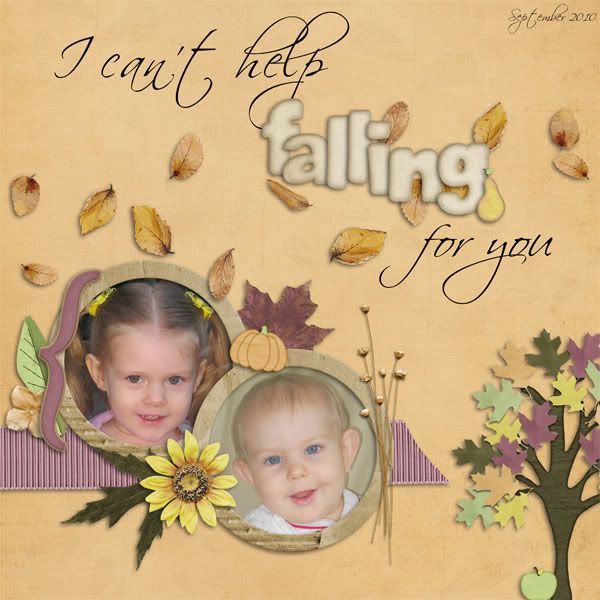 Kit: Late September, geniaBeana Scraps
Bwahaha, this one has a funny story to go with it:
Kit: Haunted, geniaBeana Scraps
Close up of the journaling: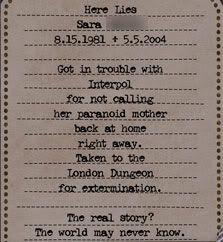 Explanation: I went to Europe on a school tour just after my junior year of college. My mom freaked that I didn't call her right away when we got there to let her know I was safe. Um, I was almost 23...and with several "adults" (as if I didn't count as an adult...). And placing international calls is a major pain. My calling card was a retarded piece of crap anyway. As soon as we landed in London, we went off sight-seeing as a group. By the time I got back to our hotel, my mom had called them. Like, she literally called the hotel. In London. And she emailed me. And in her email, she threatened to call the International Police if I didn't contact her ASAP. So...yeah. Hence my quirky tombstone journaling :D
My mom is so going to kill me for this.
See? I'm a troublemaker :D
And I'm not the least bit sorry for it.
Now for some Project 365 pages: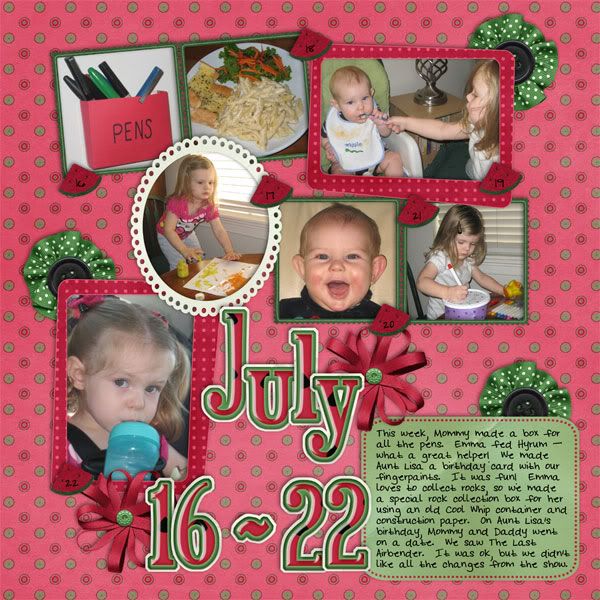 Kit: Watermelon Festival, geniaBeana Scraps
Kit: Watermelon Festival, geniaBeana Scraps
Kit: Carefree, geniaBeana Scraps and Captivated Visions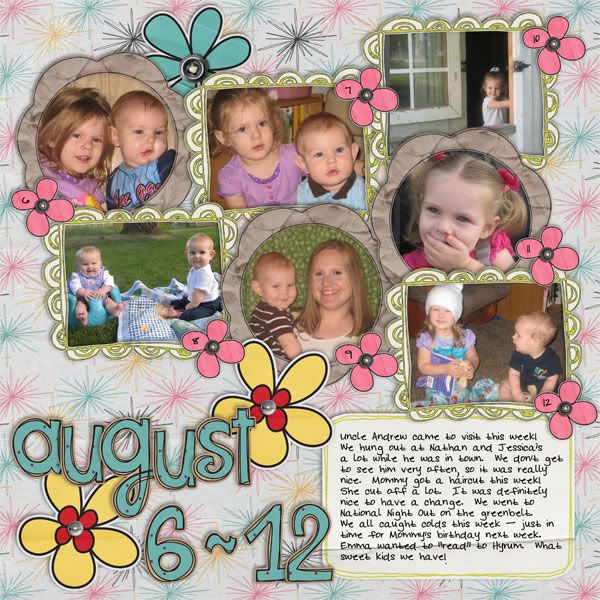 Kit: Carefree, geniaBeana Scraps and Captivated Visions
Now we're closer to being up-to-date on the P365 scrapping. One of these days I'll get caught up...maybe.
Speaking of being behind, I have a bunch of pictures to catch up on as well. But that will have to wait a bit. Selecting pictures, editing, resizing, etc takes awhile. The longer I go between posting pics, the more pics I have, and the longer it takes to go through that process.
If I wasn't such a lazy bum I'd post them every week. Or everyday. But that just isn't practical for me. Well, maybe the week one could be if I put enough effort into it. But I don't. And I don't really see that changing right now. I have more important things to work on.
Aaaanyway, now I'm really rambling. I know, that's really all I do here, other than post pics and such. But anyway.
As always, I have tons to write. But this is plenty long enough for tonight. Pics and kid update coming soon...hopefully. I make no guarantees :D That way, you can't be disappointed when I inevitably get distracte---oooo, shiny!! :D Night all!