In case you're wondering, yes, I'm still pregnant. Monday is my due date. Hopefully he'll come out soon! Wouldn't it be hilarious if I had a 2nd due date baby? I wonder what the statistics for that are?
Anyway, I planned on waiting till his arrival to post my new blog LO, but...I'm impatient. I didn't want to have a Christmas LO anymore. So I plopped in some pics that will be replaced once he's here (at least, the ultrasound and family pics - Emma's pic will likely stay the same:)). I used geniaBeana's portion of the GDS January collab, Shimmer. Here's a preview: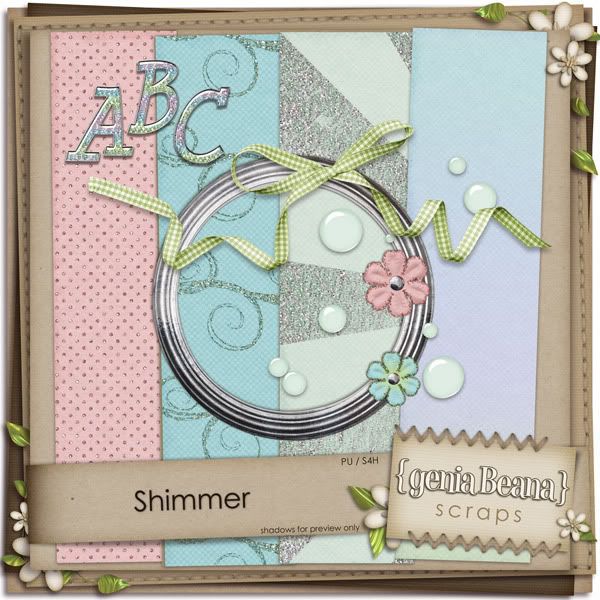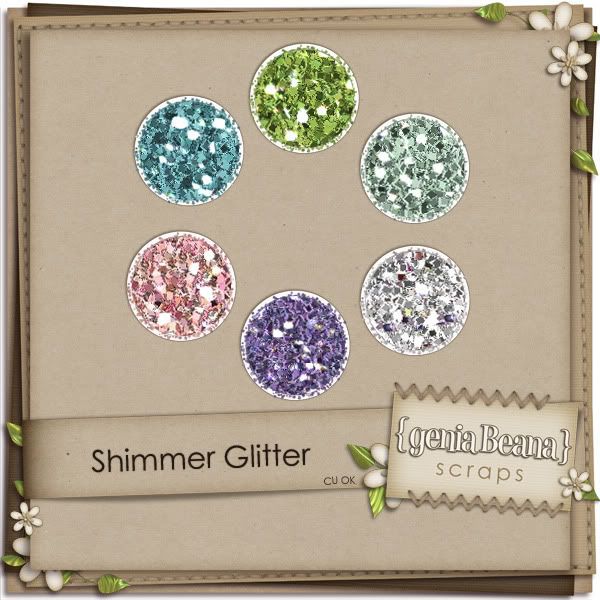 Isn't it pretty? Of course, you can only get it (and the rest of the collab) if you spend $10 in the GDS store this month. Unless, of course, you have special CT privileges;) She has a couple of other kits up her sleeve that are just GORGEOUS as well:) I can't wait to show them off.
So, to keep myself occupied while waiting for baby, I've started on a really fun project. I got the idea sometime before Christmas, but of course life was too busy with Christmas and getting ready for baby to do much about it. Well, now that my house is all cleaned up after Christmas and everything is ready for the baby, I can work on it. It's gonna be awesome.
You're probably wondering what it is now, huh? Well, over the years, I've collected lots of recipes. Some I got from packages of Cool Whip or cream cheese etc, others I found online and printed, some I cut out of magazines, and some I received as recipe cards. I had all these recipes thrown into a file folder with minimal organization. The problem with this, however, is that it makes it harder to find recipes when I want them. Or I forget I have them altogether. Soooo...I'm making myself a recipe collection book. I'm going to get a binder and organize my recipes by type. It'll be a sort of scrapbook. It will incorporate some digiscrap kits, so it will be a somewhat hybrid project. I went through and categorized my recipes tonight.
I also need to type up and print some of the recipes I created. This will be useful to my family in the future. The only problem for others is that I season to taste, so I never measure spices in my own recipes! And just for fun, I thought I'd share some of my recipes with you:) Several months ago, I made my super-yummy chili to share with a friend who just had a baby. Her husband asked for the recipe...and I'm ashamed to say I never got around to typing it up for him. Until now. And I'm going to share it with you, too:)
Homemade Chili
1 lb ground beef
2 T oil
1 onion, chopped
1 green pepper, chopped
2-4 cans stewed tomatoes
2-4 cans kidney beans, drained (red and light red)
1-2 cans corn, drained
chili powder
oregano
cumin
garlic
salt
black pepper
shredded cheddar (medium or sharp)
sour cream
Brown ground beef. In a large stockpot, sauté onion and pepper in oil. Stir in tomatoes, kidney beans, and corn. Add spices; season to taste. Spices listed in order of prevalence (i.e., more chili powder than cumin). Cook for at least 15 minutes. Stir in cheese and sour cream until they melt. Adjust seasonings as desired.
LOL, when I write it all out, it sounds so incredibly simple. But in reality, it takes awhile to make. I don't really know how long to say it needs to cook. I just picked a time. I'm constantly adjusting the seasonings as I go. That's what takes the longest; getting the flavor JUST right. In my opinion, this is the BEST chili ever. I almost put that as it's official name, but...that sounds kind of conceited and unprofessional, so I'm going to be lame and just call it homemade chili. Yeah, I'm boring like that. And of course, you can always pair it with cornbread or rolls or French bread...whatever you'd like!
Speaking of food, John and I used my new food processor for the first time last night and oh my gosh, we are in LOVE! We will NEVER chop or slice veggies the old fashioned way again!! SO awesome! This will totally speed up meal-making:D I'm excited to play with it more and more. Why oh why did I not get one sooner?! I guess part of it is that we didn't have one growing up so I didn't know just how cool they were. Also, I didn't know how reasonably priced they could be. Or at least, this one was - but we got it at the after Christmas sale. I have no idea what the original price for it was, but we got it for $24:)
Anyway, I'm going to go work on my recipe project for awhile:) Enjoy!