I made a page using my Valentine's template. I would have posted it sooner, but my upload speed is ridiculously flakey. Sometimes I can upload, but most of the time, I have to email my uploads to either my sister or one of my close friends and have them break into my Photobucket account for me:D
Anyway, back to the page. I love how it turned out! I used soooo many bits and pieces from several different kits (all freebies, too)! Seriously, this page is loaded. This will be my Valentine's card to John. Shhh, don't tell him! I think I'm going to make another one for Emma using this template. Anyway, here's the page: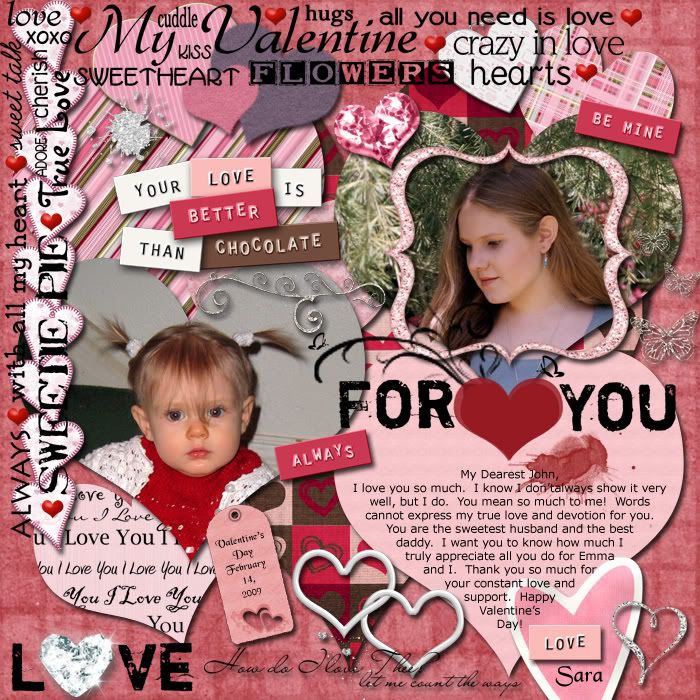 Credits:
Template - me:D
Background paper - CuddleBeez, Cushy kit
Brown and red heart paper and labels word art - Piccolina Designs, Chocolate Valentine kit
Striped paper, plaid paper, double white hearts, and jeweled heart - Debbie Nolen, Paisley Passion kit
Other pink papers, tag, and heart tag - Colleen Keehne, Love Letter kit (tagger size)
Purple and pink fuzzy heart cluster - Madame Wing, Sunshine Studio Scraps, Love Me Not add-on
Pink striped heart - Colleen's Scraps, Hearts Abound kit
Pink framed heart - Josier Designs, My Sweet Love kit
Heart border - Joni Gray, Pink Valentine kit
Glitter frame heart - Claire7799, Mushroom kit (modified)
Glitter bracket - Delicious Scraps, Into Spring add-on
Glitter splatter - Gwen, Christelle kit (modified)
Butterflies, silver swirl, and How do I love thee word art - Fairly Fabulous, Love Thee kit
Jeweled heart love word art and For You word art - Marcela Crhova
Corner Valentine's word art - KL Winters
I love you overlay - Jamie Dell
*phew* That's a loooong list of credits!! Hope you like it!!
Speaking of holidays, I have yet to post my Christmas card and the Christmas present I made for our family. Our parents got 8x10s and our siblings got 4x6s. Which reminds me, I still need to mail a couple of them to the siblings we didn't get to see over Christmas. LOL, if they see this (I'm sending them the link here), they'll have a preview of what will be coming in the mail when I finally get around to doing it LOL. The envelopes are addressed, they just need stamps (which I already have, so that's easy enough) and a letter/note explaining and such. That's what's holding it up - I haven't written it yet. Aaaanyway. I ramble. A lot. On to the pages!
Christmas card:
Credits:
Paper and elements - Le Pingouin Designs, Winter Wonderland
Sparkly elements - Scraplandia, Christmas in Scraplandia
Wordart - Aquarius Designs, Christmas freebie
And here's our Christmas present for the family:
Credits:
Template - Lina's Layouts card template (modified)
Paper - Kafrounette, Happy Birthday kit
Alpha - Michelle Sims, Twilight Obsession (I think this is my fave alpha - I've used it 3x already!)
Hearts - A Work in Progress, Breakfast at Tiffany's kit (modified - now I have the song stuck in my head LOL)
Flowers - Clair7799, Mushrooms kit
Now, aside from a couple of signatures I made myself for my forum, all my pages are uploaded to this blog:D I should post those, but I'd have to go searching for which kits I used LOL!
In other news, Emma is now 14 months old today! Well, in about half an hour - she was born at 12:59 AM. She's been teething for the last few days. Ugh. TORTURE. I hate teething. It bites. Literally. But at least she's not sick anymore (I think?), so that's good. Her appetite is back now, and the diarrhea-induced diaper rash is almost gone.
Anyway, I'm off to download more freebies:) Or maybe make another template. We shall see. I should start on our taxes, since we got the W2 today...but I don't really want to:D