Finally, the post I've alluded to several times. I know some of you are anxiously waiting to see these pics. And now I finally am ready to post them!
When we found out we were having another baby, we knew we needed to get him a dresser. Poor Hyrum was stuck with one of those cheap plastic drawer units all this time. I wanted to find something that would work for him and the new baby to share.
I browsed around online, checking out Craigslist, the school's bulletin board, freecycle, Amazon - you name it, I checked it. But even the ugliest of ugly dressers at the thrift store cost way more than I wanted to spend. Either I'm way too cheap or dressers cost way too much. Whatever the case may be, it wasn't really working for us.
But then a nice dresser practically landed in our laps - FOR FREE. Now
that's
my kind of price!
The circumstances around it weren't exactly ideal; we basically inherited it from my grandparents after they passed away. Grandpa passed away last August and Grandma in April, just 3 days before we left on our trip.
The dresser came home with us. It needed a little TLC: minor repairs, cleaning, sanding, and staining. But hey, I can't complain - it was free.
I totally planned on taking a true "before" picture, but the dresser was wrapped up in a blanket in our van until we took it out for cleaning. In my excitement to get started, I forgot to take one until
after
we cleaned it. So...the earliest pic I have is an after-cleaning pic: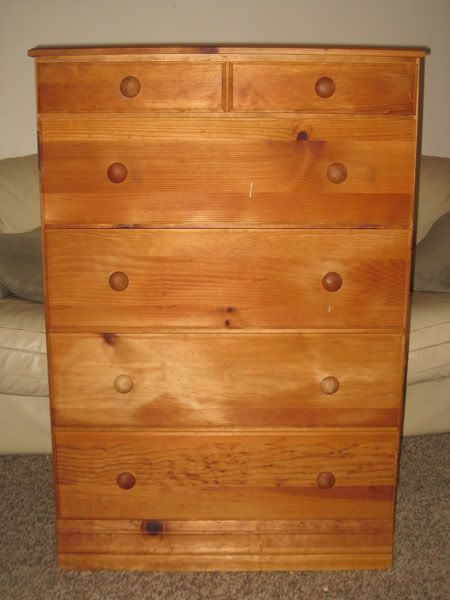 It was actually lighter in color before we cleaned it. I read on the cleaner afterwards that it's not supposed to be used on unfinished wood...oops. Too late now!
Then I sanded it the next day, which took off some of the Orange Glo cleaner look: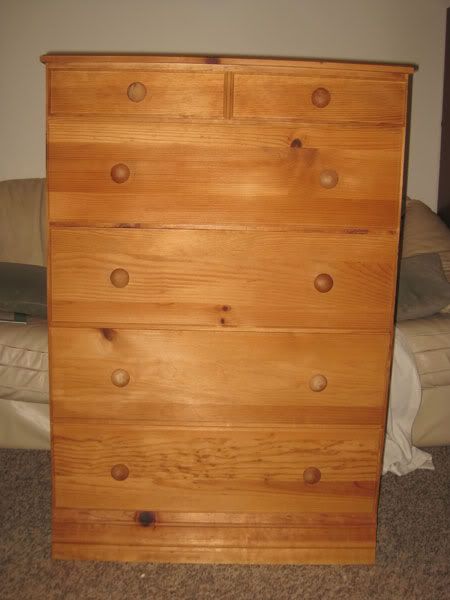 I was able to get off the white paint streak and
most
of the black sharpie on the top.
Then we took it over to Nathan and Jessica's to stain it. Our apartment complex doesn't allow staining type projects, so we couldn't do it at home. It started to rain just as we were finishing up. We quickly moved it into their shed to dry:
I didn't realize it at the time, but the stain we bought didn't come with the clear protective sealant. All the other stains I've used had it mixed in; I didn't even know it was possible to get stain without it. So of course we had to put on the clear protective coat a few days later: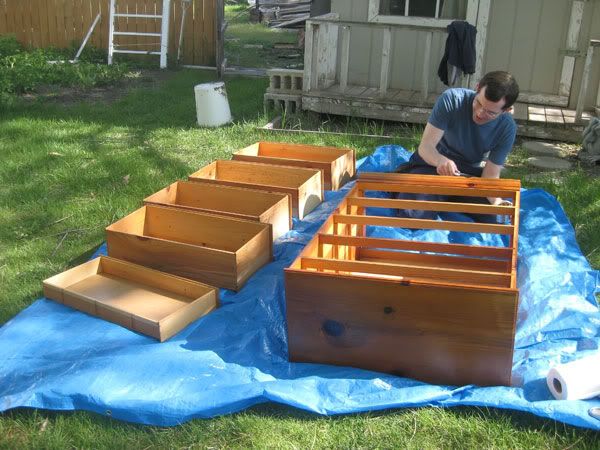 Aaaand the finished dresser in it's new home: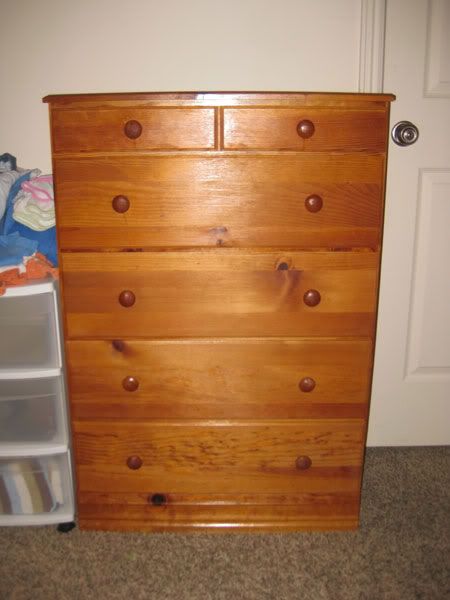 The skinny top drawer is for socks, the next one down is for newborn clothes, then 0-3 months, followed by Hyrum's shirts in the next and his pants in the bottom drawer. His PJs are in the clear plastic dresser.
Of course, our dresser project encompassed much more than simply fixing up the dresser itself. It involved reorganizing a significant section of the kids' room. Namely, the toy corner. Which meant completely reorganizing the toys. It was desperately needed and was on my to do list long before we got the dresser in the first place.
I mean, check out how awful this is: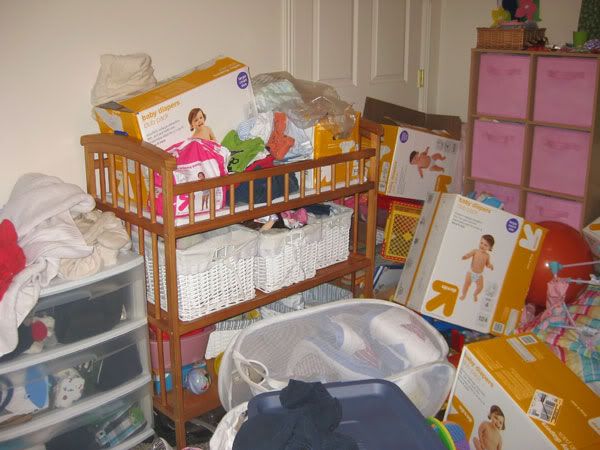 Embarrassingly horrible, isn't it? I promise it wasn't always that bad...I snapped this pic at the absolute worst. We were in our post-vacation-still-unpacking-and-readjusting-to-being-home mode. And I'm pregnant, which is pretty much my excuse for everything these days.
This is a more accurate portrayal of the "before," but it's still pretty bad:
BUT...check out how awesome
this
is:
And with the book boxes (and the cutest little boy ever) added in:
See that storage cube unit with the pink drawers? It used to be full of various baby and kid gear: burp cloths, bibs, baby towels, shoes, socks, blankets, extra sheets, etc.
Now? It's toy storage. Cars, balls, dress up, baby doll accessories, little baby toys, electronic toys, large toys, and miscellaneous. The clear plastic bins beside it have blocks, kitchen toys, music, and baby dolls in them. We used to have those bins out as toy boxes and the kids had unlimited access to them. No more. Now they can only have one bin out at a time and they have to put the toys away before they can pull out another. Sooo much better. Less mess = happier mom.
Most of the stuff that used to be in the cube unit is either in storage or in the baskets that used to be on the changing table. The changing table is now in our storage unit as well. I'd love to have it in their room, but we just don't have the space. And honestly, we haven't really used it much in ages anyway and Hyrum kept getting into the baskets. This definitely works better.
I plan to make cute labels for all the toy bins. We also just got a nicer laundry basket for all the stuffed animals. The one pictured is super old and falling apart. The new one is bigger and better supported. I don't have a picture of it yet.
Now that I have a dresser for the boys, I couldn't resist washing all the teeny tiny baby clothes...
Newborn:
Hopefully I'll get more than 2 weeks' use out of them this time...
0-3 months:
I have more 0-3 clothes that wouldn't fit in the drawer. They're in the clear plastic dresser. I put the cutest ones in the actual dresser of course.
And there you have it! Our dresser project is complete! I just love how it turned out :D