2011 was full of ups and downs, challenges and successes, trials and triumphs. We saw a lot of illness, unexpected expenses, and the death of my grandma. We saw the challenges of toddler-hood, sibling rivalry, and a sooner-than-planned pregnancy.
Despite the difficulties (and believe me, they were
hard
), we had a great year overall. We bought a van, visited family, and celebrated birthdays. We found ways to serve those around us, however small the tasks performed. We did lots of fun family activities: road trip home, the zoo, swimming at the lake, water park fun, picnics, parades, fireworks, county fair, BBQs, straw maze, pumpkin patch, holiday celebrations, and even a fun camping trip in Yellowstone.
John got and completed his internship. The story behind that is miraculous in and of itself. He was stressing out about finding one when his internship boss contacted
him
. They met at a "meet the firms" event on campus beforehand and really connected. John loved his internship. He learned a lot and definitely thrived in that environment. I only wish he got paid. But the recommendation letter he got afterward? He could seriously land a job from that alone. It's
that
good - because
John
is that good.
But the very best thing about 2011 was baby Nathan joining our family in September. He is such a sweet baby. He is a huge blessing in our lives. We can't imagine life without him.
We spent New Year's Eve at home this year. We invited a few friends and family to hang out, eat snacks, and play games with us. It was so fun! It was a great way to ring in the new year. Of course, I happened to be feeding a baby when the ball dropped...hey, he needs his New Year's toast too, right? ;)
At the end of each year, I like to reflect on my goals for that year. I love looking back and seeing how far I've come and where I still need improvement. So here's a recap of last year's goals:
1. Save money. We really need to start saving more for future expenditures. We get better and better at managing our money, but we haven't been quite as good about saving as we'd like. We want to start putting a set amount or percentile into savings each pay check. In order to meet our semi-long term goals, we need to start putting more of what we get in savings. Which, of course, means better management of our income.
Status:
Semi-fail. A sooner-than-planned pregnancy kind of blew that one out of the water. However, the main future expenditure I had in mind at the time was a minivan; we knew we'd need one before adding another child to our family. And we bought one with cash plus trade in. So, that was a success. But general saving overall? Not so hot.
2. Be healthier. Lose weight, exercise, eat healthier. I want to exercise every day except Sunday. I'll still eat some of the not-so-good-for-me foods, but I really need to be better at limiting my intake.
Status:
Hahahaha. I did great - for a month. Then I got pregnant and all bets were off. I didn't have the energy to exercise and I didn't have the stomach to really eat healthy. I ended the year weighing 20 lbs more than I started it. But, I
did
just have a baby mid-September...
3. Read the scriptures everyday. If I can take a photo a day for a year, there's no reason why I can't do this, too! I know it makes a huge difference in my life; I hope I can read everyday. Have better prayers, too. Spiritual growth will come if I do.
Status:
Success!! I only missed reading
one
day. I'm thrilled with that accomplishment. And I'm continuing to do this in 2012 (and hopefully forever) as well. Overall, I think I've grown a lot spiritually in 2011.
4. Be more patient. I need to stop reacting to things that don't matter. I need to be more patient, tolerant, and understanding - especially around my kids. I definitely need to yell at my kids less when they do something that frustrates me.
Status:
Ooooh boy. I don't even want to touch this one. Let's just say pregnancy hormones really did a number on me in 2011. But once they were out of my system, I was much better. Not perfect, but better. Life with a toddler boy and daily sibling rivalry tries my patience. There's still tons of room for improvement. This...will probably be on my list every single year.
5. Be a better me. I want to be a better me tomorrow than I was today. I want the me of today to be better than yesterday. I want to continually strive to be better in every way.
Status:
Overall, I'd say I was successful. I still have a long way to go, but I think I'm a better me than I was a year ago.
6. Be more loving and kind. I think this will help with goal number 4. I especially want to be nicer to those I love most.
Status:
I think I was successful. I certainly wasn't perfect, but I've improved.
7. Be less judgmental. It's so easy to judge others; even random people on the street that I don't even know! I really want to work on judging less. It's not my place to begin with.
Status:
I've definitely improved here as well. Again, I'm far from perfect, but I'm better at giving people the benefit of the doubt and not assuming they're "bad" because we don't see eye to eye.
8. Improve my home management. Now that I've figured out what works for me cleaning-wise and cooking-wise, I need to be better at implementing it.
Status:
Minus the months I was too tired to do anything but survive? A success. I used my planner a ton for my To Do list and family activities. I did weekly meal plans. Keeping a home clean with small children is pretty much impossible, but I'm trying. A lot of times it's a triage cleaning; I clean the areas that demand the loudest (kitchen and living room) and neglect the less public areas of our home. Our bedroom especially gets neglected. It's currently a total stye...cleaning it is on my To Do list for this week. But...it's been on my list for like the last 3 weeks...so...we'll see if it really happens. I tend to put more on my list than I can reasonably accomplish. What can I say? I'm ambitious. But I don't beat myself up over uncompleted tasks, either.
9. Project 365. I loved doing this in 2010! I'm totally doing it again in 2011. I still have 10 pages to scrap from last year. I'll catch up soon. I hope. I think I'll do 2 page spreads for each month this year. 52 pages (1 page per week) is pretty daunting. Plus, I don't even want to think about how much it'll cost to print my 2010 book. 24 pages (2 per month) sounds much more manageable! I also want to be better at posting the pics (and other things) on my blog. Maybe once a week?
Status:
Well...I took the pictures...every day. But...I only scrapped January and I haven't posted P365 pics since April...so...mostly fail in terms of reporting back, but success in the actual picture taking. I have a lot of catching up to do!
10. Be a better CT girl. I want to step up my scrapping...and actually post my pages in the galleries I'm supposed to. I'm great at posting them here and in the CT forum...but I tend to forget to upload them to the galleries. I think cutting back on my P365 pages will help me make time for my other scrapping projects. I still need to redo our wedding book and I haven't really even started on Hyrum's baby book yet - and he just turned one!
Status:
Yeah...didn't do so hot here...but I did finish Hyrum's baby book! It's amazing how something like pregnancy exhaustion can throw resolutions out the window!
Ok, so...I kind of failed in several goals. But at least I mostly succeeded in the really important ones. Now onto this year's resolutions! And look, I scrapped them :D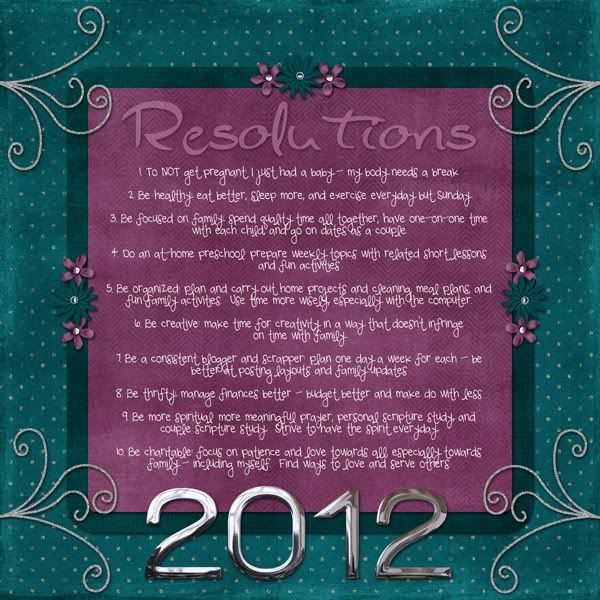 Kit: Almost Midnight, geniaBeana Scraps
I've organized some of these goals already. I'm keeping track of what I eat and I'm exercising daily (minus Sundays). I filled out my planner with daily checklists throughout the year. Each day includes scripture reading (individual and couple - family scripture study is part of the kids' bedtime routine) and exercise. I plan to blog every Tuesday (but with how late I start posts, the post date will often be Wednesday) and scrap something on Thursday. I plan other tasks such as cleaning on a week to week basis. I love planners; they help keep me organized!
I also did some major brainstorming for at-home preschool lesson ideas and put together a schedule. I pretty much have topics for the whole year figured out! I'm going to fine-tune it more, but the basic structure is there. Once I'm satisfied, I'll share it with anyone who's interested :) I'm so excited! We had our first little lesson today on calendars and I think it went pretty well.
2012 will bring some other major changes to our life: graduation!!!! Oh my goodness am I excited. LOL, you'd think it was
me
graduating. Ha, I did my time. I finished college nearly 7 years ago. But this year, it's John's turn! 3 more months! Finally!! I can't wait! Grad school is his next step, so it's not like he'll be done with school forever yet, but it's definitely a huge step in that direction. Oh how I long for that day.
And...with graduation and grad school...we get to MOVE!! Away from here! No more butt-freezing winters! At least if I can help it there won't be. YAY! And a bigger place to live! No more tiny 2 bedroom apartment, no more sharing walls/floors/ceilings with several sets of neighbors, no more carpeted "dining" space. That's the hope, anyway. Along with a yard and more than one bathroom. And real storage space. And a pantry. Oh I could go on and on and on.
2011 was a great year, despite the many rough patches. We've truly been blessed beyond our expectations. 2012? Bring it!