When I asked Emma what theme she wanted for her birthday party this year, she consistently told me she wanted a Tangled party. And I started asking like in May. What can I say, I like to start mentally planning early. Since her birthday is so close to (and sometimes on) Thanksgiving, and John's birthday is a week after hers, we usually have her party about 10 days early.
I wanted her party to be special for her, so to the web I went! I spent lots of time brainstorming and stalking the blogosphere for fun Tangled theme ideas. Some ideas I came up with myself, others I found in my research. All in all, it was an awesome Tangled party. See for yourself!
The invite: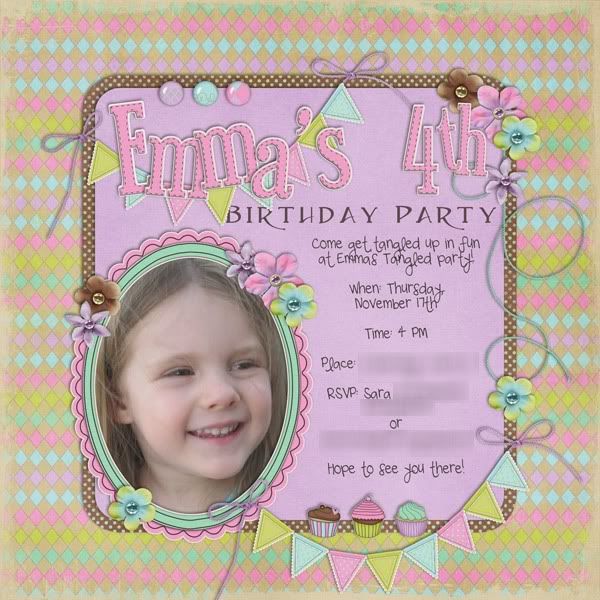 Kit: Sweet's Tea Party, geniaBeana Scraps
I did lots of pre-party prep, like make yarn braids for Pin the Hair on Rapunzel, cute themed signs for the food table, and a tower pinata.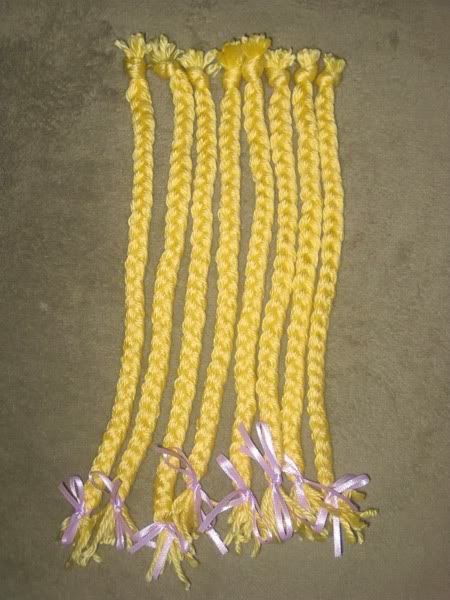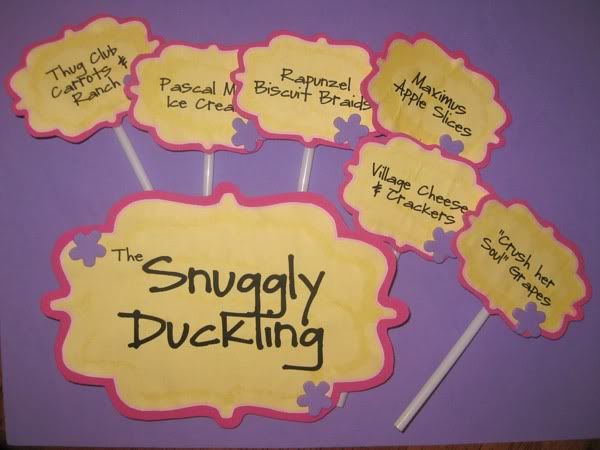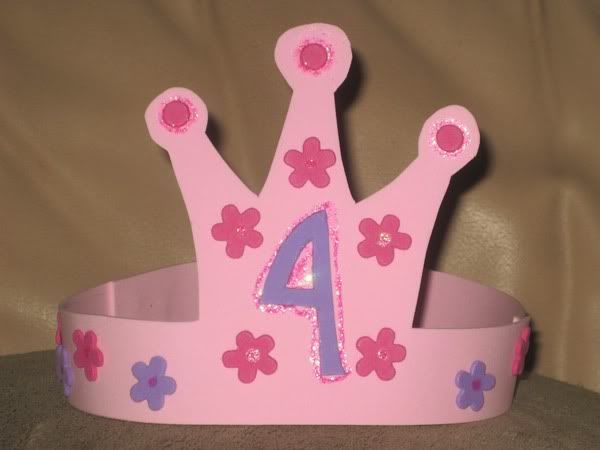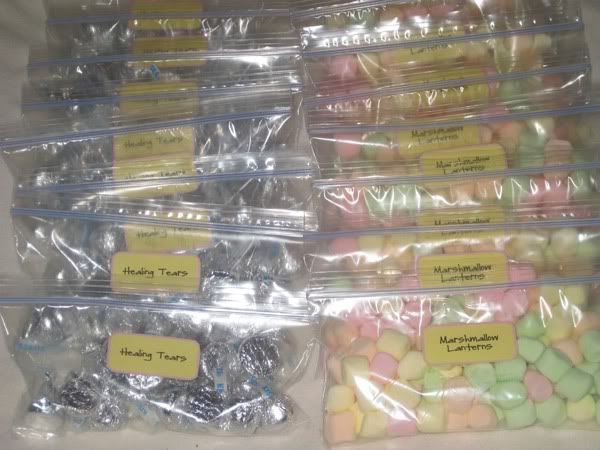 I strung up yellow streamers ("hair") and hung yellow balloons from the ceiling ("floating lanterns").
We served the food in frying pans. A special thank you goes out to John for prepping the food while I decorated. Didn't he do a great job? Apparently he has a not-so-hidden talent for presentation.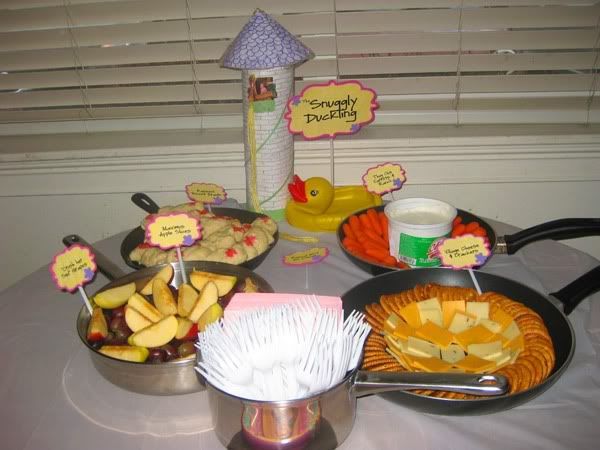 I hung up a bunting banner around the table. I found a free PDF on
Paging Supermom
.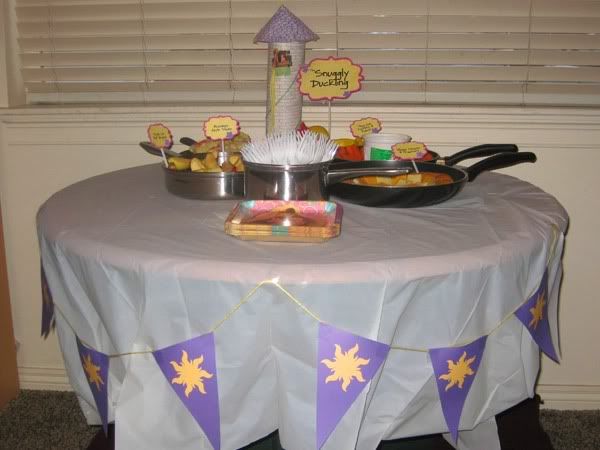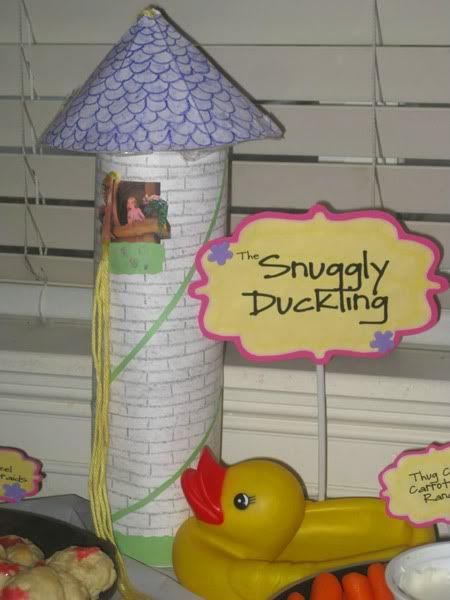 We started out with a coloring activity as kids arrived. I printed off coloring sheets from Disney Family's website.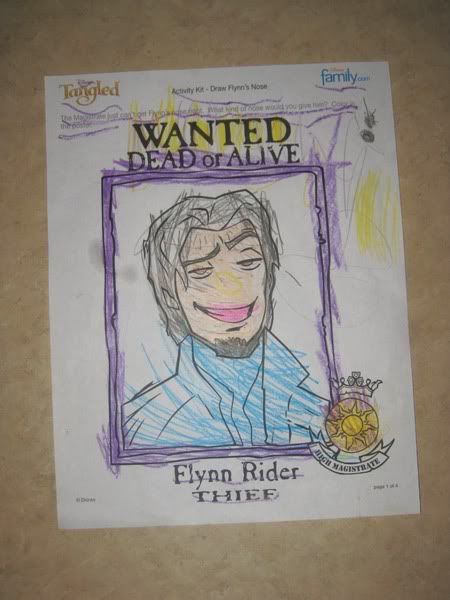 Emma's picture. She's great at coloring for a 4 year old.
Then we released floating lanterns, aka yellow balloons.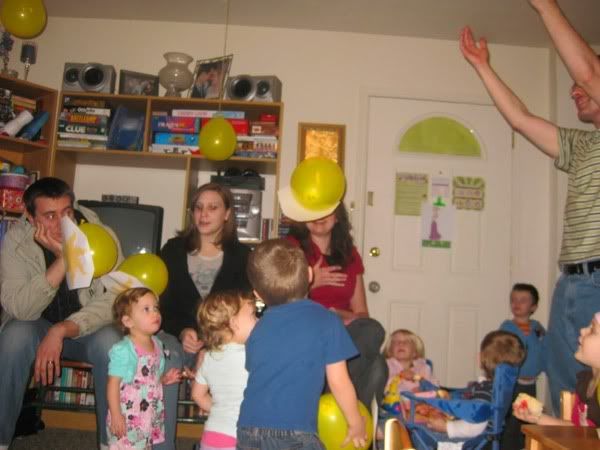 We played Pin the Hair on Rapunzel: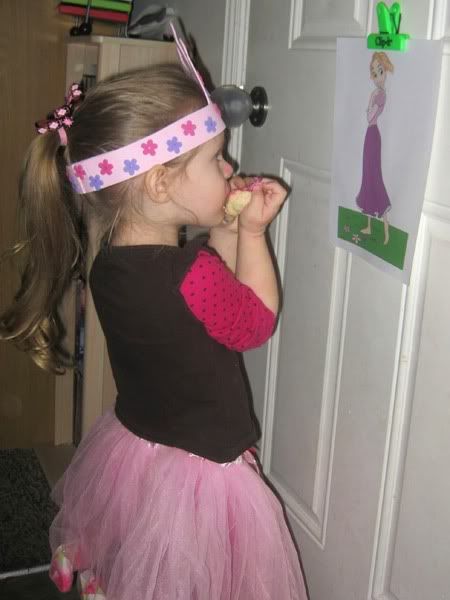 Emma went first...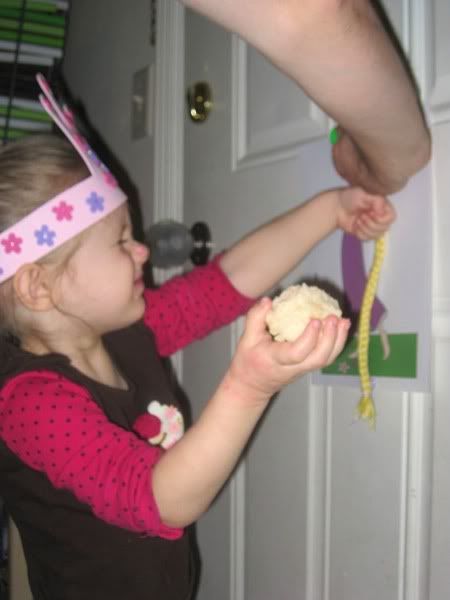 Not bad for having her eyes closed!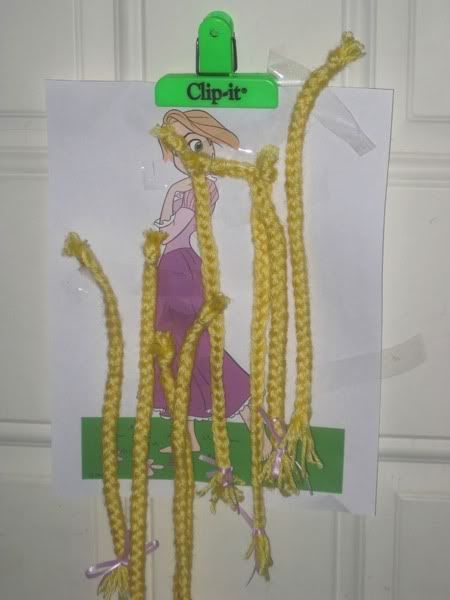 I think it's safe to say Emma won that one.
Then we tackled the pinata - with my smallest, lightest, cheapest frying pan.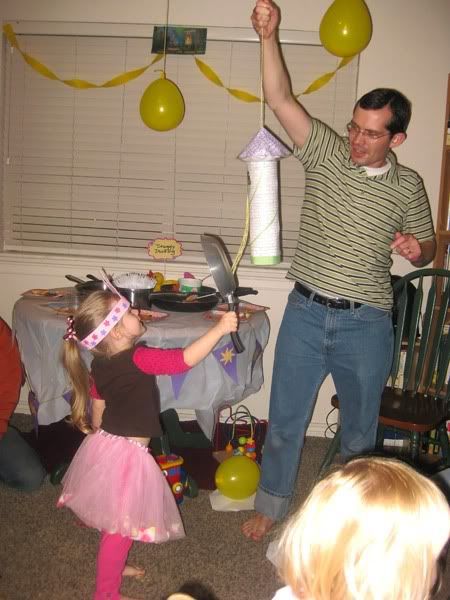 Present time! We let her choose one of the presents from us to unwrap at the party. She got a lot of great gifts; thanks to everyone who came!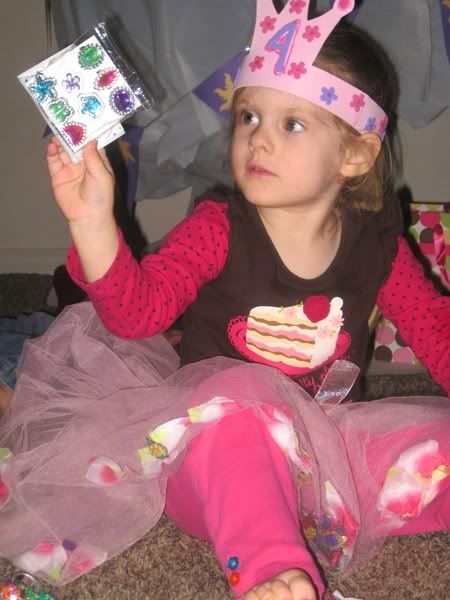 Time for cake!!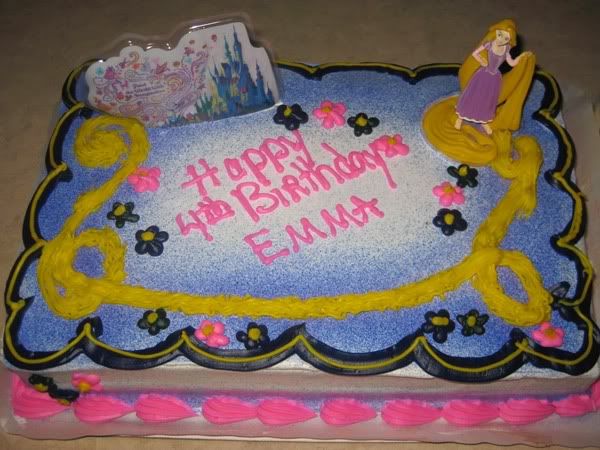 I am not a cake decorator. I can bake a delicious cake, but decorating it prettily...not so much. So I let a local bakery do it for me instead ;)
And that was her Tangled party! It was such a blast. Now I get to plan a Cars party for Hyrum in January ;)
Emma's actual birthday landed on a Sunday, so we spent a good chunk of the day doing church stuff. I did snap a picture of her exactly 4 years from the moment of her birth. Since she was born at 12:59 AM, she was asleep when I took it.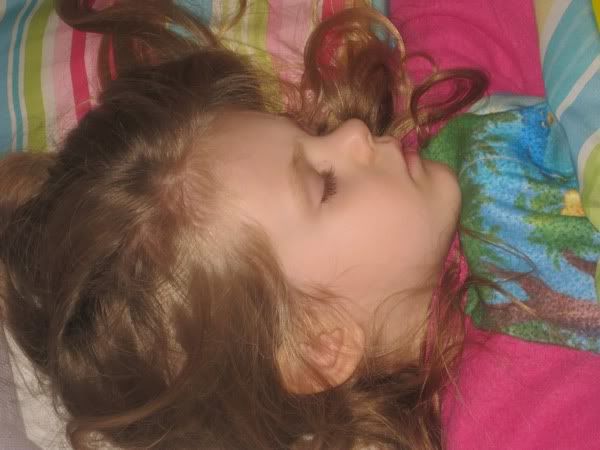 All dressed up for church: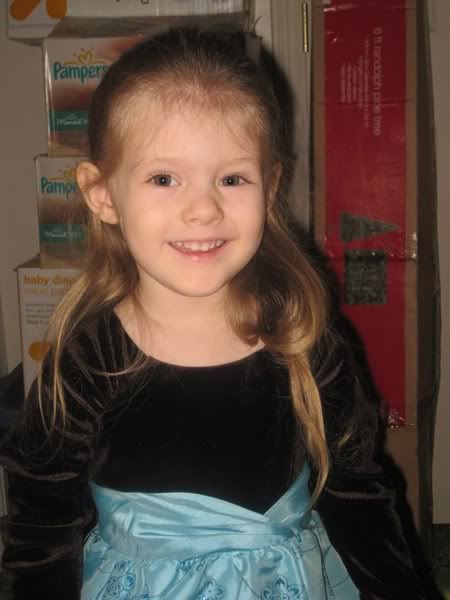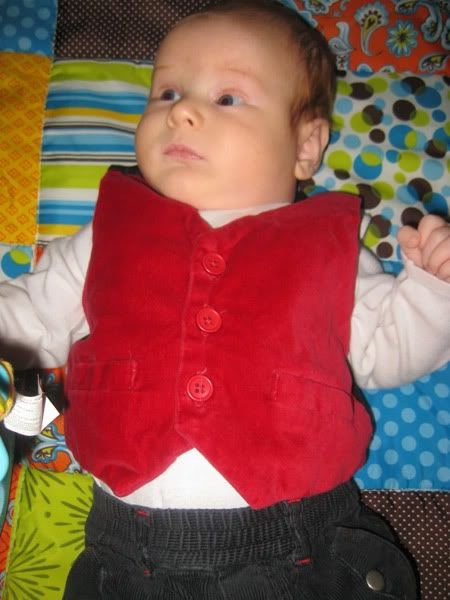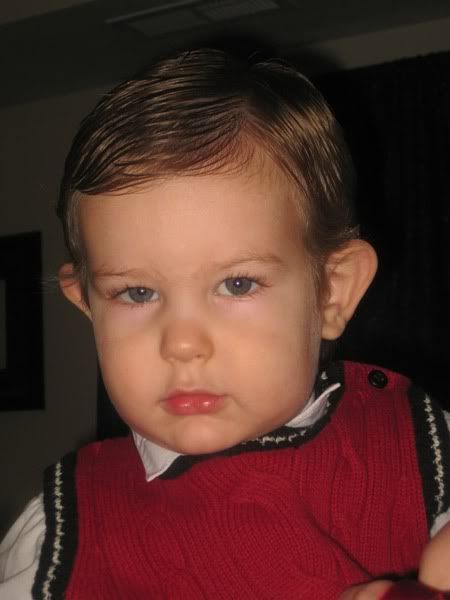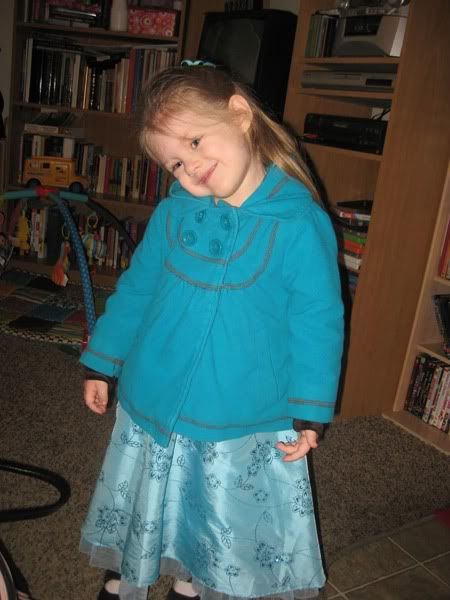 We had a small family party with Tori and Adam. We had pizza for dinner, opened presents, and ate cheesecake for dessert.
Surrounded by presents: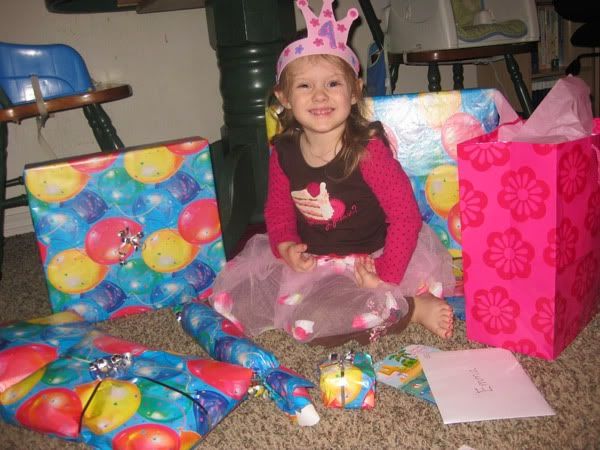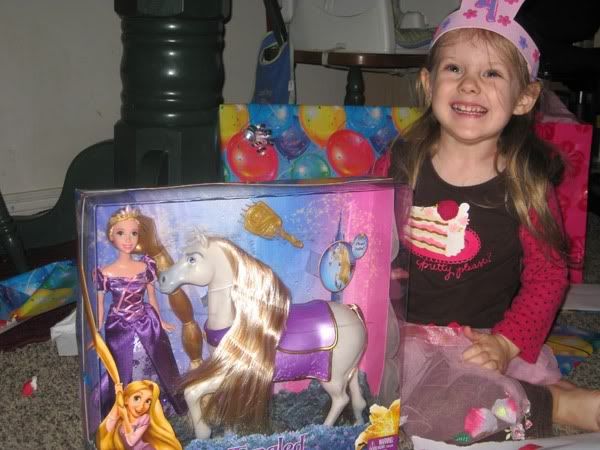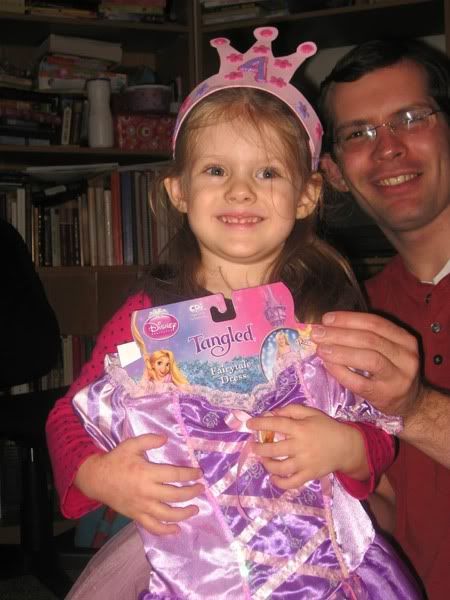 She was super excited about the Rapunzel doll and dress she got from my mom!
Emma requested lemon cheesecake for her birthday cake. She saw a picture of one when I was looking for Thanksgiving dessert ideas and decided she had to have it for her birthday cake. Good choice! It was delicious.
Emma had a fabulous birthday!! I can't believe she's 4! She had her 4 year check up today and she's still very tiny; 29 lbs and 37" tall. 6th percentile for weight and 5th for height. But developmentally she's right on track or ahead. She's such a wonderful little girl. I love her so much.