Wow, it's been 2 weeks since I last posted anything! Crazy! Life has been insane, what with a last minute (but super fun) camping trip, way more morning sickness than I'd like, babysitting, and more. I've only scrapped 1 page since my last entry, though I've done a couple other scrap-related things. More on that after a generic update.
Monday was my absolute worst morning sickness day ever. I threw up 6 times that day. Blegh. It was awful. I ended up calling my OB that evening because the only liquid I'd kept down was 2 sips of water, and I KNOW I haven't been drinking enough in general because everything makes me nauseous. So, naturally I was concerned about dehydration. My OB is awesome. He asked me if I made a spreadsheet already, since he remembered that I did that with Emma LOL. No, I haven't this time, but I HAVE been comparing my vomit-count notes. And sadly, I've thrown up more for the # of weeks I am this time than I did last time. Poo. Anyway, he told me to see how I did overnight and if I kept throwing up throughout the night, they'd have me come in and get an IV. Thankfully, I didn't throw up again that night, so I didn't need an IV. But I came closer than I'd like. He DID say that they'll get me on some anti-nausea meds, so I'm SOOO excited for my appointment on Tuesday!! Emma has her 18 month check up right afterwards, too. I love the fact that my OB and her pediatrician are literally right next door to each other. So awesome.
Anyway, last weekend we went camping with Nathan, Jessica, and some friends. It was SO fun! And I didn't feel sick AT ALL while we were there! It was sooo nice. It was exactly what I needed. I'd been feeling pretty depressed about being sick and if this pregnancy is like Emma's (which it has been so far), I'll be sick till around 18-20 weeks - that's the end of July, mid August ish. So, practically the whole summer. I'm sorry, but I don't WANT my summer to be ruined by morning sickness. I want to do FUN things, like camping, swimming, fun little day trips to the zoo or whatever. Well, during our little campout, we swam in the lake, walked around, and just had lots of fun. We were the last to leave, and as John was packing up our gear, Emma and I walked around the lake with the stroller. We were on the opposite side of the lake from our campsite (it's a small lake) when the wind started blowing like CRAZY! I'm talking downed trees and downed porta potty crazy. Yeah. We went back as fast as we could, but man was it crazy. Of course, I HAD to get a picture of the downed porta potty on the way out:
Notice the sign on the right? Bwahaha. I love it.
And of course, since my last post, I've been sick more often than not. My vomit count is currently up to 16. Blegh. It was 12 at this point last time. *sigh* Why can't I be one of those women who just doesn't get morning sickness? Seriously. It sucks. I hate it. Or how about I just skip the first 20 weeks? Then, I'll skip the morning sickness, the 1st tri fears of miscarriage, and the whole being pregnant but simply looking a bit chunkier thing. AND, I'd skip straight to the big ultrasound where you get to find out baby's gender. Oh, I'm all for that. Let's just skip ahead to 20 weeks! I'm dying to know what we're having. We THINK it's another girl, but we won't find out till sometime in August. Gah, I can't wait!
I need to do an 18 month update on Emma. I'll wait till her appointment on Tuesday for all of that, since this entry is going to be plenty long enough without that LOL. Suffice it to say, she's doing great. She's just a joy. She really is. She has her moments, like any toddler, but overall she is the perfect child. Of course, she tends to have her moments in the middle of church...ah well. She got to go to nursery for the first time on Sunday and she seemed to enjoy it. It was a shorter nursery week, so she didn't really get to play with the other kids much. This week will be a normal week, so she'll probably enjoy it more.
Our neighbors 2 floors up from us have been really sick this week. John had to give them a ride to the ER because the husband was super weak after throwing up 20 times in an hour. He ended up with an IV with anti-nausea meds and had to have a bunch of tests. Then, on the way back from the ER, his wife started throwing up like crazy, too! So back to the ER they went. We helped watch their 13 month old little girl yesterday, so they could get some rest. Some other friends have been taking care of her most of the week. Thankfully, they're feeling much better now. Emma had so much fun playing with her little friend! We watched her 2 different times yesterday, and the second time she came over, Emma went over to her and gave her a hug! It was so cute! We'll have to do playdates with them. It worked out really well that John wasn't scheduled to work that day so he could help entertain 2 toddlers.
Anyway, that's what we've been up to lately. Now on to some scrapping stuff!! First of all, 2 of my scrapping friends have opened their own stores!! And I get to be on both their CTs:)
First of all, geniaBeana recently opened a store at Scrapable. Everything is 35% off until the 15th, so hurry up and grab her gorgeous kits before the sale ends! Here's her sale flyer, which links to her store: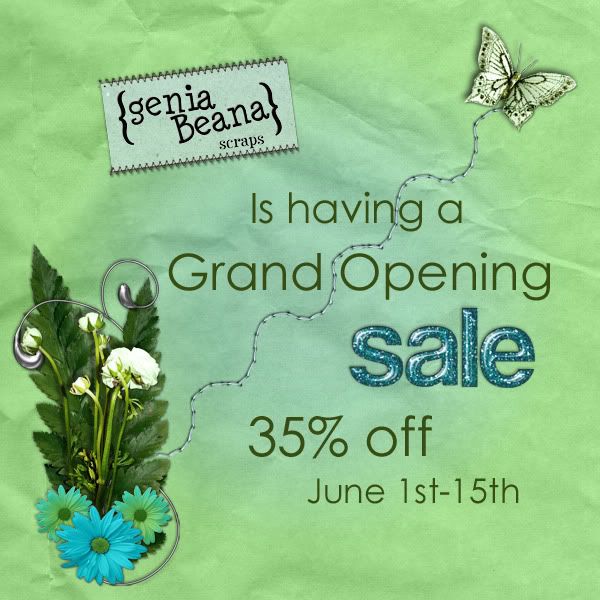 Check out her gorgeous kit, Tranquility: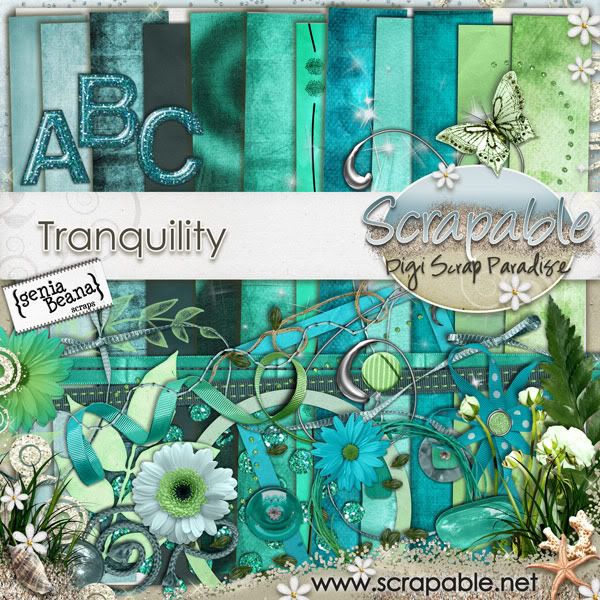 And a page I did with it:
Next, my awesome friend Kimi opened a store, too! Kimi and I have been close friends for almost 11 years now. Dang, that makes me feel old! LOL! I'm SO excited that she opened her own store! And, since today is her birthday, she's got an AWESOME deal on a template pack - 4 great templates for only $1.60!! But you gotta hurry, cuz it only lasts till Wednesday. Check out these great templates (image linked to her store):
Not only that, but Kimi's having trouble coming up with a name for her newest kit, so she's having a contest. If you submit a name and win, you could win the kit for free! I hear the runners-up might get a little something, too... ;) So head over to
Kimi's Blog
and check it out! You could win THIS!
(This preview is incomplete -- your suggestions could make all the difference!)
Alas, I was going to have a template to post along with this, but I don't have the time or energy to turn the page I posted earlier into a template right now. We have some grocery shopping to do today and I haven't even started to get ready yet. I just hope I have the energy I need for the necessary shopping. But I WILL have another template up soon! I hope, anyway. Well, off to get ready to go grocery shopping...hopefully I'll be posting more pages and templates soon! And let's hope my OB gives me meds and that they WORK! I am SO sick of being sick!